The Only Go-To Complete Commercialization Expert in the Industry
Let's face it…It's hard to launch a product in today's environment. The reality is companies spend >$125MM over three years leading up to launch and 66% of drugs still don't meet launch expectations.
This looming risk, echoed by general industry pressures, leaves developers and investors alike looking for more advanced commercialization options that effectively maximize their pipelines.
See how others are using this new model effectively; download "The New Gold Standard of Drug Commercialization."

---
Meet EVERSANA COMPLETE COMMERCIALIZATION
Purposefully Built to Act as Your Commercialization Engine
Imagine not having to risk building an expensive infrastructure – because we have built a foundation you can customize for your product needs. Activate a complete, ready-to-deploy, high-performance commercialization and distribution engine today!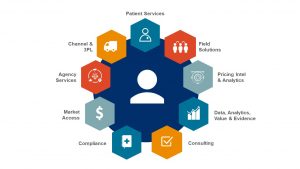 We are committed to:
maximizing your up-front investments.
accelerating your product from early development to marketing, effectively impacting patient outcomes and beyond.
We celebrate when you and your company capture full revenue potential without the added risk of diluting company value.
---