We Are

the Front

L

ine of Protecting Y

our Product and Your Patients From Risk
Improving the future of drug safety and compliance requires more than just contact centers and reporting adverse events. Real–world success requires an integrated approach to providing value across a product's life cycle. We process and analyze safety data to confidently predict key signals and risk factors, identify safety issues and make recommendations for appropriate product utilization that maximizes patient outcomes.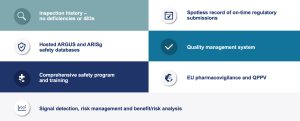 Manage the  Unexpected W

ith Proactive Approaches That Result in Timely Reporting
Complex market dynamics are increasing the costs of supporting compliant pharmacovigilance activities. As the industry continues to evolve and expand – greater than 20% per year increases in reported AEs, global expansion, changing regulatory requirements and outdated legacy safety systems – we believe your pharmacovigilance model should, too. Ensure your product is used safely and effectively throughout its life cycle by leveraging our robust compliance systems, cutting-edge technology and operations, and experienced talent.
Our Safety Operations and Pharmacovigilance Services
Case Processing 
Post-market pharmacovigilance
Clinical trial pharmacovigilance
EU pharmacovigilance
ICSR case reporting and processing
Aggregate reporting (e.g., DSUR, PADERs, PBRERs, etc.)
Validated safety databases – ARGUS, ARISg – with company-specific tenancy
Literature ADR monitoring
Consulting and Safety Data Science
Signal detection and management
(RWE, FDA FAERS, literature, EURMR, clinical safety, others)
REMS and risk management (US/EU)
Safety data analysis
Global regulatory submissions
Regulatory inspection: preparation and support
PV operational documents
Training
PV operations assessments and enhancements
A Strategic Partner
With the right regulatory and strategic guidance, we ensure that you will meet and/or exceed regulatory requirements for safety. Our experienced MDs, PharmDs, RNs and RPhs have more than 20 years of industry knowledge across drugs, biologics, vaccines, medical devices and combination products. Our safety system includes production-ready automation that's been developed and tested with industry leaders.