Personalized Patient Solutions & Engagement Improve Adherence
Each patient takes a different path to medication adherence: one patient may be compliant to their allergy medication when prompted by a smart phone notification while another uses a calendar to keep track.
EVERSANA's next generation patient services utilizes predictive analytics and behavioral technology to give patients the personalized support they need to achieve greater adherence. By identifying where the patient is in his treatment journey and maintaining engagement throughout each stage, we predict probability of nonadherence, provide effective corrective actions, and measure the size of the potential impact.
Mapping the Patient Journey: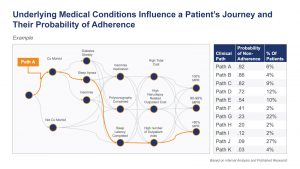 Schedule a meeting with an EVERSANA adherence expert to learn how to improve adherence with personalized patient solutions and engagement.
---