Moving the Needle From Cost to Value
Global market dynamics have created the need for a new compliance model – one that delivers an integrated solution across compliance, from molecule to market, and beyond. EVERSANA's experts are transforming the industry by delivering deep domain expertise, innovative technology, and advanced data and analytics to ensure the safety and efficacy of clients' products. By moving the compliance needle from a cost center to a value insights and strategy model, our clients stay focused on what matters most: helping patients live healthier lives.
Advancing Life Sciences Compliance to Deliver Safer Products
Medical and scientific capabilities are an integral component of EVERSANA's compliance model. Our integrated global approach comprises four major services – Pharmacovigilance, Medical Information, Quality Assurance & Quality Systems, and Regulatory – together acting as one partner providing commercial life sciences solutions across the product life cycle.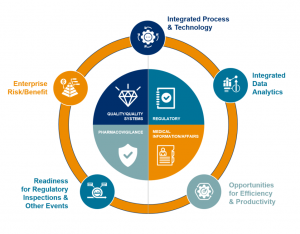 Global Market Dynamics Create a Need for a New Compliance Model
Our holistic model delivers the next generation of safer and better products, focused on weaving five value-creation areas throughout the compliance paradigm. Integrating an enterprise-wide view of compliance risk, supported by a compliance committee, results in a proactive compliance value system of competitive advantages designed to improve patient safety.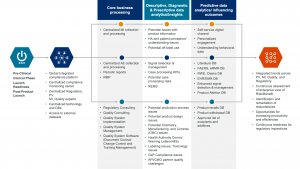 We support our customers across the product life cycle, and with our flexible delivery model we can deliver an integrated and centralized compliance monitoring center across Pharmacovigilance, Medical Affairs, Regulatory and Quality; or we can support customers in just one of these process areas. In terms of the value-creation paradigm, we support our customers at the operation level – ensuring ongoing regulatory compliance to help them create true value through proactive and predictive data analytics in order to deliver on all five value-creation areas.
Ready to Support Patients and Clients Globally
With central hubs globally we track shifting global and local regulatory environments and adapt our strategies to deliver based on the changing needs of the patients. Our state-of-the-art technology systems and databases allow for connectivity and transparency – globally – in a way that was never seen before. Flexible staffing models and scalable global contact center solutions – currently delivering services in multiple languages, regions and countries.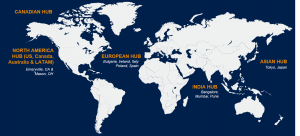 Promotional and Non-Promotional Materials Review Support Services
Medical Legal Regulatory (MLR) Review Committee Support is crucial for companies to ensure compliance and meet deadlines during the review and approval of promotional and non-promotional materials. Companies often face challenges due to the multiple responsibilities of medical and regulatory reviewers and the fluctuating volume of materials, especially during new product launches.
To address this, EVERSANA's expertise and flexible models provide tailored support services for medical review as part of the MLR process. In addition, EVERSANA offers fact-checking support from highly qualified and trained medical reviewers based in India, as well as US-based medical reviewer consultants. EVERSANA also provides MLR Committee Coordinator support and regulatory ad promo support with experienced professionals.
To learn more about EVERSANA's Medical Legal Regulatory (MLR) Review Committee Support, click here.
To read more about the first solution, developed by EVERSANA leveraging AWS and AWS Partner TensorIoT, that addresses a time-consuming and error-prone process in the industry – medical and regulatory content approvals, click here.