The Right Information at Exactly the Right Time
When it comes to your patients and key stakeholders, we are dedicated first and foremost to patient safety. We don't just answer questions; we solve problems with a direct and personalized approach. We address complex questions and combine our clinical expertise with advanced automated technology.
Our custom training and client-approved reference materials ensure all inquiries receive an informed and fair and balanced response. You can be confident that every question is answered with unsurpassed clinical expertise and efficiency, regardless of product complexity or call volume.  
A New Integrated Model
As part of EVERSANA's integrated compliance services, we work with emerging and large and small pharmaceutical companies to provide strategic support for products from clinical studies through commercialization. We are reimagining the industry's model with a fully integrated, automated, cloud-based technology platform enabled with AI.
A 

D

igital First 

P

rovider with an End-to-End View Across Commercialization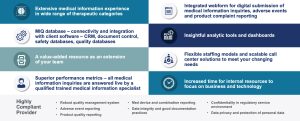 Ready to Support Clients Globally
Our holistic, globally integrated model advances compliance in life sciences to deliver the next generation of safer, better products. With six global hubs we support patients in over 10 local languages.  We strive for "first-call" resolution – and that's why in our model  inquiries are handled by highly trained and qualified medical information specialists. 
Locally based medical information teams provide in-language support for all 5 major European plus other languages
Highly qualified medical information specialists strive to provide first call resolution in native language without the need for translation services
We understand local cultures and support HCPs and patients with their unique concerns
Flexible staffing models (Shared/Dedicated & Hybrid) and scalable global contact center solutions to meet your changing needs (US support available from Europe, 24/7 support available)
State-of-the-art technology strengthen by our partnership with ArigGlobal. We deliver strategic, integrated MI PV service offerings with the LifeSphere and MiQ as best-in-class platforms
Medical Information Compliance Services
Extensive medical information experience supporting a wide range of life sciences companies across multiple therapeutic areas, including oncology, hematology, immunology and rare diseases.
Response to unsolicited medical information requests
Live and immediate responses for client product
Standard and non-standard questions/requests
Tier 1 and Tier 2 medical information handling: life sciences background
Non-medical information triage process
Accurate and detailed documentation of MI interactions
Fulfillment services