The Right Information at Exactly the Right Time
When it comes to your patients and key stakeholders, we are dedicated first and foremost to patient safety. We don't just answer questions; we solve problems with a direct and personalized approach. We address complex questions and combine our clinical expertise with advanced automated technology.
Our custom training and client-approved reference materials ensure all inquiries receive an informed and fair and balanced response. You can be confident that every question is answered with unsurpassed clinical expertise and efficiency, regardless of product complexity or call volume.  
A New Integrated Model
As part of EVERSANA's integrated compliance services, we work with emerging and large and small pharmaceutical companies to provide strategic support for products from clinical studies through commercialization. We are reimagining the industry's model with a fully integrated, automated, cloud-based technology platform enabled with AI.
A 

D

igital First 

P

rovider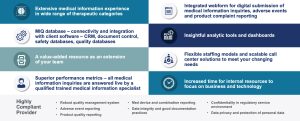 Medical Information Compliance Services
Response to unsolicited medical information requests
Live and immediate responses for client product
Standard and non-standard questions/requests
Tier 1 and Tier 2 medical information handling: life sciences background
Non-medical information triage process
Accurate and detailed documentation of MI interactions
Fulfillment services