Automated Processes Reduce Access Barriers & Simplify Onboarding
Despite patients' and providers' frustrations, prior authorizations and other reimbursement requirements continue to expand across all segments of drug classes. At EVERSANA, our team of experts leverage technology and automation to reduce access barriers, simplify onboarding and get patients on therapy faster.
Our access and hub solutions are designed to:
Conduct real-time eligibility determination, including electronic income validation and e-signature capabilities.
Promote easy, self-service enrollment via EMR integration and an HCP portal while also offering live support and traditional enrollment options.
Initiate prior authorizations electronically (ePA) to expedite the process.
Streamline the process for electronic benefit verification (eBV), (ePA), co-pay eligibility and e-prescribing in physician workflows.
Leverage a data-driven approach to patient profiling, customized outreach and engagement based on preferences, needs and products.
---
The EVERSANA Model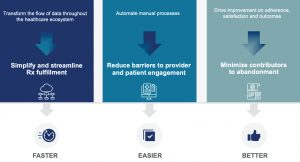 Schedule a meeting with an EVERSANA expert to learn how we can help you develop and deploy a streamlined and automated access program.