Today's patients are increasingly tech savvy, yet digital tools alone cannot replace the empathetic support from a highly trained case manager to help them navigate complex access, affordability and adherence challenges. Manufacturers need to adopt a new equation that combines the forces of high-tech and high-touch solutions to create a cohesive brand experience and ensure maximum impact for patients and providers. When devising the most impactful support programs, manufacturers must identify the right balance among all the options:
High-Tech Program Solutions rely on technology-based solutions to both automate and streamline repetitive tasks. Such digital interventions — which may include electronic benefit verification, streamlined patient enrollment into a product hub, co-pay assistance and more — give patients a greater sense of self-sufficiency and enable streamlined digital communications. Additionally, the capture of data can be leveraged later to inform future personalized communications and program optimization.
High-Touch Program Solutions are especially important to help patients understand and resolve complex aspects associated with their chronic condition or prescribed therapy. These aspects of any wraparound support program give stakeholders access to caring, compassionate, highly trained specialists who can pick up the phone and interact with physicians, payers and specialty pharmacies, helping patients effectively navigate the processes, paperwork and protocols associated with a particular specialty therapy. Such experts may include Field Reimbursement Managers (FRMs), Field Representatives, Clinical Nurse Educators (CNEs) and more. By automating and streamlining tasks patients can manage on their own, the program will make best use of these higher-cost trained specialists.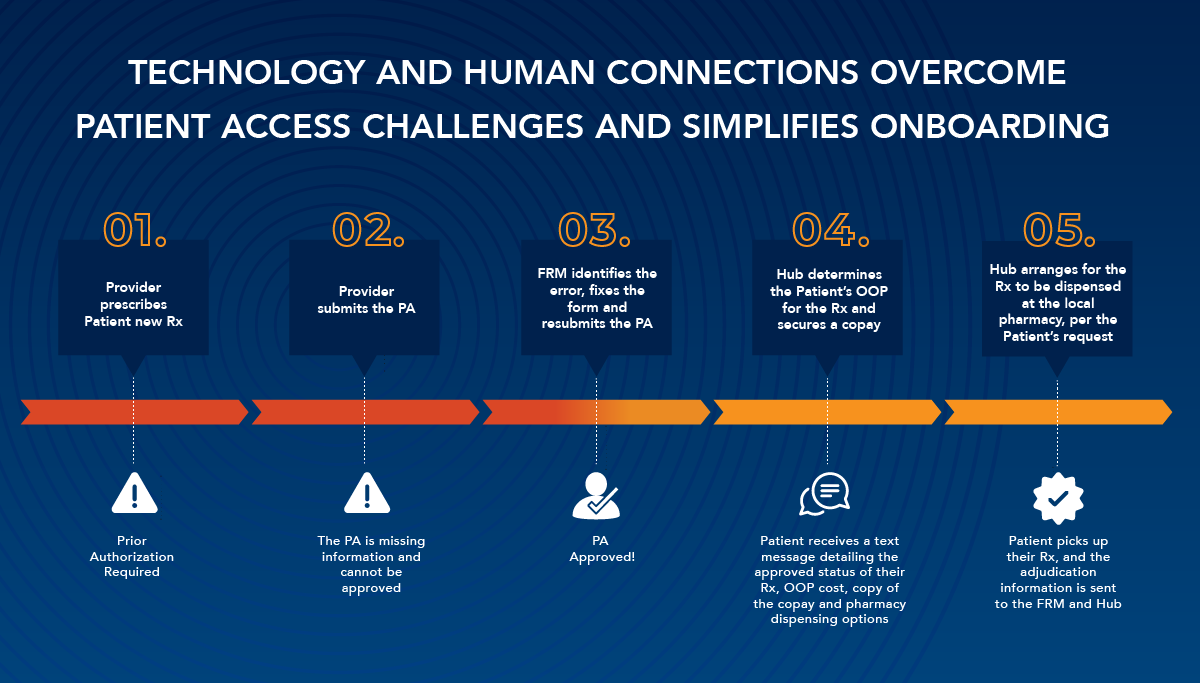 Deploying a patient support program integrating digital tools, automated workstreams and personalized communications is proven to accelerate speed to therapy. Figure 1 illustrates how technology and human connections provided by the Patient Services team, Field Reimbursement Managers and Clinical Nurse Educators overcomes patient access challenges and simplifies onboarding.
In their latest article, EVERSANA experts Maria Kirsch and Krista Pinto outline how to orchestrate your Patient Services and Field Deployment teams to balance high-tech, high-touch solutions to simplify patient onboarding and drive therapy adoption.