Making Commercialization Predictable
As the industry focuses more on specialty therapies, it is imperative that manufacturers move to a patient-centered care model that delivers value enabled by innovative technologies and measured by actionable data.
As the only go-to complete commercialization expert in the industry, we bring together strategy, patient recruitment for clinical trials, HCPs and patient engagement across the patient journey, and warehousing and logistics to support complex transportation needs.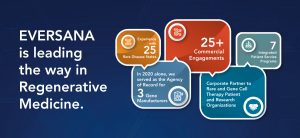 The inherent complexity of regenerative therapies impacts distribution, access, affordability and patient support.
Supply chain and technology are two primary areas of focus that cell therapy manufacturers need to bring a very different lens and set of capabilities to successfully commercialize their products.
Schedule a meeting with an EVERSANA cell and gene therapy expert to learn more.