Assessment of Strategic Priorities, Competitive Dynamics, and Innovations Impacting Biopharma Access
Seven leading payers represent nearly half of all US medical lives and 54% of pharmacy lives:
UnitedHealth Group
CVS Health, Cigna
Elevance Health
Kaiser Permanente
Humana
Centene
As these organizations evolve their business models and ultimately their approaches to care and drug management, biopharma companies may need to shift key strategies for optimal brand access.
Payers prioritize internal and external investments that advance their capabilities, contain costs, and differentiate from competitors across five broad strategic goals: value-based care advancement, consumer experience simplification, traditional care model disruption, horizontal membership growth, and vertical diversification (see Figure A).
Figure A: Leading Payer Strategic Priorities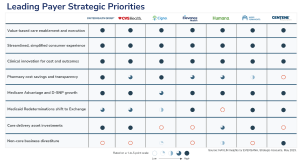 Value-based Care Innovation:
Value-based care (VBC) continues to broaden in scope and impact, with leading payers focusing on predictive analytics to drive VBC models. As these models advance further down the path toward full risk and broaden to include holistic care beyond discrete episodes, there is increased need for care coordination and provider collaboration.
Leading payers express interest in partnering with biopharma companies on high-risk member identification, outcomes tracking, and disease-specific VBC models. While some are willing to engage in outcomes-based contracting for pharmaceutical products (see Figure B), they are quick to note that these contracts are challenging to execute.
Figure B: Opportunities to Support Leading Payer Value-Based Care Initiatives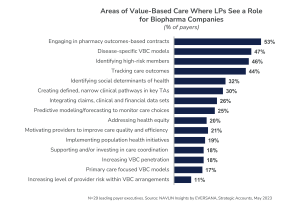 Consumer Engagement:
Member acquisition and loyalty is of paramount importance to leading payer success. The methods used to achieve engagement are moving toward simplifying existing tools and programs vs. creating new ones. Currently, leading payer focus is on expanding their commercial solutions into government lines of business, primarily Medicare, where marketing and loyalty programs remain heavily regulated (albeit incrementally less so each year).
Leading payers are expanding beyond NPS scores and surveys in assessing member satisfaction. Over the next year, they will continue to invest in navigation services that help members understand their benefits and steer them to lower cost, higher quality care alternatives. In addition, they continue to prioritize initiatives to identify and close care gaps, tools to ensure appropriate patient responses to therapy, and programs to support in-home care. (see Figure C)
Figure C: Member Engagement Focus Areas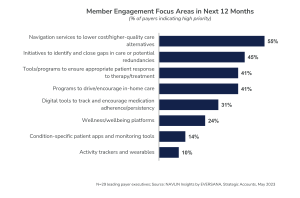 Disruptions to traditional care models:
Social determinants of health (SDOH) and health equity, healthcare at home, and behavioral telehealth remain high strategic priorities, with little change over the last year. Cigna is an exception to the status quo, however, having increased its focus in each of these areas to achieve parity with other leading payers.
SDOH and health equity are factored into strategic initiatives and decisions across all lines of business and all trend categories.
Virtual care will continue to increase incrementally over the next several years and become both more sophisticated with the help of AI and less "real-time" with the introduction of text capabilities.
Home health is the "next frontier" of care delivery and healthcare cost containment, particularly for Medicare members.
When presented a list of options to engage with biopharma companies in disruptive care models and innovations, leading payers cite needs around SDOH and health equity data, pharmacist support for telehealth, and "last mile" care delivery (see Figure D). They also express interest in support for navigation toward alternative sites of care, tools or programs to ensure appropriate response to therapy/treatment, and clinical data sharing across providers.

Figure D: Biopharma Partnership Opportunities to Disrupt Traditional Care Models
Horizontal Membership Growth:
Over half of leading payer executives identify horizontal growth as one of their top three business goals. Medicare Advantage and Special Needs Plans (specifically D-SNP) are the highest priority segments (see Figure E). To maximize Medicare revenues and improve retention, leading payers are expanding value-added benefits such as dental coverage and grocery discounts, as well as creating internal task forces charged with improving Consumer Assessment of Healthcare Providers and Systems (CAHPS) scores.

Figure E: Membership Growth, by Line of Business (LOB)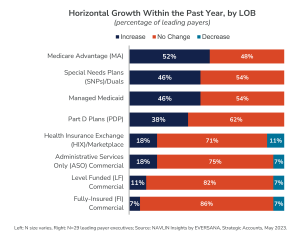 Vertical Diversification:
UnitedHealth Group continues to lead the race toward total health management while CVS, Cigna, Elevance, and Humana solidify their Optum-like brands. In 2023, leading payer M&A mainly targeted care delivery, with the exception of Elevance Health acquiring a specialty pharmacy group and a health plan. Going forward, independent value-based primary care providers and home health organizations are ripe for leading payer acquisition.
There are opportunities for biopharma companies to support primary and home health care teams and to provide funding in key investment categories.
Condition-specific home healthcare
Mental health care delivery and digital
Cardiology and gastrointestinal digital therapeutics
Hybrid primary care
Real-world data and evidence
 A full report with additional insights is available as part of the NAVLIN Insights subscription. Contact us at [email protected] for access and to learn more about NAVLIN by EVERSANA and our innovative market research solutions.
Author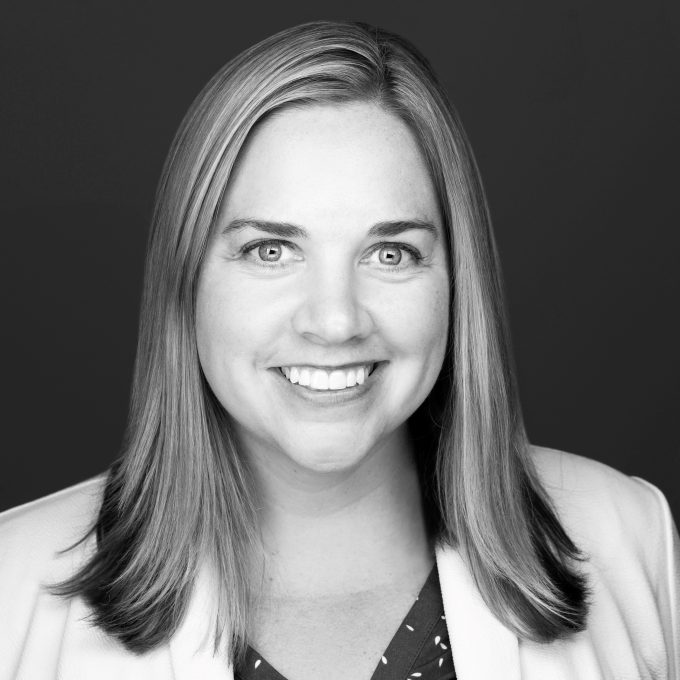 Kristen Reilly leads EVERSANA's Channel Access products, including in-depth analysis of key market trends, growth strategies, and innovations that impact biopharmaceutical strategic accounts. Kristen has 20+ years of experience studying all facets of U.S.…