Advancing Operations. Accelerating Compliance.
The Donor Eligibility System is an automated, web-accessible platform that assists in the donor eligibility determination process.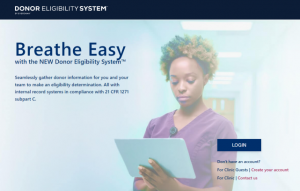 This system is specifically designed to provide tissue organizations with the ability to fully automate the donor eligibility process in a way that is not only compliant with FDA 21 CFR 1271 but also speeds up eligibility determination, reduces cost and allows clinicians more time for delivery of patient care.