The pharmacy benefit biologic market is primed for disruption, with Specialty Pharmacies (SPs) eagerly awaiting the pending market shift.
While biosimilars have been available for nearly a decade in the United States, this year will be the first time many SPs begin dispensing these brands. Currently, 22 biosimilars are available in the U.S. and, up until recently, nearly all 17 of these brands fell within the therapeutic area of oncology/oncology support markets, where insurance coverage is typically billed through the medical benefit.
Unlike many oncolytic biosimilars, several (if not all) of the newly available or soon-to-launch autoimmune biosimilars are self-administered products, which will largely be covered by the patient's pharmacy benefits. As a result, SPs expect to play a much more influential role in the dispensing and utilization of biosimilars. And with six Humira biosimilars already FDA-approved, and likely more to come, leveraging SPs' support services becomes even more vital as the competition heats up.
Biosimilar Utilization Will be Driven First and Foremost by Price; However, Patient Support Services and SPs Will be Crucial to Success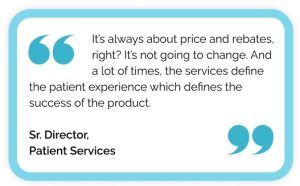 After the dust settles from initial pricing decisions as well as contracting and rebating strategies, biosimilar success will be found in the comprehensiveness of the product's patient support services and, consequently, the strength of SP network partners.
SPs, specifically pharmacists, are uniquely positioned to impact biosimilar utilization by providing the necessary support and education to improve the level of confidence of both patients and providers around biosimilars. Accordingly, understanding the evolving SP infrastructure to support biosimilars and identifying how best to leverage SP network partners to drive utilization will be imperative to overall success.
Specialty Pharmacies Target Providers to Convert Market Share for Biosimilars
SPs are prepared for the anticipated influx of inquiries regarding biosimilars. Most SPs (70%) will proactively reach out to high-volume prescribers to inform them of new biosimilar market entrants. Additionally, 43% of SPs plan to reach out to patients to streamline conversion by proactively addressing any potential barriers to biosimilar utilization.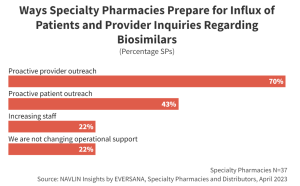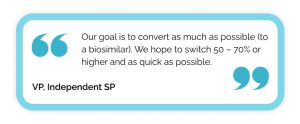 Prescribers and patients value input from trusted pharmacists and often defer to their recommendation for product selection and utilization. Where possible, biosimilar manufacturers will seek to leverage these preexisting relationships to promote brand awareness and ultimately drive volume for their product.
Opportunity Exists for Pharma to Drive Biosimilar Utilization Among Independent Specialty Pharmacies Through Education
Companies launching a biosimilar should consider providing educational resources to support product selection. Specialty pharmacists lacking confidence in their knowledge and awareness of biosimilar interchangeability designations as well as approved indications are less likely to select a brand they are unfamiliar with. Companies that provide comprehensive medical support for their biosimilar brands will have an advantage over lesser-known products when it comes to SP product dispensing.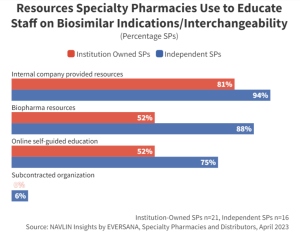 "I would love it if, when a manufacturer came out with a new biosimilar, they created a comparison chart: product, manufacturer, interchangeable designation, when it was introduced, indications, etc. This type of material would offer immeasurable value to my team." –VP, Independent Specialty Pharmacy
2023 is a pivotal year for biosimilars. Formulary placement, list price, patient support services, and SP support will separate the winners from the losers of the biosimilar boom. Biosimilar companies able to leverage SP network partners to support brand recognition and drive utilization will gain momentum faster than the competition. SPs are willing and ready to support biopharma in their strategic initiatives and welcome the opportunity to more closely support valued partners.
Looking to improve your SP strategy or prepare for biosimilar competition? Seeking to leverage the introduction of pharmacy benefit biosimilars in a highly competitive autoimmune market as a cautionary tale or analog for your market? Check out a sneak peek of our latest Patient Access Research on the Biosimilar Boom or contact [email protected] to speak to one of our Patient Access experts.
Author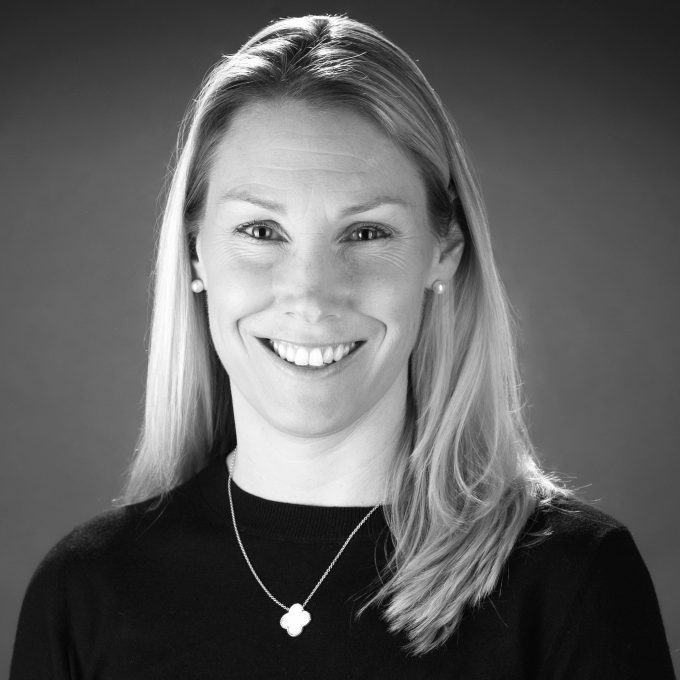 Sharon Donofrio, PharmD is a Consultant for the Patient Services team at EVERSANA, responsible for leading our specialty pharmacy focused product line. Sharon has a strong knowledge of pharmaceutical market access strategies and challenges…