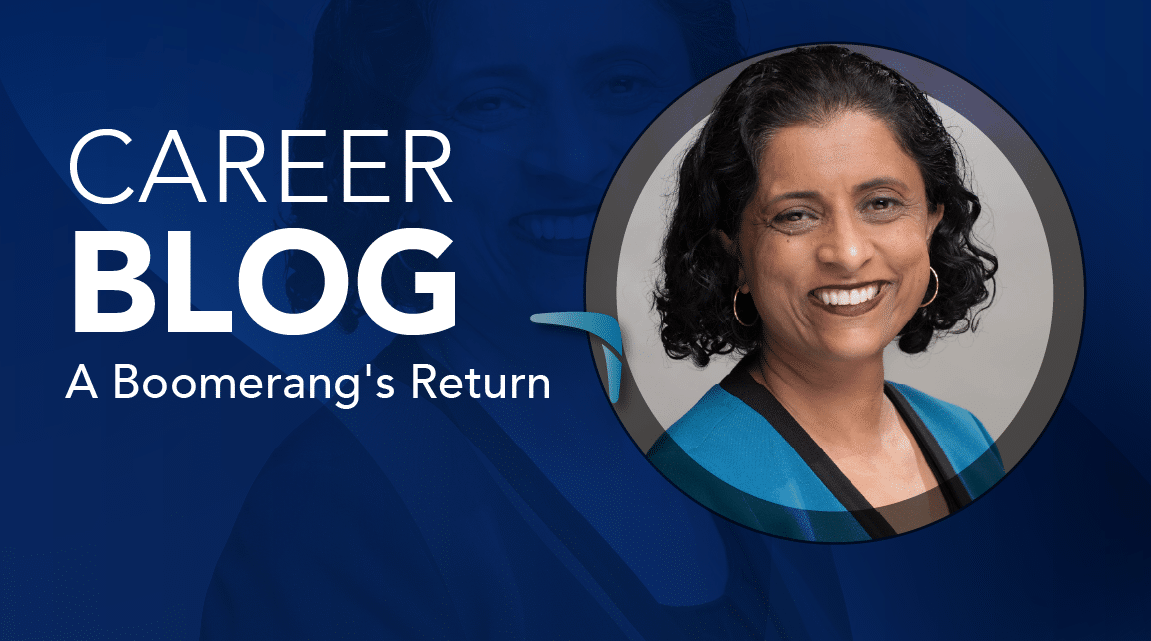 Meet Ramaa Nathan, PhD, VP, Data Science & RWE Insights on EVERSANA's Data & Analytics Team
Step into the world of healthcare Data & Analytics through the lens of Ramaa Nathan's boomerang journey. Delve into the distinctive experiences that shaped her journey, the insights she garnered during her time away, and the compelling factors that drew her back to EVERSANA — where patient journey maps are painted using data as a vital pigment. Interested in learning more about EVERSANA's comprehensive Data & Analytics solutions that deliver actionable insights? Learn more today! 
---
What influenced you to pursue an opportunity outside of EVERSANA?
In 2022, I noticed a slowdown in the market and felt the desire for more growth and challenges in my career. While EVERSANA had been a wonderful experience for me, the opportunity to explore a new path arose. The chance to join an Australian-based startup company, especially one new to the U.S. data market, intrigued me. The excitement of learning from an international team and helping establish a startup was a compelling reason to step outside for a while. 
I was away for exactly 10 months before I returned! 
What did you learn

and

experience while you were away?
Beyond crossing off some bucket list travel with my daughter, I gained valuable insights from working with an Australian-based startup as they attempted to prepare for a U.S. launch. When comparing data from single-payer countries like Australia, Japan, New Zealand and others, it is apparent how complex U.S. data actually is. It takes so much more understanding of the data infrastructure, regulations and best practices.   
But not only is U.S. data complex, the time for U.S. business decisions is also greater. Processes and approvals take longer since decisions must pass multiple layers and permissions. Then if you take the macroeconomic market into consideration, it takes a lot more to be successful stateside. 
In addition to clarifying the U.S. data science experience and gaining an international perspective, my time away also reinforced the importance of subject matter expertise in analytics. Additionally, I recognized the unique challenges and opportunities of doing business in different markets, which deepened my appreciation for EVERSANAs integrated approach. 
Wha

t

drew you back?
Several things! Firstly, the market conditions at the startup I joined did not align with my expectations for growth. Additionally, EVERSANA's Data & Analytics team has some exciting data organization programs in flight, which made a return even more appealing. 
The opportunity to work closely again with renowned experts, like Dr. Pierantonio Russo, MD, FCPP, FAAP, STS, Chief Medical Officer, and the cohesive data science team played a crucial role in my decision. The collaborative atmosphere, support for professional development and the chance to advance data and analytics within a well-established platform were all compelling reasons that brought me back. 
What differentiates EVERSANA for you?
EVERSANA has such a unique approach to healthcare analytics. D&A is in our DNA! The close collaboration between clinical expertise and data science is a game-changer. This synergy empowers us to deliver insights that are not only data-driven, but also clinically relevant, which is crucial in the healthcare industry.   
Unlike other companies, EVERSANA's focus on subject matter expertise, coupled with its advanced analytics capabilities, allows us to provide comprehensive solutions that truly make a difference for both clients and patients. This differentiator enhances our ability to tackle complex challenges and innovate in ways that many others cannot. 
---
Hear Ramaa Say It!
---
If you want a visual – instead of having to pack my mountaineering backpack for years of setup work, I'm already nearing the top of the data science possibility mountain at EVERSANA! 
Anything else

you'd

like to share about your boomerang journey?
There's a new level of growth and collaboration here on EVERSANA's Data & Analytics team. The advanced analytics platforms and collaborative environment have allowed me to quickly contribute and make an impact on the team and in service to patients.  
Our commitment to patient-focused solutions and the strong emphasis on clinical expertise continues to drive me. We're targeting appropriate patients for life-changing therapies and bringing attention to misdiagnosed patients. We're a key cartographer in completing portions of the patient journey maps.  
---
Hear Ramaa Say It!
---
Lastly, I must give a heartfelt thank you to my incredible team for the warm and enthusiastic welcome I received upon my return. The sense of belonging and camaraderie has been truly heartwarming. I'm very glad to be back! 
Interested in joining the EVERSANA team? Or Boomerang-ing back?