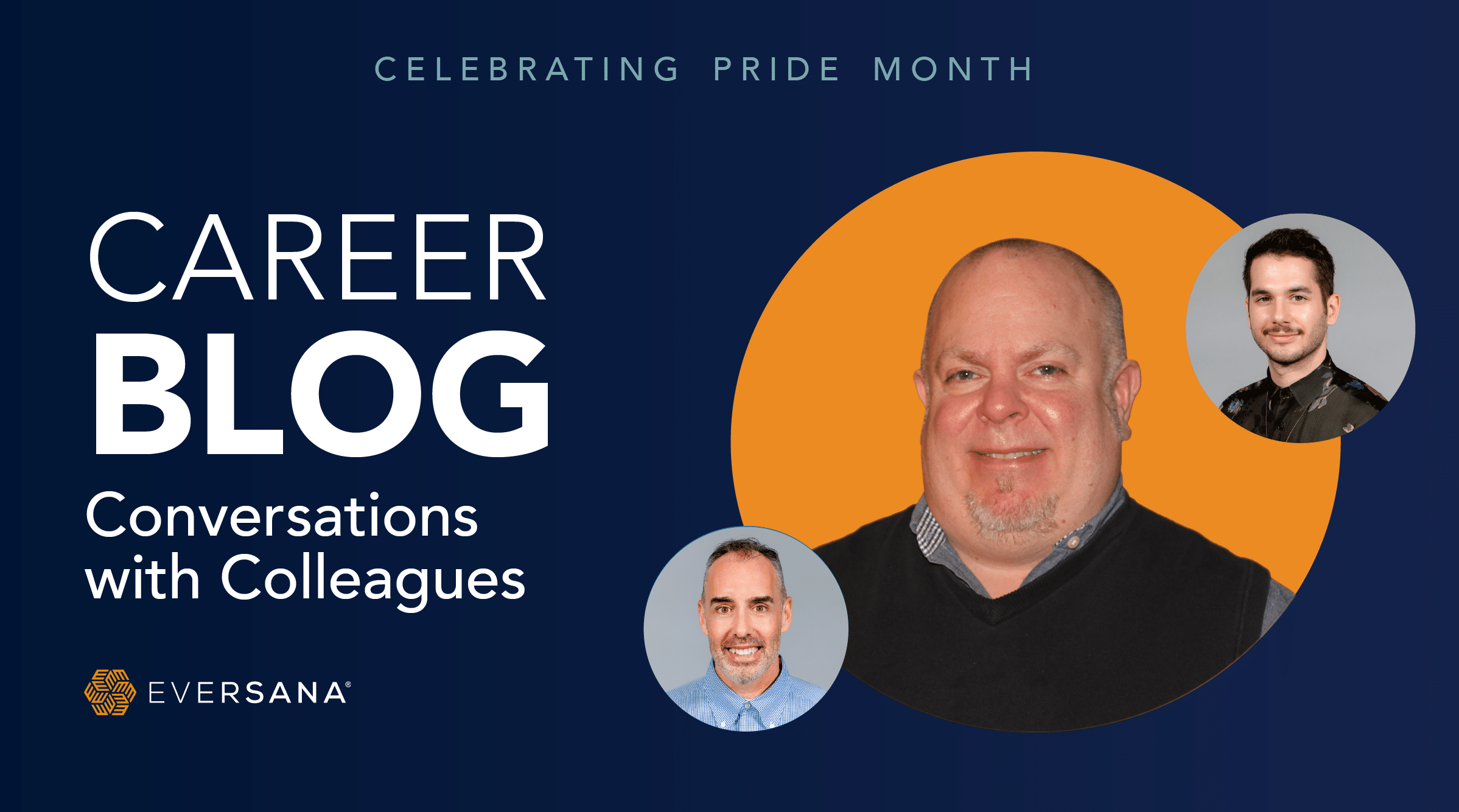 As June comes to a close, we reflect on the vibrant celebrations that took place during Pride Month across EVERSANA. We dedicated this month to honoring and embracing the LGBTQIA+ community by organizing a range of exciting events across our organization. Join us as we take a look at the ways we celebrated!
Interested in joining our team? Learn more here! 
---
Share Your Pride Photo
Team members shared their favorite celebratory Pride Month photos. Whether it features themselves, their cherished family or friends, we invited everyone to participate in showing their pride.
Michael Tatasciore, Agency Culture Influencer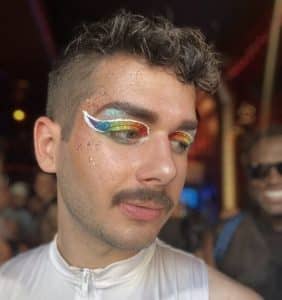 This photo is from New York Pride 2022. Pride is one of my favorite days in the city. All across the city, you see people on the subway decked out in rainbows, glitter, and some of the most fabulous outfits as they head downtown to the Pride March and celebrations in the West Village. You feel a certain energy force pulling everyone towards this one spot, and it's so incredible to be able to spot your community on Pride because we like to try something special that day. I don't wear makeup regularly, but on Pride, I always go all out. This rainbow glitter eye took quite some time but was so worth it!
Mark Arnold, SVP, Affiliate Lead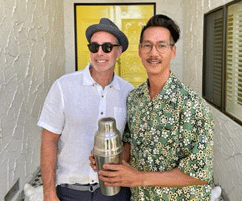 This past November, my partner Alfred and I were lucky enough to spend the month in Palm Springs, California where we celebrated their Pride event – a mix of older and newer generations all living our best lives (as it should be). No matter what age or background, celebrating who you are is always a win!
Aster Kaltmayer, Program Specialist I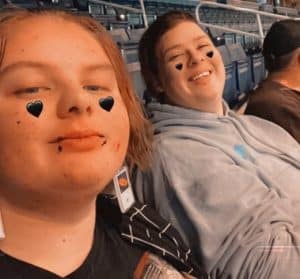 This photo is of me and my older sister, Audrey. Since I came out and started growing my self-confidence and my identity, she has been my biggest supporter and best friend. We regularly have days where we just go enjoy the things we want to do together. In this photo, we were enjoying Monster Jam, where monster trucks race against one another!
All the times I spend with her are dear to my heart since she was the first one in my family to support and stand with me, regardless of my identity. This Pride Month, I'm just happy to have the highest confidence and pride ever as my transition continues. I will keep embracing who I truly am, no matter the opposition comes my way!
David Lando, Lead System Engineer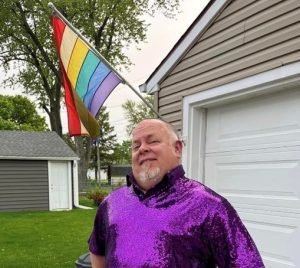 This photo was taken outside our house before the Lizzo concert in Milwaukee, Wisconsin on 16 May 2023. Why is this so special? Normally my concerts and musical tastes are with jam bands and classic rock. For a change of pace, we decided to go see something different .
Why Lizzo? She is an amazingly positive person that talks about inclusion. Her concerts are safe spaces for ALL people. She understands all of the attacks going on against the LGBTQ+ community and spreads the word of acceptance in a positive manner. She was told to not play Nashville due to the policies that are in place and she ignored the policies and brought out a bunch of Drag Queens to perform with her in Nashville.
Attending the Lizzo concert was special – we wanted to see the woman behind the message. Normally, I am a quiet gay and not one to make my voice heard. But with all of the attacks on LGBTQIA+ rights that are happening in 2023, Pride month is more important than ever to make sure everyone knows someone loves them.
Coffee Break Speaker Series – Pride Edition
One of the highlights of our Pride Month celebrations was the Coffee Break Speaker Series – Pride Edition, where we had the pleasure of hosting an insightful and inspiring discussion where employees shared their personal and professional experiences as members of the LGBTQIA+ community. The event featured a live interview between several EVERSANA colleagues.
Virtual Workout – Pride Edition
We organized a sensational Pride Edition of Workout with Chad – an activity cherished by our entire organization. This special edition infused fitness with a dose of fun, featuring music that got everyone moving and filled the air with excitement!
Virtual Drag Bingo
We invited Jan Sport, a contestant from RuPaul's Drag Race, Season 12, to host a thrilling Virtual Drag Bingo event. Laughter echoed through the virtual halls as participants enjoyed an evening filled with exciting prizes, unforgettable stunts, and Jan Sport's magnetic presence. It was a night of pure joy and celebration, reminding us of the power of diversity and self-expression.
Employee Roundtable
Members of the LGBTQIA+ community discussed an array of topics, including their personal and professional experiences as a member of the community, the meaning of the Pride 2023 theme, "Peace, Love, Revolution," and more!
Interested in joining the EVERSANA team?