Join Dr. Kathleen Sebelius, Former United States Secretary of Health and Human Services; Joe Jimenez, Former CEO of Novartis and Co-Founder & Managing Director of Aditum Bio; Kabir Nath, President and CEO of Otsuka North America; and Jim Lang, EVERSANA's CEO, at our expert virtual roundtable on October 29, 2020 at 4 PM CET, 3 PM BST, 10 AM EST to address:
The U.S. market outlook in 2021 and beyond
Key strategies and tactics to commercialize in the U.S. market in its "new normal" state
The importance of a novel integrated approach to commercialization in the U.S.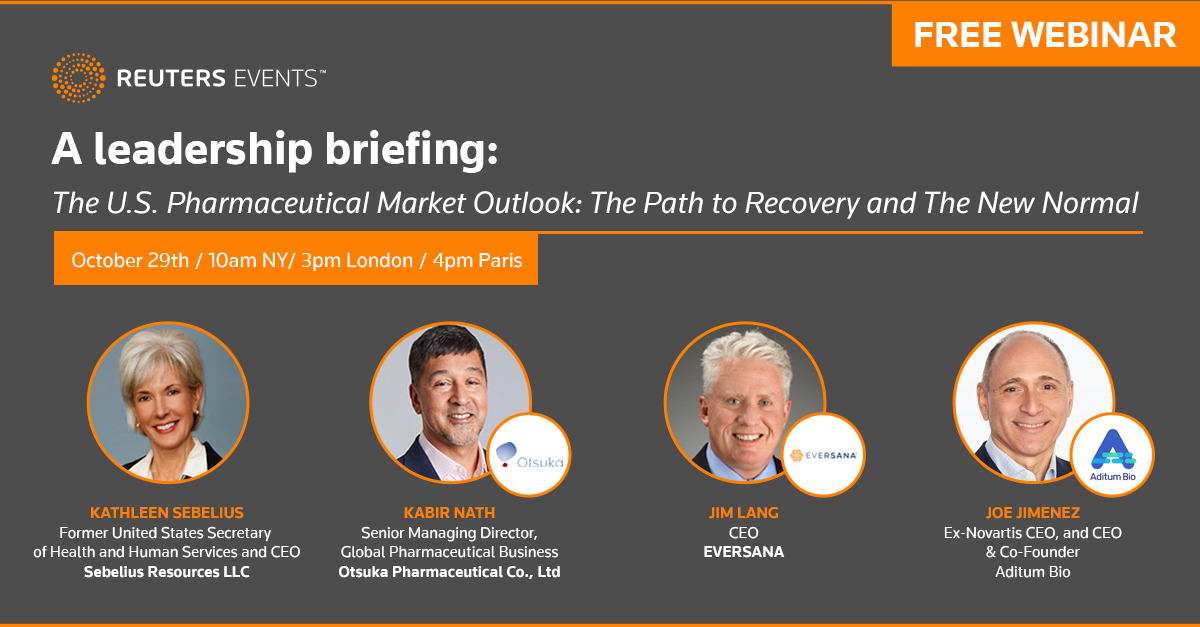 U.S. Pharmaceutical Market Outlook: The path to recovery and the new normal 
In the post-COVID-19 path to recovery, pharmaceutical leaders have increased their focus on risk management, transparent operations, and reshaping the future of their workforces.
Given the shifts that have taken place seemingly overnight, companies are forced to concept the "new normal" at a rapid pace, considering internal challenges, industry impact, and the relationship in a multi-payer market, including government involvement. In the U.S. market added complexity is caused by the ramifications of the 2020 Presidential Election outcome.
Organizations hoping to successfully commercialize in the U.S. must scope the next steps from 3 optics:
Pharma/Biotech perspective
The considerations for the industry
Implications for governments
EVERSANA in partnership with Thomson Reuters (formally eyeforpharma) is delighted to bring together industry leaders to discuss the impact of the healthcare pandemic on the pharmaceutical industry, how the possible outcomes of the 2020 presidential elections can dictate new pathways and the importance of telling a compelling story to demonstrate the benefits and value of therapies.