A Holistic, Agile Model
Companies spend more than $125MM over 3 years leading up to a launch and $10MM in internal headcount. Rising costs and industry pressures now require a more advanced commercialization model to ensure long-term commercial success and sustainable value for key stakeholders.
From industry-leading patient services and adherence solutions to global pricing and revenue management, EVERSANA's end-to-end commercialization strategy increases speed to market and accelerates growth for pharmaceutical, medical device, and digital therapies.
Ensure Optimal Commercialization
EVERSANA's comprehensive suite of commercial services powered by Data & Analytics help navigate product launches in this new era with confidence: 
Create informed strategies from early in development to launch with speed and certainty
Improve patient outcomes and identify opportunities to lower total cost of care
Inform healthcare and clinical decision-making at launch and accelerate access for patients
Generate regulatory-grade evidence to quantify the economic and clinical value of healthcare interventions to payers, providers, and patients
---
EVERSANA is the Only Go-To Expert in the Industry Offering a COMPLETE COMMERCIALIZATION solution.
Purposefully Built to Act as Your Commercialization Engine
Imagine not having to risk building an expensive infrastructure – because we have built a foundation you can customize for your product needs. Activate a complete, ready-to-deploy, high-performance commercialization and distribution engine today!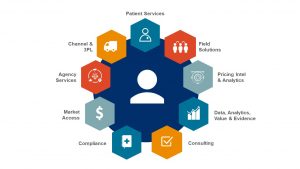 ---