An Integrated Business Model Delivers Value
A lack of insight into the evolving regulatory landscape leads to operational inefficiencies; inabilities to drive true value from data; and the absence of end-to-end accountability for real impact on better products, innovation and patient centricity. Through our integrated business model, we support R&D strategy for increasingly specialized product portfolios. 
New Market Conditions Demand New Approaches
Our approach ensures that our customers are regulatory inspection-ready 365 days of the year – with no surprises, dead investments in regulatory gaps or other similar challenges – in a proactive manner. And by building regulatory engagement into companies' innovation models, we deliver external compliance solutions as a single industry partner. For more insight into the depth of our regulatory services, visit eversanaconsulting.com.
Accelerating You
r
Speed To Market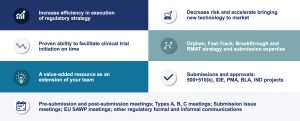 Extensive Portfolio of Regulatory Consulting Services
Regulatory strategy (pharma/biologics/tissue/medical device/combination products)
Regulatory submission authoring (IND, CTA, NDA, BLA, MAA, etc.)
Regulatory submission remediation
Orphan, Fast-Track, Breakthrough and RMAT designation strategy and submissions
Collaboration with military branches
FDA meetings, Advisory Committee meetings & EMA meetings
Regulatory operations – compliant electronic regulatory submissions
REMS strategy
Medical writing
Notified body meetings
Post-approval product support
Recalls and corrective actions
Labeling compliance
Advertising and promotion