Transforming Data in to Action: 80+ million deidentified patient records. Rapid generation of evidence and value measurement.
The increasing availability of real-world data (RWD) and real-world evidence (RWE) is accelerating research advances and improving patient outcomes. EVERSANA RWD is linked in our proprietary ACTICS platform to provide a comprehensive view of the patient journey and treatment pathways. ACTICS offers longitudinal data on more than 280 million deidentified patients, including clinical depth on 80 million patients that can be used to develop and design comparative studies that measure clinical and economic outcomes. Securely integrate clinical trial data or seamlessly link claims data for a comprehensive view of the patient experience to drive your next best action.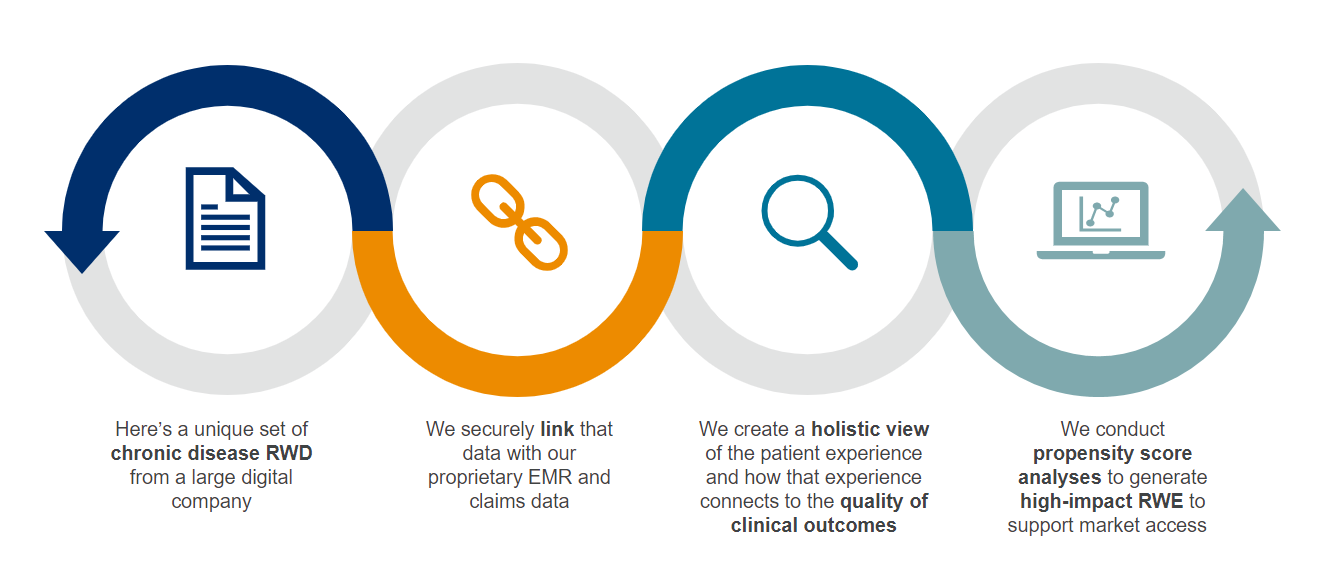 Delivering Value Across Therapeutic Areas
We have a successful track record of supporting products and programs in an ever-expanding array of therapeutic areas. Our comprehensive data, technology and services solution brings the power of RWD to chronic disease research and evidence generation, specifically in immunology, cardiovascular/metabolic disease, neurology, respiratory and rare disease.
Today, we're helping clients accelerate study times and learn how therapies perform in real-world settings through the power of RWE, such as synthetic control comparisons. A step further, we leverage that analysis to support regulatory and HTA submissions around the globe.

For detailed information on our RWD in key therapeutic areas, fill out the form below. 
Putting the Patient First Without Exception
We're proud to be a leader in offering patient-centric hub and support services. The patient voice is critical in clinical research and product development, yet it's often overlooked in RWD studies. Chronic disease is frequently marked by difficult and untreated aspects of the patient experience, and our   combination of scaled RWD with our expert curation team brings life to the patient voice.
"The use of real-world data to generate regulatory-grade evidence in chronic disease has the potential to speed cures to patients, enhance evidence for treatment and give a stronger voice to the patient "
Rapid Generation of Evidence and Value Management
A challenge in measuring product value is that it can be subjective, with "value" meaning different things to different audiences. Regulators and clinicians want to know a product is safe and effective. Patients are concerned with improving their short- and long-term health. Payers want to understand how a product performs both within clinical trials and in actual practice compared to current standards of care. Health technology assessment bodies want to know that the added clinical benefit is delivered at a reasonable and affordable cost.
Whether your product is new to the market or well established, we can help answer the questions that define its overall value:
How can I best demonstrate and communicate my product's value to all internal and external stakeholders?
What is the pricing potential of my product given the potential clinical benefits and cost offsets?
How can I integrate the clinical data from clinical trials and electronic medical records with the economic data from claims to provide a complete view of value?
Our data-driven insights are powered by a scaled expert data curation team and HEOR researchers. With over 250 publications and 100 regulatory submissions, they can enable life sciences stakeholders to conduct regulatory-grade research studies and build the evidence required to demonstrate and communicate overall value to stakeholders. Partner with our expert clinical curation team to capture critical clinical insights from unstructured electronic medical record data to produce regulatory grade analysis across key therapeutic areas.
READ: Leveraging Real-World Evidence (RWE) to Enhance Experiences Across the Patient Journey
Request a free demo of ACTICS below to learn more about how we're leveraging data-driven insights to drive regulatory-grade research and improve patient outcomes.