Noticeable improvements in several relationship competencies separate the top companies from the rest of the industry.
Post-pandemic industry dynamics have forced a shift in the way pharmaceutical companies call on their managed care customers. This past month, NAVLIN Insights concluded our annual research with payer pharmacy directors assessing their relationships and interactions with the pharmaceutical industry. As part of this research, we conducted a same-store analysis to determine how payer perceptions have changed from 2022 to 2023.
Over the past year, payer pharmacy directors noted a steady increase in the strength of relationships between their organization and leading pharmaceutical companies. When we compare perceptions to 2022, pharmacy directors indicate the top 10 companies have improved in four notable areas: visibility, tenure, engagement in discussion topics, and Medical Science Liaison (MSL) involvement (See Figure A).
FIGURE A
The Top Companies Have Improved in Overall Relationships, MSL Performance, Visibility, and Tenure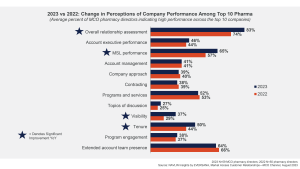 Interviews with leading payers uncover several themes about what best-in-class pharmaceutical companies do consistently well year-over-year. Multiple payer pharmacy directors state:
"I'm seeing my preferred companies more frequently."
"I'm seeing the same account executives from those companies."
"Those account executives are bringing in additional support roles (e.g., MSLs) as needed."
"These support roles have been essential in answering my questions effectively."
"This year, I noticed the top [pharmaceutical] companies are trending towards more positive experiences with our organization because of their level of engagement. Yes, some of those companies have been more aggressive with rebates this past year. But for me, the quantity and quality of proactive discussions supersedes rebates in improving our relationships with them." 
–Health plan pharmacy director
Increased Visibility Requires a Reason to Meet
The top pharmaceutical companies have increased their visibility with payers and PBMs this past year. Pharmacy directors from these organizations indicate more frequent meetings with their favorite companies, and the pandemic-accelerated transition to virtual interactions allows them to filter and schedule discussions with their preferred account executives.
To maintain such high frequency, pharmaceutical companies must establish a reason-to-meet that warrants monthly and quarterly interactions. The majority of pharmacy directors indicate they prefer to discuss contracting terms/pricing, updates on current products, and forecasts of the pipeline. Customer preferences for these topics may seem rudimentary, but the top companies are the ones most likely to address these basic expectations for their most critical customers (see Figure B).
FIGURE B
The Top Companies Excel in Addressing Pharmacy Directors' Basic Expectations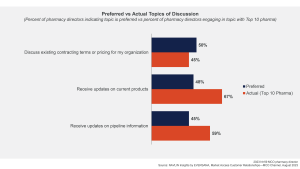 Pharmaceutical companies seeking meaningful interactions should develop agendas tailored to individual customers' preferences. In addition to the introductory topics above, we also track payer preferences across another 20 discussion topics. Companies can add value to interactions by providing comparative effectiveness research, industry best practices, clinical data, updates on pull-through activities, and support for customers' clinical programs and services where priorities align.
"The best pharmaceutical companies we meet with dedicate a lot of time and energy to enhancing their presentations. For us, that includes providing extensive product comparisons when they review their portfolio. I don't think a lot of manufacturers are adding that type of information, but the better ones give us a full perspective, including comparisons to competing products." 
–Health plan pharmacy director
Reducing Face Change in Front of the Customer Helps Maintain Strong Relationships
Payers indicate that the better pharmaceutical companies limit account executive turnover to maintain relationship consistency year-over-year. Similarly, pharmacy directors indicate that the top companies have improved significantly in establishing tenured relationships. If account executive turnover is unavoidable, the top companies also design transition plans and increase communication explaining these changes with key accounts.
Pharmacy directors report that limited tenure significantly impacts the account executive's ability to demonstrate knowledge of their organization, hindering the ability to develop strong, partner-level relationships. At NAVLIN Insights, we have been tracking a positive correlation between tenure and relationship status for the past 10 years. Overall, pharmacy directors report strong relationships among well-tenured account executives at nearly double the rate of new relationships (see Figure C). Customers prefer to meet with these tenured account executives who are able to discuss financial and clinical information relevant to their organization.
FIGURE C
Relationship Strength is Correlated with Account Executive Tenure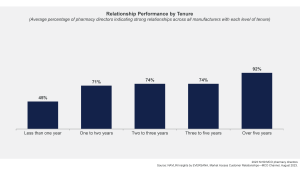 MSLs Play an Increasing Role in Pharmacy Director Relationships
Pharmacy directors indicate that the importance of meeting with an MSL has increased year-over-year for the past three years (see Figure D). With the rise of rare and genetic-based therapies, coupled with expanding specialty portfolios, customer interest remains high in meeting with MSLs who can engage in a clinical dialogue about emerging therapies. The top pharmaceutical companies have been proactive in ensuring call plans include both an account executive and an MSL.
While pharmaceutical companies have traditionally reserved MSLs for medical director interactions, pharmacy directors now view the role as integral to supporting the types of discussions they want to have with the industry. From their perspective, MSLs are better able to provide clinical updates associated with pipeline products, make fair comparisons to competitors, and demonstrate expertise as a "go-to" resource for disease-related information. Pharmacy directors do not want to "get caught off guard" with an expensive therapy impacting their budget and view MSLs as the best resource to provide that type of insight and outlook.
"I think the best companies have MSLs who truly understand our needs. They must be well-versed in the landscape and be ready to answer all questions as needed. I have great respect for MSLs who are prepared with an answer, even if it's for a therapeutic area outside of their wheelhouse. In my past experiences with MSLs, they might say something like, 'We're an oncology team; we don't know GI.' But all the top companies have MSLs who are multi-faceted, multi-focused across the entire portfolio." 
–Pharmacy Benefit Manager
FIGURE D
Pharmacy Directors Increasingly Indicate Meeting with Pharma MSLs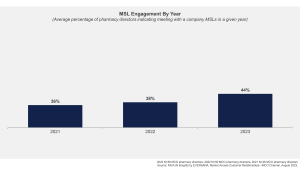 Conclusion
Pharmacy directors continually redefine 'what good looks like' in pharmaceutical company relationships and interactions. A same-store analysis shows that pharmacy directors have noticed significant improvements among the top companies in areas of visibility, tenure, and MSL engagement. NAVLIN Insights has been tracking best practices in building payer relationships for the last 20 years, and we continue to provide data-driven insights into evolving relationships.
For insights into payer pharmacy director perceptions of your company's performance and to explore how NAVLIN Insights can enhance your account engagement, please contact [email protected] to speak with one of our experts.
Author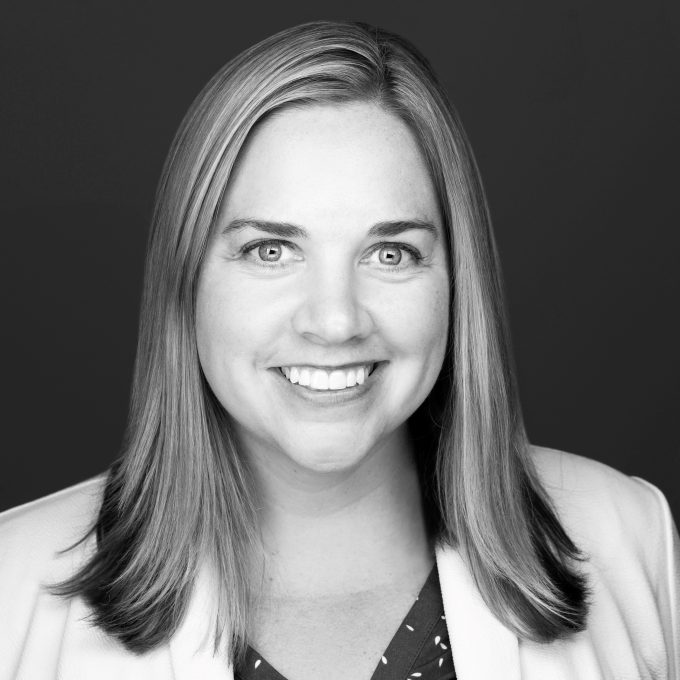 Kristen Reilly leads EVERSANA's Channel Access products, including in-depth analysis of key market trends, growth strategies, and innovations that impact biopharmaceutical strategic accounts. Kristen has 20+ years of experience studying all facets of U.S.…