NAVLIN BRIEF:
On November 7, 2022, VillageMD announced plans to acquire Summit Health for $8.9 billion. Walgreens Boots Alliance (WBA)—the major shareholder (63%) of VillageMD—will invest $3.5 billion to support the deal which is expected to close in the first quarter of 2023.
Walgreens: As part of Walgreens' efforts to become a leading provider of clinical care, the company acquired a major share in CareCentrix in August 2022 and increased its ownership of VillageMD from ~30% to 63% in November 2021. In addition, Walgreens operates more than 400 co-branded walk-in clinics in 20 states (excluding VillageMD).
VillageMD: VillageMD operates more than 250 locations in 22 markets across 14 states and reports serving more than 1.6 million patients. The company provides value-based primary care services through stand-alone practices, telehealth, in-home visits, and at locations inside or adjacent to Walgreens' pharmacies.
Summit Health: Summit Health, founded in 2019 with the merger of Summit Medical Group and CityMD, operates more than 370 primary and urgent care centers (including CityMD) across five states, and employs 13,000 individuals (including more than 2,800 providers).
CityMD: CityMD operates more than 160 urgent care centers in Connecticut, New Jersey, New York, Oregon, and Pennsylvania.
Implications
WBA will own 53% of the combined VillageMD/Summit Health organization—which will operate more than 680 provider locations in 26 markets across 18 states. WBA may acquire additional or full ownership in the future.
The deal expands VillageMD's geographic reach—adding four new states (New Jersey is the only overlapping state).
Walgreens currently leverages partnerships with local health systems and provider groups to operate its in-store clinics. This deal could open the door for VillageMD/Summit Health to take over the management of all clinics, as well as the potential to open additional in-store and stand-alone primary and urgent care centers.

Walgreens' partnership with VillageMD already included plans to open 1,000 medical centers by 2027.

Walgreens could benefit from increased script volume and foot traffic as VillageMD/Summit Health patients are steered to Walgreens for prescription fulfillment.
The deal also expands VillageMD's ability to implement value-based care by adding Summit Health/CityMD's primary care services
"Summit Health-CityMD joining VillageMD is transformational for our US healthcare segment and reinforces our intent to create greater access to quality healthcare across the care continuum…[and] accelerates growth opportunities through a strong market footprint and wide network of providers and patients across primary, specialty, and urgent care."
— Roz Brewer, CEO, WBA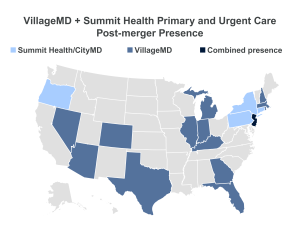 Learn more about NAVLIN by EVERSANA and our innovative market research solutions