Pharma USA 2021 is a business-critical virtual experience for pharma leaders and health innovators. This cross-functional gathering aims to build partnerships, scale new digital innovations, review performance, and ensure pharma continues to deliver transformative impact on patients' lives. This year's presentation themes include:
Establishing long-term operating models fit for purpose.
Personalizing to empower stakeholder and customer relations.
Achieving exponential innovation.
Establishing new hybrid-ready strategies.
EVERSANA is proud to participate in two Pharma USA sessions this year.
Join us on Friday, May 28, from 12:00 to 1:00 pm EST in "Hot for Hybrid: Building Medical's Field Teams For Healthcare's New Normal," as EVERSANA's Marc Bernarducci, Senior Vice President of Field Solutions – Clinical, and industry leaders explore how to build and equip Medical Affairs teams with digital skillsets and flexible engagement for hybrid operating models.
Panelists:
Marc P. Bernarducci, PharmD, MBA, Senior Vice President of Field Solutions – Clinical, EVERSANA
Jefferson Tea, Vice President, Medical and Scientific Affairs, Takeda
Suzanne Giordano, Head of Field Medical, Sunovion
Panel Topics:
Review the implications of new field force models on the structure of Medical Affairs and capability needs – plus how to ensure future resource needs are secured.
Explore new digital skillsets and flexible engagement frameworks needed to ensure MSL success in hybrid operating models.
How MSLs can collaborate with counterparts in diagnostics and sales roles to meet emerging stakeholder needs.
Optimize change management strategy to support teams' adaption to new operational models.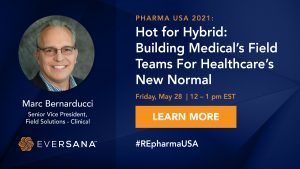 The second session, "Personalize HCP Experiences for Deeper Engagement," features EVERSANA's Amy Hutnik, General Manager, Agency, Advisory and Evidence Services. On Tuesday, June 1, from 2:00 to 3:00 pm EST, Amy will join industry leaders in discussing how to drive customer value in the new digital landscape with personalized experiences.
Panelists:
Amy Hutnik, General Manager, Agency, Advisory and Evidence Services, EVERSANA
Rusty Rahmer, Head of Customer Experience Solutions, GSK
Deepak Tomer, Digital Marketing Lead, Eli Lilly
Kelli Tea, Executive Director of Commercial Development, Protara Therapeutics
Bill Evan, Chief Marketing Officer, Komodo Health
Panel Topics:
Harness AI to inform your sales approach and meet your customers' needs for both human interaction and digital engagement.
Pull, don't push: Build more meaningful relationships with customers by engaging only when necessary and delivering value-added supporting content.
Supplement face- to-face interactions with a digital backdrop of integrated channels for an enriched "surround-sound" customer experience.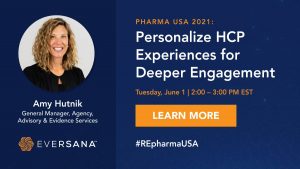 Register for Pharma USA 2021 to attend this session and more!
---
Reaching Patients Through HCP Engagement, Agency Outreach and Innovative Field Solutions
The concept of patient centricity is well embedded throughout EVERSANA and is intrinsically tied to helping clients achieve their goals. Both the patient and the provider must be engaged in the process of enhancing patient satisfaction and achieving speed to therapy when a new product is launched. Our full-solution healthcare marketing agency, EVERSANA ENGAGE, is helping pharmaceutical and biotechnology companies cohesively reach patients and providers to enhance the patient experience and improve outcomes.
EVERSANA's agency expertise paired with flexible clinical and commercial field teams and next generation patient services allows us to develop and deliver the most effective strategy to help you achieve your commercial goals and change patient lives.
Click here to schedule a meeting with our team of experts to learn more.