Distribute with Speed, Scale and Agility
As a pharmaceutical manufacturer, you're in a league of your own. Developing and distributing innovative, life-altering therapies to patients is no small feat, and it should certainly not be complacent to the status quo of an outdated, one-size-fits-all model. At EVERSANA, our clients benefit from an agile, innovative distribution model with:

Lean Life Sciences Distribution Services
Many manufacturers involuntarily commit to convoluted, costly distribution models that often lack the flexibility needed to increase efficiency, maximize investments and minimize risk on a product-by-product basis. At EVERSANA, our lean supply chain solutions effectively:
Utilizes a single client-centric supply chain partner with carrier neutrality.
Delivers therapies wherever patients need it – residences, pharmacies, hospitals, clinics, etc.
Provides customized temperature-controlled environments in both storage and transportation solutions.
Ensures on-time, accurate delivery with transparent, real-time tracking of product movement.
Safeguards its operations to minimize risk and ensure product authenticity and integrity.
With our independent approach and carrier neutrality, manufacturers can access the most competitive rates for their required volumes within the US, as well as global imports and exports.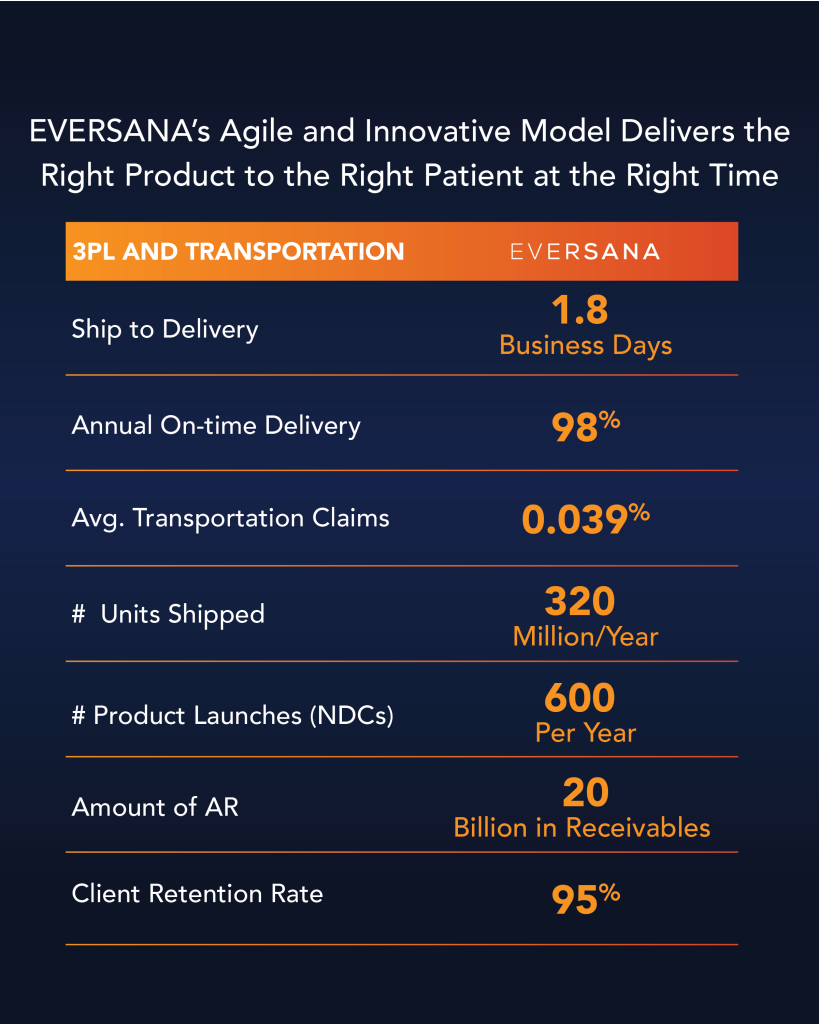 Centralized Financial Services
An agile distribution model can also ensure ongoing financial stability from the start. Implementing secure order and invoicing operations and processes for when, where and how a product is shipped is key to effectively managing your sales. At EVERSANA, we work directly with manufacturers to help them optimize order-to-cash operations through our scalable customer service team while preventing revenue leakage that can occur when managing account receivables.
Our financial services solutions outpace industry standards to ensure needs are met as quickly and accurately as possible. With a call abandonment rate of only 1.9%, average speed to answer of 13 seconds, order accuracy rate of 99.96% and a month-end financial close of only one business day, we have the ability to provide elevated financial services that exceed expectations.
Protect brand transparency and avoid the complexity of financial management with our order-to-cash services, customer and client call centers, account receivables teams, chargeback processing, and government reporting – all seamlessly integrated to serve your downstream customer base and reduce cost of operations.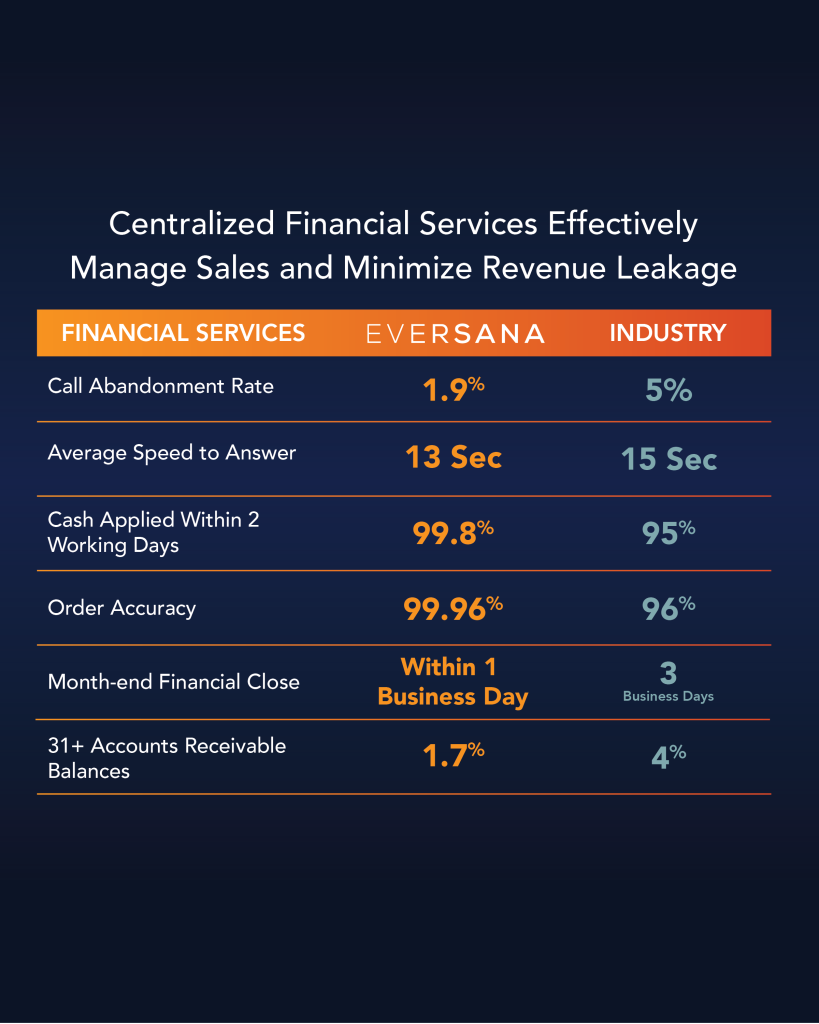 Client-Centric Channel Services
Over the last few years, new sites of care emerged in clinics, Veteran Affairs offices and even patient homes. When manufacturers cannot directly connect with these key customers, they are missing out on significant growth opportunities. By fostering a direct relationship with each customer, manufacturers regain control of their brand and their customer experience.
With 320 million units shipped and 600 product launches per year, our 3PL and transportation abilities are best-in-class. Our top-tier operational rigor is further exemplified by our dexterity to ship to delivery within 1.8 business days and our annual on-time delivery rate of 98%.
What's more, you hold the data that informs the state of your business and your next move. At EVERSANA, we built a comprehensive, full-service eCommerce platform to solve for this gap – without involving other intermediaries, such as wholesaler, specialty distributors and other middle players in the supply chain. These capabilities are part of why our client retention rate stands at a formidable 95%.
Schedule a meeting with an EVERSANA expert to learn more about our services.