Biological therapies are often very expensive, putting pressure on healthcare budgets that are already restricted and potentially resulting in a decrease in patient access to treatment, in Europe biosimilar versions have been eagerly awaited in many high value therapies in order to reduce costs and increase patient access. However, it is also clear that the use of biosimilars has not been equivalent across the indications extended from the reference product.
In order to understand where biosimilars have been most effectively implemented in care pathways, we chose to look at autoimmune indications as these have been the clearest examples of biosimilars being awarded equivalence by extension to indications outside of the initial regulatory package. We performed a double-blinded survey that included 50 current or recent decision makers/influencers of healthcare policy across the top 5 EU countries. To participate, each respondent was required to hold or have held a position in a national, regional, or local decision-making entity.
The graph below shows that there is substantial variation in the use of biosimilars across different autoimmune care pathways.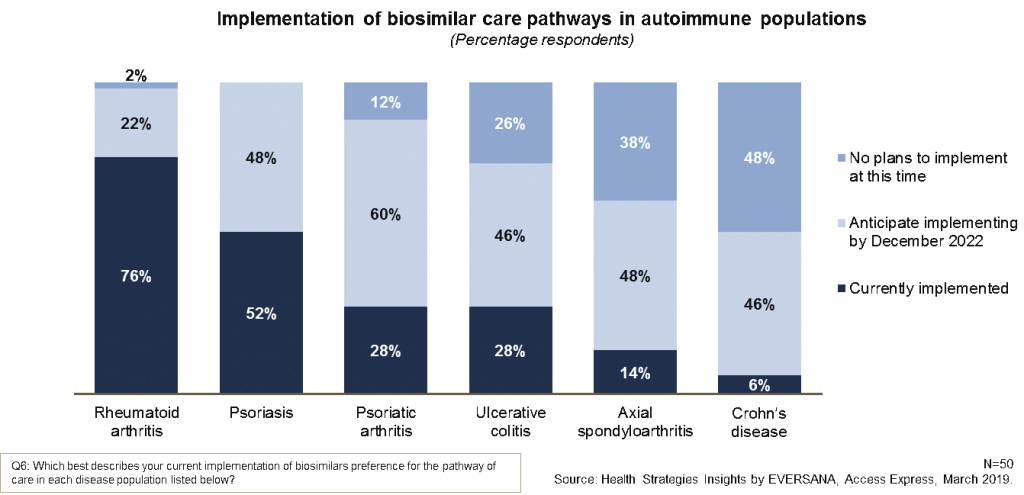 The responses to the survey illustrate that biosimilars have been deeply implemented in rheumatoid arthritis care pathways reflecting the focus on this therapeutic area because of the prevalence of patients but also reflecting the comfort with the equivalence in efficacy and safety profile for the biosimilars used.
In contrast there is little use or intended implementation of biosimilars in Crohn's disease which may reflect the strength of conviction of equivalence for this indication as well as the lower prevalence.  Market access teams can act on this information to ensure that real world evidence of use is available or generated for those indications without substantial penetration to improve uptake.
---
To get more insight on our recent biosimilar study, click here for free access to our biosimilar e-book series, EU Decision Maker Perceptions of Biosimilars.
To learn more about Health Strategies Insights by EVERSANA, click here.