PRICENTRIC BRIEF:
As President Joe Biden is urging Congress to pass his Build Back Better bill to lower what he called "outrageously expensive" insulin and prescription drug costs, the House Committee on Oversight and Reform has published a report on its three-year investigation into drug pricing in the U.S., alleging pharmaceutical companies "aggressively" raised prices to meet revenue targets, suppressed competition and shorted Medicare from savings on certain drugs, insulin included. The high price of drugs is a hot-button issue that has been spotlighted by both Democrats and Republicans, with current advanced policy proposals calling for Medicare to be empowered to negotiate drug prices. The industry has challenged findings in the report, as well as drug pricing legislation currently under discussion, again questioning why PBMs and insurance companies are not taking any heat, given these stakeholders are the negotiators and gatekeepers to medicine for patients.
THE DETAILS
WASHINGTON, D.C., United States — The House Committee on Oversight and Reform has published a report on its three-year investigation into drug pricing in the U.S., which included hearings with drug company CEOs and analyses of company expenditure on stock buybacks and R&D from over 1.5 million company documents.
Late Chairman Elijah E. Cummings kicked off the investigation in January 2014; and since then, the committee has issued eight staff reports, including six detailing the pricing and business practices of AbbVie, Amgen, Celgene, Mallinckrodt, Novartis and Teva. The investigation covered brand-name and often costly cancer therapies, insulin and treatments for rare diseases, with the goal of finding out how Congress can reform the industry to make prescription drugs more affordable.
Findings from the committee's investigation allege drugmakers "aggressively" raise prices to meet revenue targets, with executive compensation structures incentivizing price increases. Companies target the U.S. for higher prices, using Medicare specifically to boost revenue, while abusing the patent system and Food and Drug Administration (FDA) market exclusivities to suppress competition. In particular, companies use so-called "life-cycle management" or "loss of exclusivity" strategies, including "product hopping" or "evergreening" and "shadow pricing."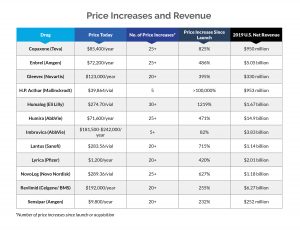 Internal data obtained by the committee revealed that net prices of nearly all drugs in the investigation increased year over year, stated the report, which "undermines industry claims that price increases are primarily due to increasing rebates and discounts paid to pharmacy benefits managers (PBMs)." The industry has called attempts to lower prescription drug prices as misguided due to the focus on drug companies and not PBMs, the so-called pharmacy middlemen who, drugmakers maintain, pocket savings rather than pass them on to patients.
The committee also alleged that drug companies use patient assistance programs as PR to boost sales, since spending on such programs is minimal and the programs themselves do not address "the burden that the company's pricing practices have placed on the U.S. healthcare system." And finally, it was found that research and manufacturing costs do not justify price increases — R&D investments are "far outpaced" by revenue gains.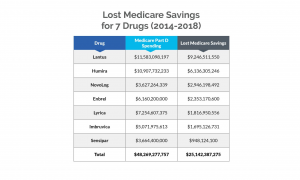 11For three drugs — Lantus, NovoLog and Lyrica — this figure represents net Medicare Part D expenditures. For the other drugs — Humira, Enbrel, Imbruvica and Sensipar — this figure represents gross Medicare Part D expenditures.
The report took aim at Eli Lilly, Novo Nordisk and Sanofi, claiming the three companies targeted the U.S. for price increases, causing Medicare to lose out on more than $16 billion in savings from 2011 to 2017 for three commonly used insulin products, Humalog, Lantus and NovoLog. (Taxpayers could've saved more than $25 million over a five-year period for seven drugs alone if Medicare Part D plans had obtained discounts that other federal health programs negotiated.) To prevent competition, the companies were also alleged to have engaged in strategies to maintain monopoly pricing and ward off biosimilar competition.
Pfizer also came under fire in the report for Lyrica (pregabalin), its pain-management drug, with findings claiming the company targeted the U.S. market for price increases and used patent protections, market exclusivities and other tactics to not only delay generic competition but keep prices high.
In a letter to committee members, Committee Chairwoman Carolyn B. Maloney said that drug companies raised prices "relentlessly" in the U.S. while lowering prices elsewhere, blaming faults in the healthcare system for "outrageous prices and anticompetitive conduct." Maloney added, "The evidence overwhelmingly supports the need to pass the Build Back Better Act, which will empower Medicare to negotiate for lower prices, restrain price increases and cap out-of-pocket patient costs for insulin and other drugs."
Build Back Better to Empower Medicare to Negotiate Drug Prices
The issue of high drug prices has been spotlighted by both Democrats and Republicans, with former U.S. President Donald Trump signing an Executive Order to introduce a form of U.S. reference pricing — the Most Favored Nation (MFN) rule — in the U.S. (The order was eventually struck down.) Legislators from both parties have also introduced various bills attempting to benchmark U.S. drug prices, such as H.R. 3, which has long been promoted by Speaker of the House of Representatives Nancy Pelosi (CA-D).
At the White House's drug pricing event in early December 2021, U.S. President Joe Biden urged Congress to pass his Build Back Better bill as a way to lower what he called "outrageously expensive" insulin and prescription drug costs. Biden stated, "I'm committed to using every tool I have to lower prescription drug costs for Americans, consistent with the drug companies getting a fair return on their investment. To really solve this problem, we need the Senate to follow the House of Representatives' lead and pass the Build Back Better bill."
In addition to expanding eligibility for Medicare benefits, the bill would allow Medicare to negotiate drug prices; impose a tax penalty if drug companies increase prices faster than inflation; and lower out-of-pocket costs, particularly those for insulin. Biden's plan would permit Medicare to negotiate up to 10 drugs per year during 2023 (with those prices taking effect in 2025), increasing to up to 20 drugs per year. High-cost prescription drugs would be the target, specifically those under Medicare Parts B and D, and drugmakers that refuse to negotiate will owe an excise tax. Similarly, drugmakers who increase their drug prices faster than inflation will owe a tax penalty. The bill would also introduce a $35 per month cap on insulin, which dovetails with caps on OOP spending for seniors; seniors would pay no more than $2,000 a year for their drugs under Medicare Part D.
With the Senate aiming to decide on Biden's bill by Christmas, the report's findings are timely and somewhat damning, rejecting insight from the industry into resolving the withstanding and hot-button issue of high drug prices in the U.S. The issue is, for the most part, bipartisan, although legislation from Democrats has taken a much more aggressive stance on empowering Medicare to negotiate pricing, whereas majority Republican-backed policy (e.g., the "Lower Costs, More Cures Act") wants to fine-tune policy to boost competition without jeopardizing innovation.
PhRMA Asks Why PBMs, Insurers Overlooked in Drug Pricing Legislation
The industry has challenged findings in the report, again questioning why PBMs and insurance companies are not taking any heat in drug pricing legislation, given these stakeholders are the negotiators and gatekeepers to medicine for patients.
Debra DeShong, Executive VP for Public Affairs, the Pharmaceutical Research and Manufacturers of America (PhRMA), stated: "Like the disastrous bill championed by Democratic leaders, this misleading report fails to address abusive practices by insurance companies and middlemen who profit off a broken system while patients can't afford their medicines. This so-called investigation has ignored the real affordability problems people face, like rising deductibles and other out-of-pocket costs. This is nothing more than a partisan exercise to justify an extreme proposal that will restrict patient access to lifesaving cures and treatments. We think there's a better way that would lower costs at the pharmacy while preserving choice, access and innovation. We are committed to working with policymakers on commonsense, bipartisan solutions that address the real affordability challenges patients face."
PhRMA CEO Stephen J. Ubl previously put forth a three-step approach to building a better healthcare system that avoids what he dubbed "draconian" price-setting policies. The three key pillars of Ubl's policy proposal are ending the pandemic and building a more resilient system; making medicines more affordable; and building a more just, equitable healthcare system. PhRMA's proposals include preserving public and private partnerships to boost the biopharmaceutical ecosystem; focusing on public health issues; making medicines more affordable by homing in on insurers who don't pass along savings to patients; changing Medicare Part D practices; and ensuring a more just, equitable health care system.
EVERSANA's Takeaway: U.S. Drug Pricing Policy Shakeup Inevitable?
With its focus on the practices of pharmaceutical companies and price increases, the report nevertheless serves to buttress Democratic plans to empower Medicare to negotiate drug prices. Senate Majority Leader Chuck Schumer (D-NY) has set Christmas as the goal date for approving the bill, despite critics suggesting it will take longer to be passed because it is still under review for compliance with the Byrd Rule and there is a lack of unanimity among Democrats.
Although previous efforts to alter U.S. drug pricing policy — notably Trump's MFN rule — were stalled, it's hard to deny that U.S. policy will soon get a shakeup. Giving Medicare the ability to negotiate drug prices would be a major and radical change for the U.S. and is forecasted to have repercussions, particularly on innovation. The U.S. has been positioned as a first-launch market due to its pharma-friendly pricing policies, with U.S. patients often gaining access to new, innovative treatments before other markets. And drug prices in the U.S. are frequently referenced by countries that more actively engage in reference pricing. The side effects from approving the Build Back Better plan have the potential to be more than just a slight headache for pharma.
EVERSANA uniquely has the people, methods and tools to assist businesses in navigating any changing pharmaceutical policies, even in such unsure times. This expertise is built on our combined decades of experience solving problems in and building tools for global pricing intelligence, global visibility and product launch expertise, which puts us in a trusted position to advise clients on how to handle these changes.
At the same time, Pricentric INSIGHTS strives to deliver accurate, comprehensive insights on major policy and regulatory changes, as well as HTA decisions and drug approvals, in 100+ markets around the world. Our team of researchers checks a database of over 700 reliable sources, including everything from government databases to local newspapers, to provide readers with in-depth updates on the ever-changing pricing and reimbursement landscape. In addition, we provide conference coverage and utilize our team of consultants to detail how major policy changes, such as those proposed by Biden, can impact market access and the global pricing landscape.
Learn more about Pricentric ONE and our Global Pricing Solutions!
Contact us with your questions and global pricing needs, and an expert will follow up shortly.