ADVANCING THE COMMERCIALISATION OF DIGITAL MEDICINES
Join EVERSANA at a number of events as we work to advance the commercialization of digital medicines.
"While advancements in digital medicine take us into a new frontier, these devices can and should be available through existing prescription, distribution and reimbursement infrastructures. The commercial model for digital medicine will be efficient, effective and valuable to payers, providers and most importantly, for the patients and caregivers who need them." Jim Lang, CEO, EVERSANA
For more information on the work we do for Digital Therapeutics or to schedule an appointment with one of our Subject Matter Experts, please contact Jon Kizner by completing our contact us form. 
---
EVERSANA – Knowledge Partner at DTX London
June 9-10
 Join the EVERSANA team at the DTX London, taking place on June 9 & 10, 2020  and let's keep the conversation going on commercializing digital therapeutics.
As a Knowledge Partner, EVERSANA brings a number of solutions to alleviate the barriers facing the adoption of digital therapeutics – from reimbursement strategies, distribution, dispensing, patient engagement and adherence programs.
Learn more about the Commercialization of Digital Therapeutics:
[Article] Ask the Experts – Digital Therapeutics
---
[News] Cognoa and EVERSANA™ announce partnership to advance the commercialization standard for prescription digital medicines.
---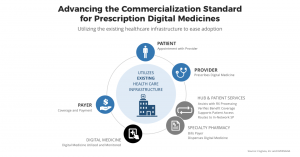 Advancing the commercialization standard for prescription of digital medicines. [Download Infographic]
---
[News] EVERSANA and Noom announce strategic partnership to improve therapy adherence and patient engagement for complex therapies.
---
[Blog Post] Top 10 questions for Digital Companies
---
[Webinar] Realizing Value from Digital in the Healthcare Environment