ADVANCING THE COMMERCIALISATION OF DIGITAL MEDICINES
Join EVERSANA at a number of events as we work to advance the commercialization of digital medicines.
"While advancements in digital medicine take us into a new frontier, these devices can and should be available through existing prescription, distribution and reimbursement infrastructures. The commercial model for digital medicine will be efficient, effective and valuable to payers, providers and most importantly, for the patients and caregivers who need them." Jim Lang, CEO, EVERSANA
---
Meet Jim Lang, CEO of EVERSANA at Frontiers Health as he joins a panel on Friday, Nov 15 at 10:15.
Frontiers Health is a global event on digital health innovation with a strong focus on digital therapies, breakthrough technologies, healthcare transformation, investments and ecosystem development.
Frontiers Health
Nov 13-15; Berlin, Germany
---
EVERSANA – Knowledge Partner at DTX Berlin
 Join the EVERSANA team at the DTX Berlin, taking place on December 3rd & 4th and let's keep the conversation going around commercializing digital therapeutics.
As a Knowledge Partner, EVERSANA brings a number of solutions to alleviate the barriers facing the adoption of digital therapeutics – from reimbursement strategies, distribution, dispensing, patient engagement and adherence programs.
DTX Berlin
Mövenpick Hotel Berlin
December 3-4
Schedule a meeting with the Digital Therapeutics Commercialization team.


---
Learn more about the Commercialization of Digital Therapeutics:
---
Cognoa and EVERSANA™ announce partnership to advance the commercialization standard for prescription digital medicines.
---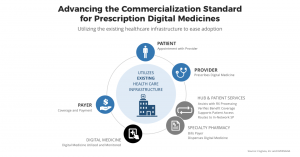 Advancing the commercialization standard for prescription of digital medicines. [Download Infographic]
---