Alleviate Patients' Financial Burdens and Increase Speed to Therapy
Are you under pressure to improve the eligibility screening of your patient assistance program (PAP) while simultaneously charged to reduce operational costs?
Current PAP models are cumbersome and expensive, often requiring multiple FTEs and days of processing. At EVERSANA, our custom-built patient assistance programs leverage technology and automation to improve operational efficiencies, reduce manual processes and enhance the overall user experience.
Designed to alleviate patients' financial burdens and increase speed to therapy, EVERSANA's full-service, cost-effective and streamlined PAP model includes:
Digital Enrollment Solutions – Secure self-service websites with Virtual Chatbot Coordinators guide the patient through the enrollment process, reducing the burden of the HCP and office staff.
Automated Intake and Eligibility – Robotic Process Automation enables faster application intake and processing. The Electronic Income Validation tool quickly verifies patient eligibility and eliminates the need for hard-copy documentation being submitted to the program.
Alternate Funding – A database of Alternate Funding resources and qualifications pre-screen patients for eligibility to ensure the right patients are benefitting from the PAP.
Personalized Engagement – Patient engagement with the right message and cadence through their preferred communication channel yields optimal response and impact.
Flexible Distribution Models – Integrated specialty pharmacies fulfill products directly to patients, providers, EVERSANA, or a client-preferred pharmacy for a more efficient and streamlined PAP process.
---
How the EVERSANA Patient-Driven PAP Model Works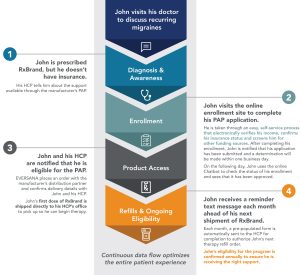 Click here to download the high-resolution image (PDF).
---
Schedule a meeting with an EVERSANA expert to learn how we can build a customized, cost-effective and streamlined PAP model for your brand portfolio.