Since the launch of Sandoz's Glatopa in June 2015, generic options have slowly entered the multiple sclerosis market, providing some cost relief to payers in this high-cost market. Generic entrants, along with rising costs and a perceived lack of differentiation among brands on key clinical outcomes, solidify multiple sclerosis as one of the most extensively managed markets by commercial plans. Both long-tenured and newer brands are faced with stricter monitoring of utilization and greater scrutiny in access decisions.
Our budgets are tighter than ever and we're trying to really reduce costs. MS is an area of high drug spend, one of the top drug spend categories. Now that we have some generic competition, and are expecting some biosimilar competition, there's more opportunity to manage than ever before. – Regional Independent Plan Medical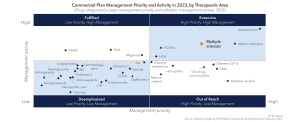 The availability of generics in this market has not been an easy road, as manufacturers of the originator brands have unsurprisingly taken extensive measures to hold on to revenues.
Timeline of Multiple Sclerosis Market with a Focus on Generic Launches and their Originator Brands
January 2014: Teva launches 40mg dose of its blockbuster drug Copaxone in anticipation of the patent expiration for Copaxone 20mg
June 2015: Sandoz launches Glatopa, the first generic competitor to Copaxone 20mg
October 2017: Mylan launches generic glatiramer acetate in both 20mg and 40mg formulation
February 2018: Sandoz launches Glatopa 40mg
November 2019: Biogen launches Vumerity as the next-generation fumarate with a unique chemical structure that may reduce gastrointestinal side effects, in response to Tecfidera patent pressures
August-September 2020: Mylan launches generic dimethyl fumarate (Aug. 2020), despite risk of potential litigation with Biogen. Banner Life Sciences launches Bafiertam (Sept. 2020), a bioequivalent of Tecfidera, not long behind and after patent litigation
October 2022: Glenmark somewhat quietly launches generic fingolimod
February 2023: Cycle Pharmaceuticals launches Tascenso ODT (orally disintegrating tablet), which was the same API as Gilenya (fingolimod)
March 2023: Multisource generic teriflunomide becomes available
As more and more generics launch, health plans have increasingly leveraged the generic tier within commercial formularies to lower costs and drive utilization within the multiple sclerosis market. Despite some of these specialty generics having higher list prices than traditional small molecule generics, plans still recognize the influence patient out-of-pocket costs can have on prescribing especially in a market where most brands offer generous copay assistance programs.
Do we want to put it on a generic tier even though the pricing is still somewhat below what would be considered a specialty price? We've gone back and forth, quite a bit, across other categories as well. We've been inconsistent for sure on doing that. We do what we can to incentivize, from a financial standpoint, patients using generics. Part of the problem on generic launches is the copay assistance. Most of these patients are using the copay assistance for the brands, so they're probably not used to paying anything for the drugs. So, we really have to get the member cost share down and part of how we can do that is by moving the drug down to the generic tier. – Regional Independent Plan Medical
Once generics become more widely available, we'll move the brand to our nonpreferred brand tier, which is a much higher copay than the generic. So that's going to naturally help patients switch over to the generic. – National Plan Pharmacy

In addition to driving utilization via formulary management and lower cost sharing, many plans also leverage step edits within their prior authorization criteria to promote first-line generics for multiple sclerosis. While many payers typically focus on a single generic step, the interest in multiple generic steps has increased following the launch of generic versions of both Tecfidera and Gilenya. To no surprise, classes with generics are an easy target for generic trial requirements (i.e., S1P inhibitors, fumarates, Copaxones); however, no brand is immune.
It's a balance for us to keep spending low while promoting the best patient outcomes. Since we expect these new drugs to be expensive, we're going to try to move members to generic products whenever possible. – Blues Plan Pharmacy

The multiple sclerosis landscape and treatment paradigm have evolved significantly over the past few years, with a shift away from legacy disease-modifying therapies (i.e., interferons, Copaxone) and towards more effective second-generation drugs (e.g., Ocrevus). Given this dynamic as well as an increasingly competitive contracting environment, branded therapies still account for a majority of the prescription volume.
Rather than our current strategy of having [members] step through generic Copaxone or an interferon, and not getting the response they're looking for, it might be advantageous to start out of the gate on the most highly efficacious agent. There is that possibility if the data proves out and we get more than observational information. –National Plan Pharmacy
However, with the increased availability of multisource versions of generic fingolimod and generic teriflunomide, as well as the potential for biosimilar natalizumab in the next two years, stakeholders expect brand and generic utilization to even out within the multiple sclerosis market.
One of our management goals for MS in 2023 is to] continue to stress the availability of generics. Compared to prior years, there are a number of generics available. We now have Gilenya, Tecfidera, Copaxone… soon to have Aubagio. When we have that group of generics, it's a new ball game in terms of favorability and things like that. – Blues Plan Medical

Competing with generics and biosimilars will require branded manufacturers in the multiple sclerosis market to tailor patient cost-sharing support tools, highlight their brand's value propositions in an effort to limit prior trial requirements, as well as explore contracting opportunities to secure preferred second-line access. Compelling clinical data and competitive or innovative contracting will be key to future success in this market.
Looking to improve access for your branded multiple sclerosis agent in 2023? Preparing to launch a new drug in this market? Seeking to leverage the introduction of generics in multiple sclerosis as a cautionary tale or analog for your market? Please contact [email protected] to speak to one of our Brand Access experts.
Author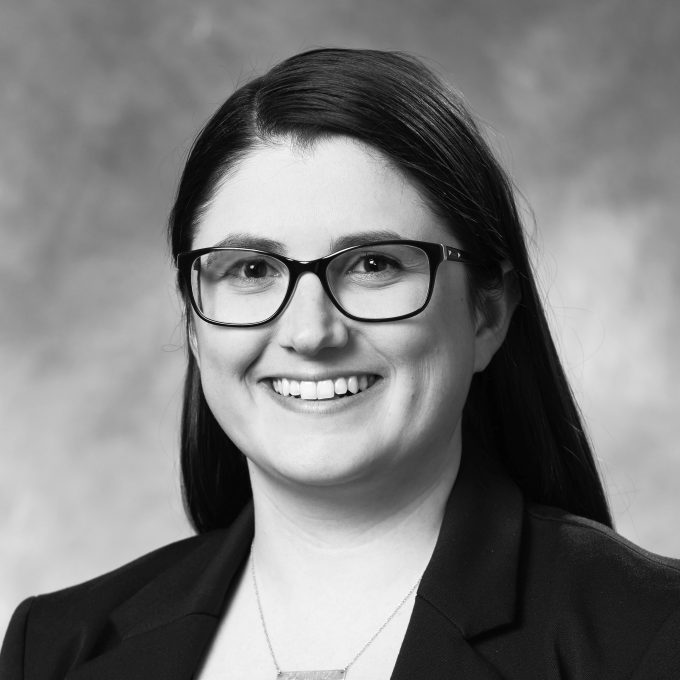 Amanda Samuels leads our Brand Access products, which includes insights solutions to support client's brand strategies. She helps clients assess the current and future access environments for their market, as well as identify opportunities…