Over the last several years, market demand for biosimilars has accelerated particularly for high value reference products. Efforts have been undertaken to provide education, experience sharing platforms as well as coordinating tenders across regions in the UK. Given the success of these strategies in terms of market share penetration are there really any barriers which exist for biosimilars in the UK?
We performed a double-blinded survey that included 10 current or recent decision makers/influencers of healthcare policy. To participate, each respondent was required to hold or have held a position in a national, regional, or local decision-making entity.
The graph below shows that 70% of respondents still view physician or specialist resistance as a top three reason why there is not deeper biosimilar penetration in the UK. Interestingly, the ability to gain benefits from biosimilar use and the amount of paperwork required to ensure switching are not far behind.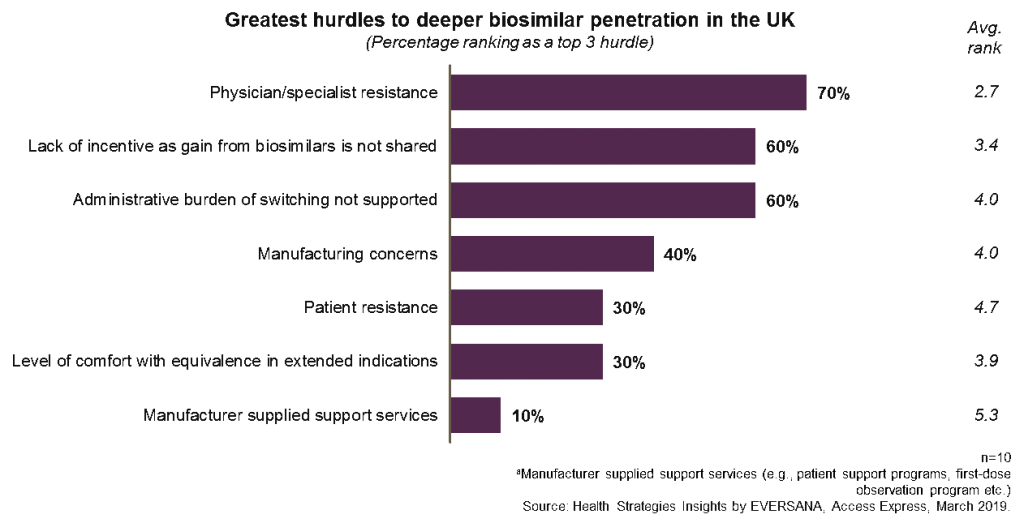 So what does this mean for biopharmaceutical companies? Market access teams should build evidence support tactics into market access plans relative to the concerns uncovered in this research to build a solid platform for product success. For example although it would seem that providing reassurance to payers regarding physician support or patient education for new biosimilars may be key to optimizing uptake, the need to understand and facilitate biosimilar integration into care pathways is equally as  important.