An Integrated Business Model Delivers Value
A lack of insight into the evolving regulatory landscape leads to operational inefficiencies; inabilities to drive true value from data; and the absence of end-to-end accountability for real impact on better products, innovation and patient centricity. Through our integrated business model, we support R&D strategy for increasingly specialized product portfolios. 
New Market Conditions Demand New Approaches
Our approach ensures that our customers are regulatory inspection-ready 365 days of the year – with no surprises, dead investments in regulatory gaps or other similar challenges – in a proactive manner. And by building regulatory engagement into companies' innovation models, we deliver external compliance solutions as a single industry partner. For more insight into the depth of our regulatory services, visit eversanaconsulting.com.
Accelerating You
r
Speed To Market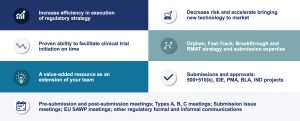 Extensive Portfolio of Regulatory Consulting Services
Regulatory strategy (pharma/biologics/tissue/medical device/combination products)
Regulatory submission authoring (IND, CTA, NDA, BLA, MAA, etc.)
Regulatory submission remediation
Orphan, Fast-Track, Breakthrough and RMAT designation strategy and submissions
Collaboration with military branches
FDA meetings, Advisory Committee meetings & EMA meetings
Regulatory operations – compliant electronic regulatory submissions
REMS strategy
Medical writing
Notified body meetings
Post-approval product support
Recalls and corrective actions
Labeling compliance
Advertising and promotion
Promotional / Non-Promotional Materials Review Support Services
Medical Legal Regulatory (MLR) Review Committee Support is crucial for companies to ensure compliance and meet deadlines during the review and approval of promotional and non-promotional materials. Companies often face challenges due to the multiple responsibilities of medical and regulatory reviewers and the fluctuating volume of materials, especially during new product launches.
To address this, EVERSANA's expertise and flexible support models provide tailored support services for medical review as part of the MLR process. In addition, EVERSANA offers fact-checking support from highly qualified and trained medical reviewers based in India, as well as US-based medical reviewer consultants. EVERSANA also provides MLR Committee Coordinator support and regulatory ad promo support with experienced professionals.
To learn more about, EVERSANA's Medical Legal Regulatory (MLR) services, click here.