EVERSANA is a proud to sponsor the World Orphan Drug Congress USA held at the Gaylord National Resort and Convention Center in Washington, DC May 23-25. Visit our booth or schedule a meeting with EVERSANA's experts in rare diseases, patient services, data and analytics and commercialization services to learn how EVERSANA leads the way in simplifying complex rare disease patient journeys.
EVERSANA's Rare Disease Expertise
With over 7,000 distinct rare and genetic diseases affecting 400+ million individuals, the average time to diagnosis still remains approximately 7 years. In response, EVERSANA's end-to-end commercialization platform provides manufacturers innovative solutions to accelerate speed to market, diagnose patients faster, simplify new therapy onboarding and personalize adherence support.
---
Speaking Sessions Featuring EVERSANA Experts on Wednesday, May 24

Keynote Panel: Digital Transformation for Rare Disease​s – What's working and what needs to change?  |  1:00-1:40 PM
Maria Kirsch, President, Patient Services
Scott Snyder, Chief Digital Officer
Panel: Use of Real-World Data for Rare Diseases  |  11:50-12:10 PM
Scott Snyder, Chief Digital Officer
Pierantonio Russo, MD, Chief Medical Officer
Panel: Expediating Rare Diseases Diagnosis  |  3:00-3:20 PM
Pierantonio Russo, MD, Chief Medical Officer
Panel: Commercializing Orphan Products for Rare Diseases  |  4:00-4:40 PM
Faruk Abdullah, President, Professional Services and Chief Business Officer
---
Read Our Latest Thinking on Rare Disease Commercialization
---
Learn More About EVERSANA
PATIENT-CENTERED SERVICES 
Surrounded by best-in-class field deployment, agency, channel management and more. Explore more: 
Patient Services (link to functional details further below on the page)

 

Field Deployment & Field Medical

 

Distribution and Channel Management

 

Creative and Digital Agency with specialization in Market Access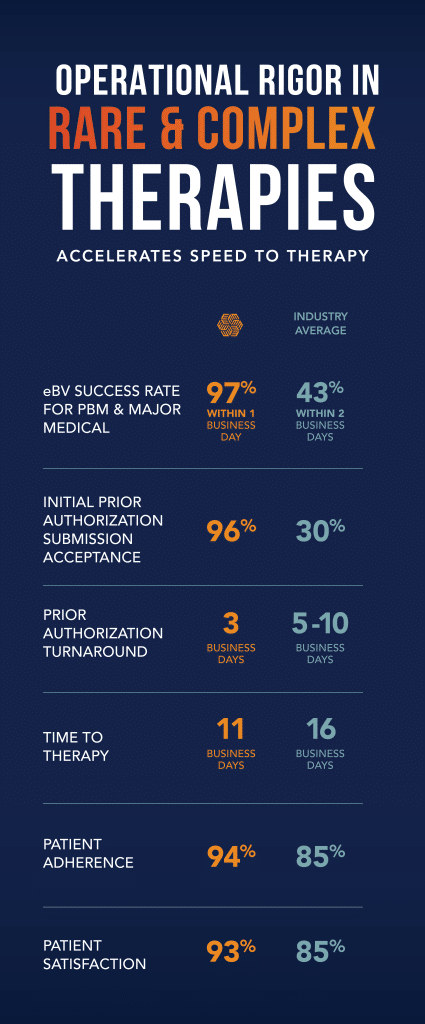 REINVENT COMMERCIALIZATION  
EVERSANA has reinvented commercialization in the pharmaceutical space. We work with large pharma to optimize the last few years of established brands – making the most out of revenue potential. We are working with emerging biotech to launch their first products – delivering unparalleled agility to navigate market complexities and drive down costs – up to 20% if they had to commercialize on their own.  
Operational Rigor

 

Integrated Services 

 

Optimized by Analytics

 
NEW MODELS FOR ONCOLOGY, RARE & HIGH SCIENCE BRANDS 
We understand the needs and sophistication of complex therapies. Our award-winning commercialization models were developed to be agile, flexible, cost effective and to lower the risk of uncertainty. They are digital first and powered by data, analytics and AI.  
Agility to pivot strategies without "change order" mentality

 

Speed to market

 

Risk management

 

Owners maintain full value of their asset

 
Visit our booth schedule a meeting with EVERSANA's rare disease experts today.