Importance of a Well-Defined Medical Legal Regulatory Review Process
It is critical for companies to have a well-defined medical, legal and regulatory review process. One of the predominant challenges companies face is that medical and regulatory reviewers often have multiple competing responsibilities. Additionally, the volumes of materials required for review can fluctuate and be significant, especially during new product or indication launch. Having supplementary ongoing and/or temporary support can help organizations better ensure compliance and meet deadlines.
Critically Important Role of the Medical Reviewer
The Medical Reviewer plays a critically important role in the Medical Legal Review (MLR) process for both promotional and non-promotional material review and approval. The medical review of promotional materials helps to ensure the medical accuracy and regulatory compliance of materials created and utilized by biopharmaceutical companies. The ​Medical Reviewer also:
 Ensures scientific accuracy, relevance, and completeness of data 

​

 Ensures claims and data are clinically and statistically relevant 

and presented in a scientifically balanced manner 

​

 Ensures that claims are not false or misleading

​

 Ensures that claims are adequately supported by data 

​

 Determines acceptability of references 

​

 Advises on whether claims are consistent with approved label

​

Confirms that the piece is relevant and of utility for the target 

audience

​

Ensures that information and data presented aligns with company's 

medical strategy 
Medical review responsibilities as part of promotional and non-promotional medical, legal and regulatory review committees often fall upon therapeutic area medical directors or medical information staff. However, these individuals typically have additional responsibilities beyond medical review and many other competing priorities, leading to a sustained work pressure to accelerate the review process, while ensuring scientific and medical accuracy. The volume and complexity of materials can also create challenges and put significant strain on medical teams, especially during new product launch.
EVERSANA's Medical Reviewer Services
EVERSANA offers tailored support services for clients looking for medical review support as part of medical, legal and regulatory review committees that are responsible for review and approval of promotional and non-promotional materials.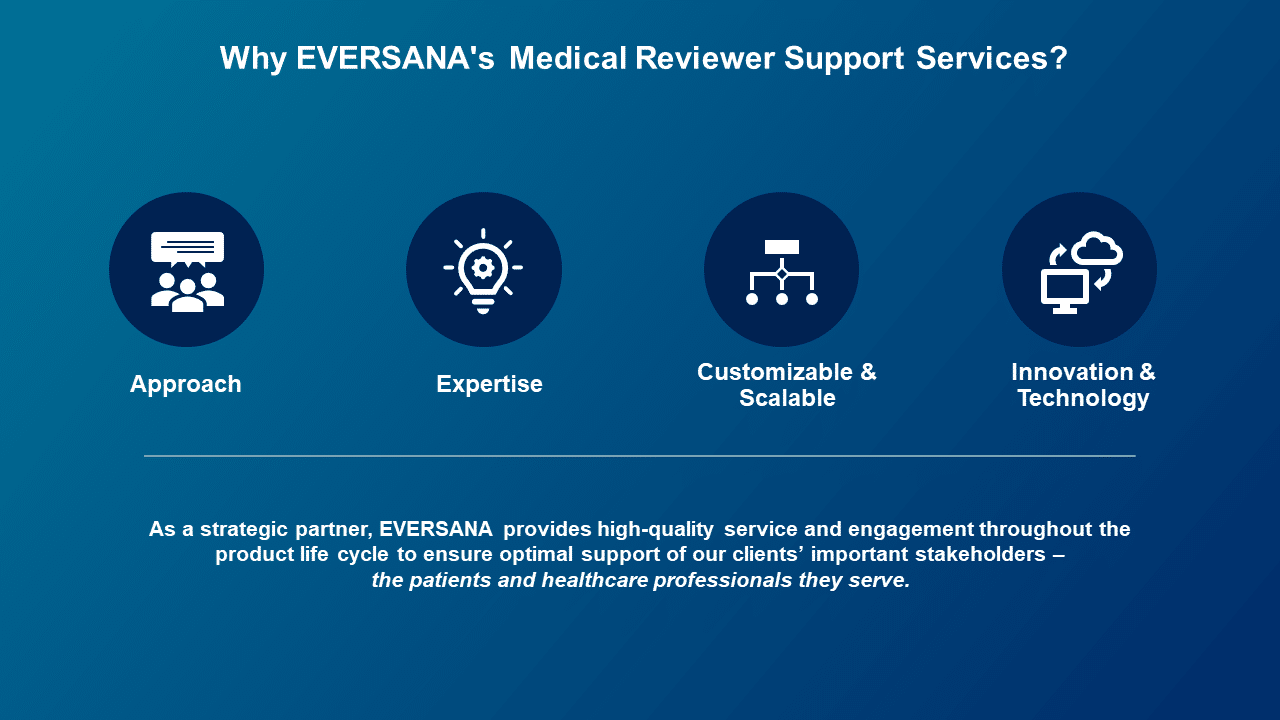 As a strategic partner, EVERSANA provides high-quality service and engagement throughout the product life cycle to ensure optimal support of our clients' important stakeholders – the patients and healthcare professionals they serve. Our services features four key pillars: Approach, Expertise, Customizable and Scalable, and Technology and Innovation.​
Approach
Our approach is Value and Quality driven and deep-seated in our cultural beliefs of Client Delight and being Patient Minded.​ We understand the critically important role that the medical reviewer plays in the review and approval of promotional and non-promotional materials.​ We also understand that our client's medical reviewers have multiple responsibilities beyond medical review and need to focus on medical strategy and not factchecking
Expertise
Our medical content and medical review leadership team is highly experienced with direct industry experience and service provider experience and includes highly trained healthcare professionals with advanced life sciences degrees.​ Our years of experience have also allowed us to support products throughout their entire life cycle and to grow and scale our solutions with our clients' needs in mind.
Customizable and Scalable
EVERSANA understands that our clients' needs, therapeutic areas, products, internal resource model, budget, etc., are unique. We partner with our clients to develop flexible and scalable resource models to ensure we provide the service level and key performance indicators our clients require.
Technology and Innovation
EVERSANA has experience with systems, databases, and technology utilized for MLR review (e.g., Veeva Vault Promomats and Medcomms). We monitor industry best practices & trends and continuously evaluate solutions that can improve operations and efficiency.  
Services include fact-checking support with highly qualified and trained full-time dedicated India-based medical reviewers, with a clinical/biomedical background (PharmD, PhD, M Pharm, BDS, MDS, MBBS, or MD) and global pharmaceutical industry experience.
Additionally, US-based medical reviewer consultants / contractors can be made available for 6 or 12 months as per the unique needs of the client. EVERSANA has a network of highly experienced medical professionals with extensive pharmaceutical industry experience performing medical review of promotional / non-promotional materials as part of Medical-Legal-Regulatory (MLR) review committee meetings.
EVERSANA can also provide MLR Committee Coordinator support with staffing based in India with experience working within review platforms such as Veeva Vault PromoMats / MedComms. The MLR Coordinator plays an important role and is often accountable for the execution of MLR processes and maintenance of the materials within the review platform.
EVERSANA's Regulatory Reviewer Services
The regulatory review of materials is critically important to ensure compliance with laws and regulations governing promotion. The Regulatory Reviewer role:
Reviews proposed material(s) to ensure compliance with applicable 

laws, regulations, and regulatory guidance 

​

Provides guidance on standards pertaining to advertising and 

promotion

​

Ensures claims are consistent with product labeling

​

Ensures materials are fair and balanced, contain appropriate 

disclaimers, and are not false or misleading

​

Provides guidance on what materials require submission to 

regulatory authorities and responsible for authorizing the 

submission of the promotional materials when applicable (i.e. FDA 

OPDP Form 2253)
Furthermore, EVERSANA Regulatory Services team can provide regulatory ad promo support with highly experienced regulatory reviewers. EVERSANA has a network of highly experienced regulatory affairs professionals that can provide either short-term or long-term support.
Sample Work
EVERSANA has experience and expertise supporting the MLR process and has leadership with direct pharmaceutical industry experience providing both medical and regulatory review of promotional and non-promotional materials. EVERSANA also offers flexible models for various types of support. See example projects below.
Medical Content Support
EVERSANA Medical Affairs / Medical Information team provides medical writing and medical content development support for numerous clients across multiple therapeutic areas and product types.​
Our highly trained global team of clinical/biomedical experts with relevant academic qualifications such as M Pharm /  PharmD / PhD / MDS / BDS / MD / MBBS assist in each clients review and approval process when developing these materials, including:​
Ensuring medical and scientific accuracy 

​

Editorial and data fact-checking is complete

​

Materials and references are appropriately loaded into the review platform (e.g., Veeva Vault)

​

Materials are appropriately annotated and anchored to ensure efficient review and approval 
Medical Review Support
Large pharmaceutical client in rare-disease space with 

multiple approved and investigational products across 

multiple therapeutic areas (hematology, nephrology, 

neurology, metabolic disorder) had need for additional 

medical review support for growing promotional and non-

promotional material volume

​

EVERSANA provided 2 dedicated highly trained and 

experienced medical reviewers in second half 2021. 

​

Reviewer profiles:  Medical Reviewer 1: RPh & PhD with 

20+ years pharma medical affairs experience.  Medical 

Reviewer 2:  PharmD & RPh with 20+ years of pharma 

medical affairs experience

​

Client expressed delight with services and contract was 

renewed for 2022 and 2 additional medical reviewers were 

added in second half 2022 to provide additional support.

​

Both are MDs with 15+ years of pharma medical affairs / 

clinical development experience 
Commercialization Support
EVERSANA provides complete commercialization support for multiple clients.  ​In many of these arrangements we establish medical, legal, regulatory (MLR) review process and/or provide medical reviewers or regulatory reviewers to be part of the MLR committees​ For example, we currently provide medical review support for an oncology product that was approved and launched in 2020.​
Reviewer profile:  PharmD with 20+ years of pharma 

medical affairs experience
Medical Fact Checking Support
In January 2023, a large pharmaceutical client was seeking an experienced partner to provide medical review fact checking services in a cost-effective model, including:​
Timely and accurate completion of all fact checking tasks, typically within three business days of assignment

​

Ability to ramp up/down resource needs

​

Experienced scientific / medical professionals with a clinical background (PharmD, BDS, Ph.D. or MD)

​

Familiarity with the VEEVA Vault platform and the medical review process for promotional and non-promotional 

materials

​

Strong leadership oversight with experience performing medical review of promotional 

and non-promotional 

materials
EVERSANA provided two highly qualified and trained fully dedicated medical review fact checkers, with a clinical background (PharmD, PhD, or MD) based in India. We also added an additional reviewer to cover for overflow and offer flexibility for coverage​. The client expressed delight with services and requested for additional dedicated Medical and Scientific Reviewer support, in preparation for higher material volumes and new drug launches.​
Author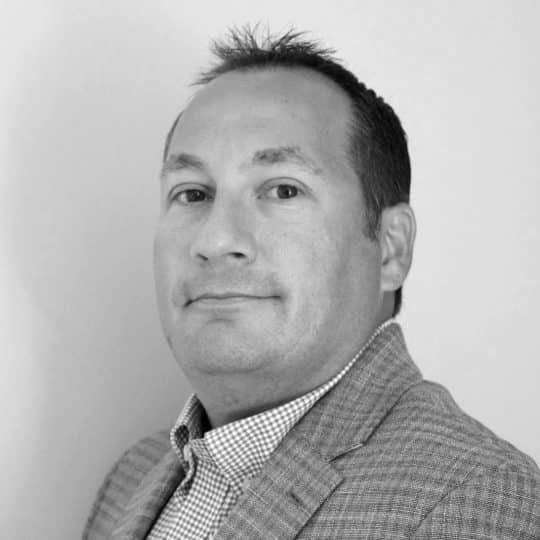 Mike currently serves as Senior Vice President of Medical affairs at EVERSANA. With 20+ years of healthcare and pharmaceutical industry experience in multiple leadership roles, he holds extensive experience in medical information, medical communications,…