'PBM-lead GPO,' a Newly Created Term to Describe Large Scale PBM-Owned Rebate Aggregators
PBM-led group purchasing organizations (GPOs) are not true group purchasing organizations in scope, nor are they pure rebate aggregators. Rather, PBM-lead GPOs are organizations formed by PBMs with one or more members, whose primary purpose is to aggregate purchasing volume to negotiate discounts with biopharmaceutical manufacturers.
Forming PBM-lead GPO Entities Increases 'Big 3' Market Control While Generating Revenue and Creating Downstream Rebate Ambiguity
Leading PBMs began forming GPO-like entities after significant market consolidation and vertical integration in the late 2010s left few remaining M&A targets, and they "saw the writing on the wall" with respect to profit erosion. Increasing rebate transparency demands, growing generic equivalents, and anti-PBM sentiment among regulators created a perfect storm of threats to the 'Big 3's' cash cows. By establishing PBM-led GPOs, they would ensure further rebate negotiation leverage over biopharma companies while adding revenue from GPO fees. In addition, firewalls between PBMs and their GPOs would safeguard commercial rebate contracting details from being shared externally.
Cigna's Express Scripts, first to market with its Ascent Health Services (Ascent) GPO in 2019, attracted Prime Therapeutics (along with its downstream PBM customers, e.g., Navitus) and select low-volume commercial PBMs (Kroger, Humana).
When CVS Caremark and OptumRx formed their "me too" GPOs in 2020 and 2021, respectively, they quickly recognized the lack of remaining PBM partnership options. MedImpact, the largest remaining independent PBM, declined participation in any PBM-led GPO based on its affiliation with a rebate aggregator, Prescient Healthcare Group (PHG).
CVS Caremark's Zinc Health Services (Zinc) counts Elevance Health's CarelonRx as its sole external member, even though CarelonRx operates on a CVS chassis. OptumRx's Emisar Pharma Services (Emisar) has yet to sign a non-United member, but its lack of partners does not deter the organization from charging GPO fees to biopharma companies and Optum/UHC commercial clients.
Looking specifically at commercial pharmacy coverage, the 'Big 3' PBMs — Express Scripts, CVS, and OptumRx — have a commanding and growing portion of the market. Together, these PBMs control 65% of commercial pharmacy lives. In creating PBM-led GPOs, the 'Big 3' further expand their influence. Express Scripts, for instance, controls 22% of the commercial pharmacy market on its own and one-third (33%) of the market with its Ascent GPO.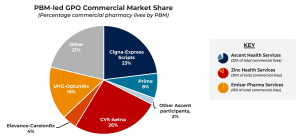 Operationally and Financially, PBM-lead GPOs are Similar in Scope, With Distinctions in Populations Served and Formulary Influence
Operationally, the PBM-lead GPOs are similar in size and scope, with a few notable distinctions. Ascent and Emisar being domiciled in Europe vs. Zinc operating solely in the U.S. is most obvious. Less widely known nuances are around covered lives and formulary influence.
Ascent and Zinc manage rebate contracting on behalf of both commercial and health insurance exchange (HIX) members, whereas Emisar only contracts for commercial membership, citing concerns that the HIX population is "too close to government" thus more likely to be scrutinized.
While none of the three PBM-led GPOs exerts formulary control or has a line of sight into payer formularies, Zinc and Emisar collaborate with PBM clinical advisory teams and can make informed formulary recommendations. Conversely, former Ascent trade relations staff report a complete cutoff from clinical decision influence despite many being PharmDs with significant PBM and clinical pharmacy experience.
Fee structures are somewhat comparable across the PBM-lead GPOs, although Zinc appears to be most aggressive, with sources noting fees up to 8% across admin, enterprise, and data categories. Ascent only recently introduced data fees as part of its 2023 portal rollout. Emisar charges admin and data fees but is more flexible in its rates due to the lack of external members.
Each PBM-lead GPO offers some level of data services to biopharma companies, described as comparable to what they typically purchase from IQVIA. Emisar reportedly provides the most accurate and robust insights of the three. Ascent may catch up to or exceed Emisar's data capabilities with its new portal release. Sources comment that Zinc's data portal is unreliable and lacks capabilities to perform apples-to-apples comparisons with biopharma company market baskets.

Author Team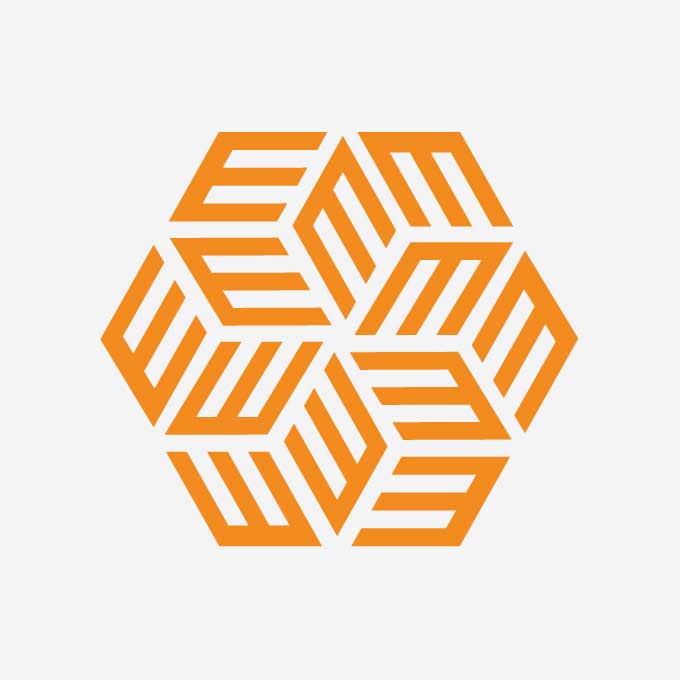 NAVLIN Insights gives you an advanced set of capabilities, frameworks, and methods. These are all derived from a robust stakeholder panel, providing critical answers to your specific payer marketing and market access questions. Learn…