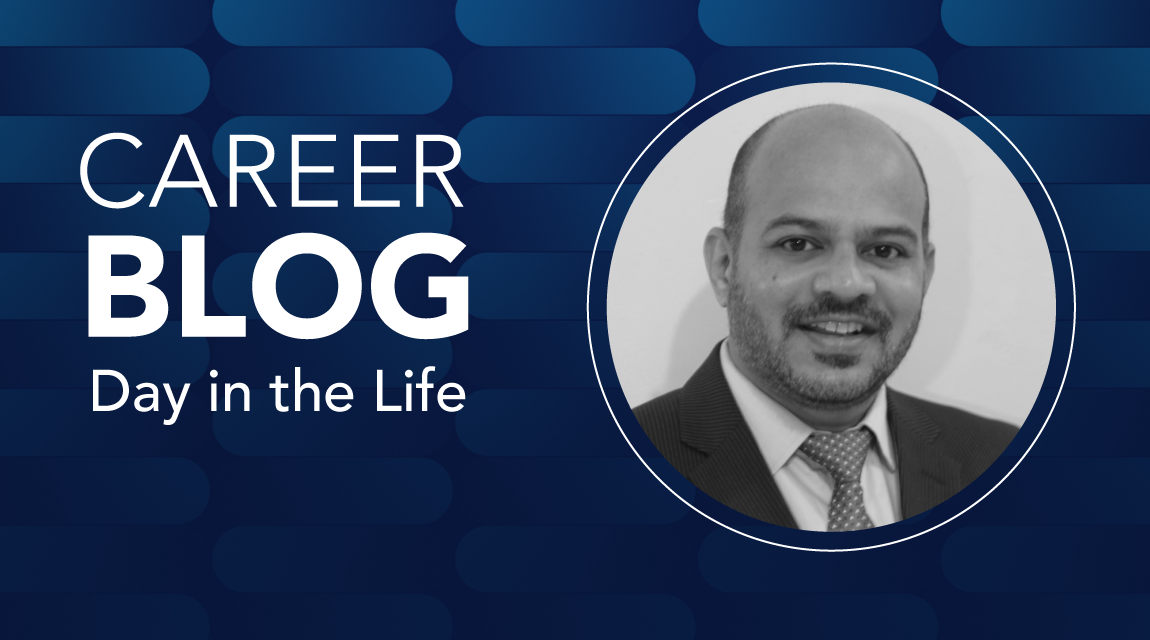 Meet Shailesh Joshi, AM, Director, Pharmacovigilance 
Improving the future of drug safety and compliance requires more than just contact centers and reporting adverse events. Real-world success requires an integrated approach to providing value across a product's life cycle. Dr. Shailesh Joshi and EVERSANA's Compliance team process and analyze safety data to derive key signals, identify safety issues and make recommendations for appropriate product utilization that maximizes patient safety. Learn more here. 
---
How long have you been in the pharmacovigilance industry?  
I have worked in pharmacovigilance for more than 12 years. Previously, I was a practicing obstetrics and gynecological physician. I slowly made the transition to clinical research to have a more predictable schedule while still utilizing my medical expertise and making an impact in the lives of patients. 
How would you describe your job to someone who isn't in the field?  
At every stage of a drug's lifecycle, patient safety is paramount – especially once the drug is in the global market. It is mandatory to monitor, collect and analyze, report, and then implement safety guidelines as a result of patient adverse events (AEs). And each country has their own unique regulations, often with stringent hour reporting deadlines.  
My role is to streamline the global setup for new clients as they launch their therapy, execute those processes to comply with layers of global regulations, communicate and educate our clients on the drug's status, and ensure my team is resourced appropriately to handle the irregular flow of cases.  
From individual event reporting to signal detection and its outcome, each phase is vital.  
 A complicating factor is the scope of the regulations we navigate. Each country varies by size, scope and stringency. For example, there are big players like the U.S. FDA and the European Medicines Agency (EMA), while smaller countries may be utilizing guidelines from the International Conference of Harmonization (ICH). 
What are your typical responsibilities and challenges — what's your average day like? 
 As I am based out of EVERSANA's Pune, India office, I prioritize communication with clients and team members in Asian time zones first, followed by Europe and then North America. Client inquiries, internal stakeholder updates, team analytics consultations on daily individual case safety reports (ICSRs)… I spend much of my time communicating and vigilantly monitoring our clients' compliance landscapes.  
 What do you find most fulfilling or rewarding about your role?   
While I am not practicing in a clinical setting anymore, I now impact a far greater number of patients. At EVERSANA, I contribute directly to improving patient outcomes and drug safety. I find this immensely motivating work. 
What advice do you have for people interested in getting into a role like yours, or in pharmacovigilance in general?   
Having a background in healthcare is helpful, but what is more important is your interest in patient safety and your ability to see the larger objective of pharmacovigilance. You must be agile and have a strong eye for detail. The dynamics of pharmacovigilance are ever-changing, ever-evolving.  
 Why did you choose to pursue a career with EVERSANA?   
I had worked with large CROs in the past, but the market-shaping pharmacovigilance automation work that is being spearheaded by EVERSANA's EVP of Compliance Services, Vikram Anand, is far ahead of competitors. I knew I wanted to be a part of this industry-leading organization.  
 I also had previous coworkers who joined EVERSANA and spoke very highly of the company culture, and I am happy to corroborate their testimonials. EVERSANA respects their people. In return, teams go above and beyond. It is a symbiotic relationship that propels EVERSANA towards greater growth and better outcomes for patients. 
Interested in joining the EVERSANA team?