Meet EVERSANA, a proud Gold Sponsor at Asembia 2023, in Las Vegas from April 30-May 4. 
Discover what operational excellence looks like. We are proud to share our operational excellence results – just released – and share how we reinvented commercialization to impact the lives of millions of patients with our patient-centered services. Schedule a meeting with our team of experts or visit our booth.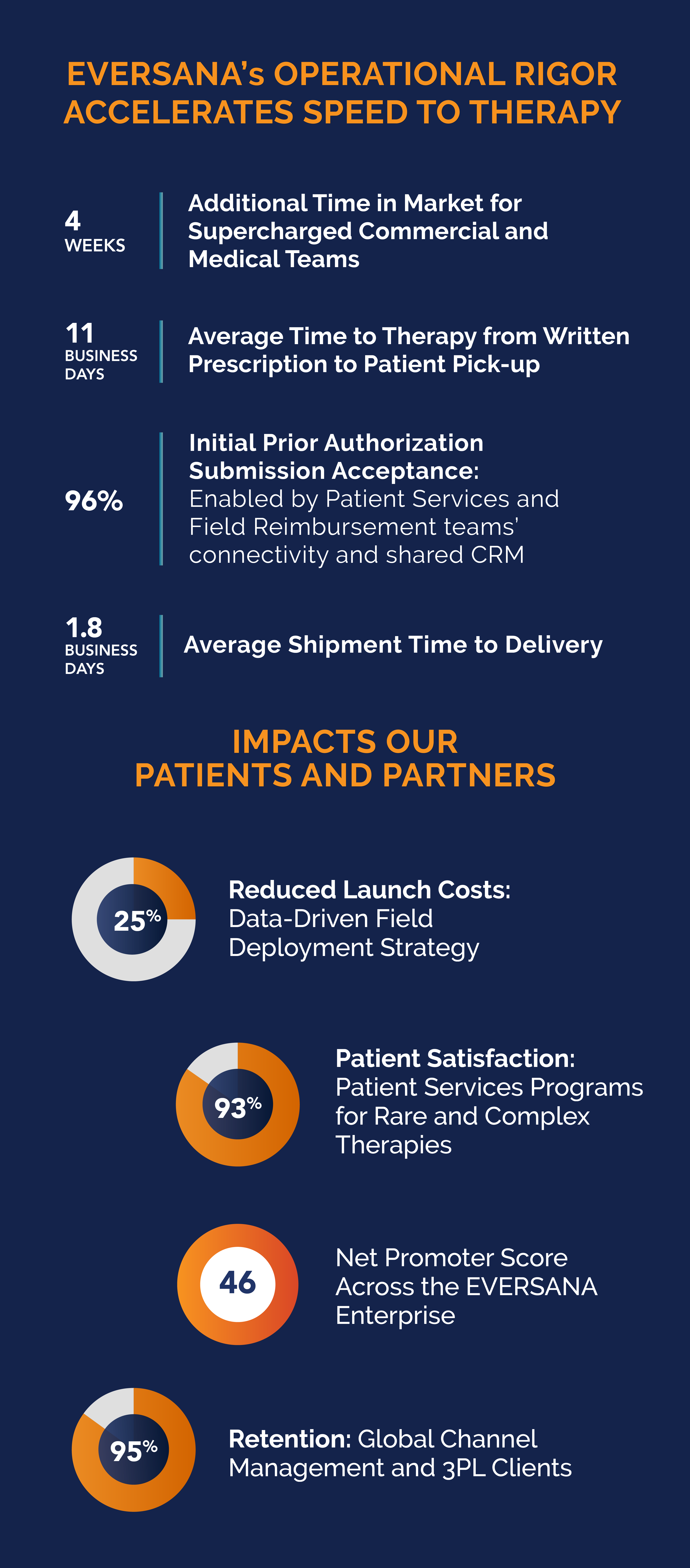 We invite you to compare our metrics to those in the industry. Through significant investments in people, process, data and technology over the past 3 years, our operational rigor was built to serve highly complex, high-science brands in rare and orphan diseases, cell and gene therapies, and oncology spaces. EVERSANA optimizes high-tech, high-touch strategies to deliver best-in-class services because patients deserve access to life-changing therapies.
Schedule a meeting to learn more. 
---
Join EVERSANA's Panel: Wednesday, May 3 at 1:00 PM
"Market Access Strategies Leading to a Successful Launch"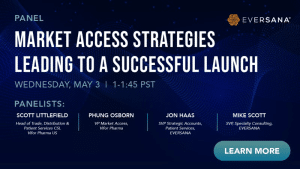 Our leading experts will discuss market access, channel distribution and patient services strategies that drive impact for a changing pipeline and ever-evolving industry landscape.
Effective use of data and technology to drive Distribution, Payer and Patient Services Strategies

 

Creating effective Payer, Distribution and Patient Services strategies in a dynamic world of Biosimilars, Gene & Cell Therapies, and Specialty therapies for rare disease.

 

Alternative models for Distribution and Patient Services for Specialty Lite products

 

Tele-Health considerations impacting Distribution and Patient Services

 
Panelists:
Scott Littlefield, Head of Trade, Distribution & Patient Services, CSL Vifor Pharma 

Phung Osborn, VP Market Access, 

CSL Vifor Pharma 

 

Jon Haas, SVP Strategic Accounts, Patient Services, EVERSANA 
Mike Scott – SVP, Specialty Consulting, EVERSANA 
---
Read Our Latest Thinking on Key Industry Topics:
---
Learn More About EVERSANA:
REINVENT COMMERCIALIZATION  
EVERSANA reinvented commercialization in the pharmaceutical space. We work with large pharma to optimize the last few years of established brands – making the most out of revenue potential. We work with emerging biotech to launch their first products – delivering unparalleled agility to navigate market complexities and drive down costs – up to 20% if they had to commercialize on their own.  
Operational Rigor

 

Integrated Services 

 

Optimized by Analytics

 
NEW MODELS FOR ONCOLOGY, RARE & HIGH SCIENCE BRANDS 
We understand the needs and sophistication of complex therapies. Our award-winning commercialization models were developed to be agile, flexible, cost effective and to lower the risk of uncertainty. They are digital first and powered by data, analytics and AI.  
Agility to pivot strategies without "change order" mentality

 

Speed to market

 

Risk management

 

Owners maintain full value of their asset

 
PATIENT-CENTERED SERVICES 
At EVERSANA, our team of experts leverage technology and automation to reduce access and affordability barriers, simplify onboarding and get patients on therapy faster, ultimately reducing frustrations and driving therapy adoption. Our Patient Services team is surrounded by best-in-class Field Deployment, Agency, Channel Management and more to ensure a positive brand experience. Explore more: