After Amazon outbid CVS Health's offer to acquire One Medical in July 2022, CVS Health announced a $10.6 billion deal to purchase Oak Street Health in February 2023.
Oak Street (founded in 2012 and publicly traded in 2019) operates nearly 170 value-based, senior-focused medical centers across 21 states and employs approximately 600 primary care providers (PCPs). In addition to PCPs, Oak Street offers access to psychiatrists, behavioral health and podiatry specialists, and in-house pharmacists.
CVS's efforts to establish itself as a healthcare provider began with its name change from CVS Caremark Corporation to CVS Health and its decision to discontinue selling tobacco products (both in 2014). These efforts continued with the Aetna merger in 2018, the debut of HealthHUBs in 2020, the launch of virtual primary care initiatives (Aetna in 2021 and CVS in 2023), and several acquisition efforts (failed and pending), including MinuteClinics in 2006.

The addition of Oak Street supports CVS's goal to develop a fully functioning multi-channel integrated health services model, adding primary care services to the CVS portfolio (building on MinuteClinic's status as an urgent care provider serving patients of all ages). Oak Street and MinuteClinic's geographic presence have minimal overlap.
A large portion of Aetna's Medicare Advantage membership resides in an Oak Street Health market, opening the door for seamless network integration.
Despite Oak Street's poor financial performance (reporting net losses for the past three years and the first nine months of 2022), CVS appears fully committed to the project, announcing its intent to expand Oak Street to 300 total clinics over the next three years.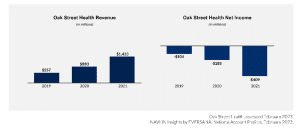 In addition to entering the primary care market, CVS stands to:
Gain the ability to increase and retain Medicare Advantage membership (marketing Oak Street's senior-focused care)
Improve its CMS star ratings (which declined according to CMS's October 2022 rating report) as a result of integrated primary care ownership
Potentially increase both retail and mail-order prescription volume and CVS Caremark PBM business
Improve its ability to address social determinants of health (due to Oak Street's primarily rural and underserved market presence)
Expand its payer-agnostic strategy
Broaden its Medicare Advantage product offerings to include total senior care components
"Enhancing our value-based offerings is core to our strategy as we continue to redefine how people access and experience care that is more affordable, convenient and connected."
-Karen Lynch, CEO, CVS Health
Given Oak Street's strong primary care focus, CVS could leverage the Oak Street Health brand to boost and/or replace CVS's HealthHUBs, which have had slower-than-anticipated growth. This rebranding could increase customer foot traffic and prescription volume at CVS retail pharmacies.
Headwinds for CVS include Oak Street's reliance on Humana (which represents one-third of Oak Street's revenue) and the possibility of Humana eliminating Oak Street as a network provider once the deal is complete; Oak Street's ACO failure to achieve savings in 2019 and 2020; and increased regulatory scrutiny due to CVS's previously announced Signify Health acquisition.
The deal also exposes CVS to financial risk; in addition to the $10.6 billion purchase price, CVS faces the financial burden of taking on Oak Street's poor financial performance.
Implications for biopharma:
After the acquisition, CVS indicated it would not pursue additional primary care businesses in the near future, emphasizing that the purchase of Oak Street in combination with Signify would be sufficient to address the organization's long-term goals.
While unlikely given its payer-agnostic strategy, watch for indications that CVS Caremark may impose its Preferred Drug List (and extensive product exclusions) on Oak Street Health providers.
With the addition of primary care to CVS's book of business, biopharma gains additional opportunities to support CVS and Aetna with quality improvement measures and population health initiatives (particularly those focused on senior populations and social determinants of health).
The combination of CVS and Oak Street will likely increase the demand for biopharmaceutical products targeted toward seniors, such as treatments for diabetes, heart disease, and hypertension.
Learn more about NAVLIN by EVERSANA and our innovative market research solutions