Country: UNITED STATES | Region: NORTH AMERICA | Type: Policy | Keywords: : #clinicaltrials #druglaunch #excessivepricing #innovation #marketshare #patientaccess #pmprb #priceceilings #referencepricing(irp) #treatmentcosts
---
The Patented Medicine Prices Review Board (PMPRB) has released the final version of the PMPRB guidelines, which are due to take effect on January 1, 2021
As noted by PMPRB, "the new guidelines provide for a risk-based approach to regulating ceiling prices for patented pharmaceuticals by focusing the PMPRB's new powers on products that pose a greater risk of excessive pricing because of their high cost or market size"
The new guidelines provide for an initial screening process to identify drugs that are likely to be at higher risk of excessive pricing ("Category I" medicines), namely drugs that have a very high annual treatment cost or are expected to capture a sizeable share of the Canadian market, and confirm that Canada's reference basket will be composed of France, Germany, Italy, Sweden, and the UK, as well as newcomers Australia, Belgium, Japan, the Netherlands, Norway, and Spain
THE DETAILS
OTTAWA, Canada – The Patented Medicine Prices Review Board (PMPRB) has released the final version of the PMPRB guidelines, which are due to take effect on January 1, 2021. The implementation of these changes to the PMPRB was delayed from July of this year until January 2021 due to the impact of the coronavirus pandemic on Canada's healthcare system.
The guidelines have undergone consultation twice, mostly garnering criticism for their significant impact on drug pricing methodology in Canada, as well as the future of new drug launches and clinical trials.
As noted by PMPRB, "the new guidelines provide for a risk-based approach to regulating ceiling prices for patented pharmaceuticals by focusing the PMPRB's new powers on products that pose a greater risk of excessive pricing because of their high cost or market size."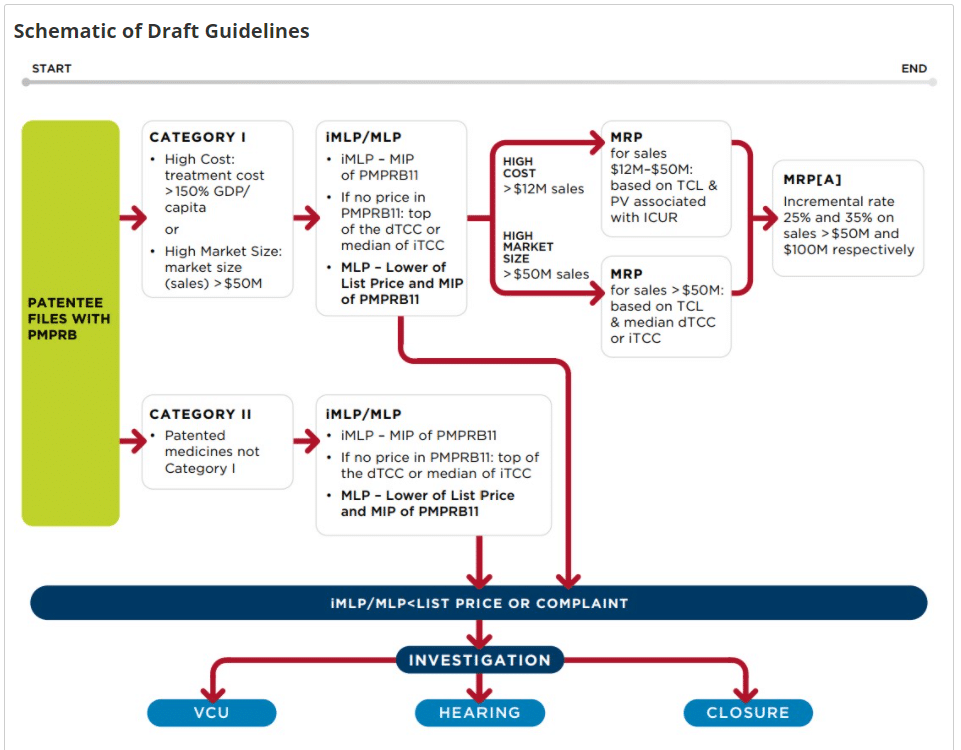 Chart courtesy of PMPRB.
The guidelines take aim at new, innovative medicines, whose projected treatment costs or sales surpass a certain threshold. The new guidelines propose a pharmo-economic value be applied to drugs to gauge how much improvement the drug offers over existing therapies.
The new guidelines provide for an initial screening process to identify drugs that are likely to be at higher risk of excessive pricing ("Category I" medicines), namely drugs that have a very high annual treatment cost or are expected to capture a sizeable share of the Canadian market. Notably, drugs with a 12-month treatment cost surpassing 150% of GDP per capita and treatments with estimated or actual sales of more than CA$ 50 million per year will be required to undergo additional review, with the potential for price reductions of 20%-50% off list prices.
PMRPB specified that its new review would be applicable to a medicine depending on when it first received its eight-digit Drug Identification Number (DIN): Products that receive a DIN before January 1, 2021 will be grandfathered in, whereas those who obtain the DIN after this date will be subject to PMPRB review.
In addition, Canada's PMPRB will rely on an updated reference basket in which two countries where drug prices tend to often be higher – the United States and Switzerland – have been swapped out for markets where drug prices tend to be lower. Canada's basket will be composed of France, Germany, Italy, Sweden, and the UK, as well as newcomers Australia, Belgium, Japan, the Netherlands, Norway, and Spain.
PMPRB has a statutory mandate to ensure that prices charged by pharmaceutical companies for patented drugs sold in Canada are not excessive, and PMPRB also has a statutory mandate to report on pharmaceutical trends and R&D spending by pharmaceutical patentees.
Poor Reception Among Pharma, Patient Advocacy Groups
Although the Canadian government and most recently Health Minister Patty Hajdu have defended the PMPRB changes, as they're estimated to save Canadians "billions," the pharmaceutical industry and Canada's patient advocacy groups are both highly critical of these new guidelines, as they threaten the future of patient access to innovative drugs.
Innovative Medicines Canada (IMC), which has continuously and vehemently opposed the PMPRB developments, commented, "If implemented, they will have a negative impact on Canadian patients. Specifically, innovative new medicines will not launch in Canada, depriving patients of potentially life-changing new treatments; we will see further reductions in the number of clinical trials in this country; and our life sciences sector will lose out on critical investments."
Last week, ahead of the finalized PMPRB guidelines, 13 health charities and patient groups in Canada came together to urge policymakers to find the right balance between economic sustainability and ensuring patient access to new, innovative medicines.
According to the 13 charities and patient groups, the PMPRB changes could mean "doctors will only have cheaper, older, and less effective drugs available to them to treat patients as new drugs will not be made available in Canada." In addition, representatives from these groups fear fewer clinical trials will take place in Canada, resulting in "wider inequities."
Learn more about Pricentric ONE and our Global Pricing Solutions!
Contact us with your questions and global pricing needs, and an expert will follow up shortly.