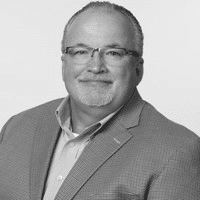 Dale Lippert joined EVERSANA's Patient Services Team in 2018. He is currently the Senior Director, Client Success Leader, working to develop and launch EVERSANA's first CAR-T Patient Support Program. Dale has 20+ years of experience supporting customers and patients alike. He is passionate about the difference he can make in any organization.
Prior to joining EVERSANA, Dale worked as Senior Director of Clinical Services and directed and launched a variety of clinical functions of case management, disease management and utilization management for patient support programs. Dale provided direct oversight to a team of Directors, Associate Directors, and Senior Nurse Managers responsible for call center-based clinical support services by ensuring URAC and quality standards were met, monitoring cost and risks and establishing key performance metrics while managing in a dynamic environment.
Dale has degrees in nursing (Cameron University – Lawton, OK) and human resource management (Southern Nazarene University – Bethany, OK). He received his master's degree in business management from Southern Nazarene University.
Dale has been married to his wife, Sheila, for 41 years has three children and seven grandchildren. He enjoys cooking, playing ukulele, attending car shows and spending time with his grandchildren.