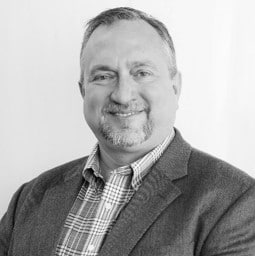 Bill joins EVERSANA with over 26 years of experience in pharmacy, including 23 years of pharmacy management and 15 years in specialty pharmacy. During his career, Bill acquired licenses in 22 states and was one of the first 10 Certified Specialty Pharmacists (CSP) in the country. He helped develop and write the first CSP exam for NASP and continues to be an active member of NASP, as well as APhA, ASPL and AMCP.
A graduate from the University of Kansas, Bill began his career as a staff pharmacist with Dillon's, a division of Kroger. Throughout his 26 years in pharmacy, Bill has held various roles in management with progressively increasing responsibility. Working for companies such as Olathe Medical Center, Walgreens, Prescription Solutions (Optum), USBioservices/LASH (AmerisourceBergen), MedImpact and Amazon Pharmacy/PillPack, he leveraged his vast experience to develop innovative and unique specialty pharmacy programs and services.
Bill was born and raised in Kansas City, Kansas where he spent much of his life before moving to Kentucky for six years. He recently relocated to Chandler, Arizona, a suburb of Phoenix, where he has resided for the last four years with his wife of 32 years. As a graduate of the University of Kansas, Bill is an avid Jayhawk basketball fan. He is a huge Chiefs fan, and although he was born and raised in Kansas City, the St. Louis Cardinals are his favorite baseball team. Bill enjoys spending time with his four adult children and his "fur kids," being outdoors, traveling and bingeing TV series. In addition, he likes getting to know those he works with, helping them develop their goals and working as a team to achieve outstanding results.