PRICENTRIC BRIEF:
Universal health insurance coverage for 1.3 billion people means China must increase uptake of "clinically urgently needed new drugs" already approved in the US, EU, and Japan
Mostly oncology products are being imported, along with HIV/AIDS medicines
Pharma is agreeing to steep discounts to be reimbursed on China's national drug lists
THE DETAILS
In 2016, China announced that it would be merging the New Rural Cooperative Medical Scheme (NRCMS) and Urban Employee Basic Medical Insurance (UEBMI) to form an integrated system of basic medical insurance for both rural and urban residents, as part of the 2009 Health Care Reform Plan, which seeks universal coverage for 1.3 billion people by 2020.
Part of providing universal coverage means that China must ensure patient access to innovative medicines. In this way, China has recently enacted new policy to increase uptake of many drugs, mostly foreign medicines. In fact, over the past almost 2 years, a China's National Medical Products Administration (NMPA; formerly the China Food and Drug Administration) has approved the use of over 30 innovative drugs from companies outside China.
This year, China published a list of 48 medicines deemed "clinically urgently needed new drugs," which have been greenlit abroad, mainly within the US, Japan, and the EU. Drugs included on this list were offered expedited review—around 59 working days to process the New Drug Application (NDA) once it's accepted for Priority Review.
According to China's Center for Drug Evaluation (CDE), China has an exigent need for these drugs to combat rare diseases or life-threatening conditions such as cancer – 25% of the medicines on the list were for oncology – because no effective treatments existed already on the market.
Some drugs on the list were already en route to China, such as MSD's (known as Merck & Co. in the US and Canada) Keytruda (pembrolizumab), which was granted entrance to the Chinese market to treat advanced melanoma, and AstraZeneca's (AZ) PARP-inhibitor Lynparza (olaparib), which recently filed for approval.
For drugs on the list that have not yet been filed for approval with the Chinese National Drug Administration (CNDA), China stated drug developers may apply using foreign data and evidence that supports no ethnic differences in efficacy or safety.
China sought to speed up its drug review process, reducing its backed-up list of applications. Lynparza was the first drug filed using data from multicenter trials, including Chinese sites, without the usual application to waive a Chinese-specific trial. Additionally, Keytruda was approved under an accelerated approval process.
However, China has demanded steep price cuts in return for reimbursement. Some researchers have found that, across 36 premium drugs that were included on the 2017 National Reimbursement List (NRL), manufacturers had to offer price cuts of 44% on average, relative to previous year's prices.
At the same time, since China expanded its national health insurance scheme to cover most citizens, treatment populations have greatly increased, which means that pharma will have access to an expansive market.
Immunotherapies undergo major discounts in China
In China, the list of recently-approved drugs covers many fields, especially oncology and HIV/AIDS:
Gilead's fixed-dose combination Descovy (emtricitabine 200 MG/tenofovir alafenamide 10 MG) for HIV-1
Roche's humanized bispecific mAb Hemlibra (emizicumab) for hemophilia type A
UCB Pharma's Vimpat (lacosamide) for epilepsy
Gilead's single-pill regimen Harvoni (ledipasvir 90 MG/sofosbuvir 400 MG) for hepatitis C
Bayer's Xofigo (radium Ra 223 dichloride) for prostate cancer
Gilead's Vemlidy (tenofovir alafenamide 25 MG) for hepatitis B
Sanofi's Fasturtec (rasburicase injection) to prevent high uric acid levels in children with leukemia and lymphoma
BeiGene's zanubrutinib for leukemia and lymphoma
Roche's Perjeta (pertuzumab) for breast cancer
While the aforementioned drugs were recently approved, immunotherapy treatments Opdivo, Keytruda, and Lynparza have already launched in China, at severely discounted rates when compared to prices elsewhere, particularly in the US.
Opdivo was China's first immunotherapy. According to data from Pricentric One, a 100 MG/10 ML vial of Opdivo will cost USD 1,341.44 (CNY 9,250) and the 40 MG/4 ML vial will cost USD 665.21 (CNY 4,587). The yearly cost of treatment was forecasted to be around USD 84,000. This was noted as a steep cut from the US list price of USD 150,000, and a relatively low price compared to neighboring Japan, Korea, Singapore, and Hong Kong.
Opdivo is discounted through a patient assistance program—"buy five months, get six months free." BMS did not announce the recommended retail price for Opdivo. However, founder of Loncar Cancer Immunotherapy Index and Loncar China Biopharma Index Brad Loncar reported at the end of August that "USD 84,000 is likely the equivalent to what we have here as the list price. No one actually pays that price; there's a hidden discount." While the cost for Opdivo is significantly lower than the US, the price is a bit higher than costs found in Germany, an EU market known for having higher drug prices than surrounding countries. But, as Loncar pointed out, "there's a hidden discount," and the price is lower than in surrounding Asian markets – a 100 MG/10 ML vial of Opdivo costs USD 1397.81 in Japan, according to Pricentric One.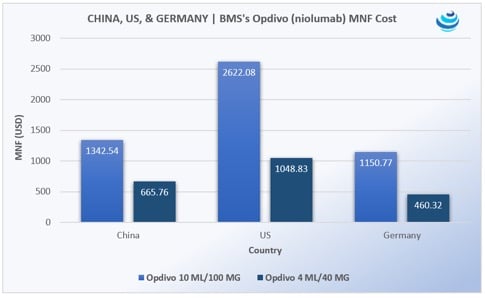 In early 2018, China's NMPA granted priority review status to Keytruda; in July 2018, the immunotherapy gained Chinese approval of for the treatment of adult patients with unresectable or metastatic melanoma following the failure of one prior line of therapy. Keytruda was the first and only approval of an anti-PD-1 therapy for advanced melanoma in China. While Keytruda has demonstrated the ability to reduce the effects of lung cancer, MSD's blockbuster drug only won approval for its melanoma indication.
MSD cut the price of Keytruda in China as part of a patient financial assistance program (PAP). According to China's Caixin, Keytruda is priced around CNY 17,918 per 100 MG/4 ML, almost a 50% discount on the US cost of the drug. As part of the PAP, patients will receive 3 months of free additional treatment if they pay for the first 3 months.
China's National Medical Products Association (NMPA) approved Lynparza in August 2018 as maintenance therapy for women with platinum-sensitive recurrent ovarian cancer. It was reported by Caixin that AZ and MSD jointly suggested the retail price of the first PARP inhibitor in China for ovarian cancer to be CNY 24,790 per 150 MG 56 Tab Pack – nearly a 50% discount on the cost of a similar pack in the US.
AZ and MSD have established a Lynparza Assistance Program to cover 34 major Chinese cities, and the drug will be administered through the Chinese Women's Foundations. As part of the assistance program, for every two packs of the drug patients pay for, they will receive two packs free. Once the amount of packs equals 54, the drug will then free, pending program approval. But patients who are receiving social security or live below the poverty line may apply to receive Lynparza free of charge.
China expands reimbursement lists
Now that China has increased uptake of "clinically urgently needed new drugs," the government is making sure reimbursement lists cover these products, especially anticancer medicines. To be reimbursed, the pricing of these medicines has been discounted significantly, but nonetheless, sales volumes for pharma will increase due to the sheer size of China's population.
17 cancer drugs added to Chinese national health insurance list
On a national level, Chinese authorities added 17 cancer drugs to the country's national health insurance system. Now, the cost of these drugs to the national insurance program has on average been 56.7% lower than their retail prices, and for most of the imported drugs, payment standards are 36% lower than market prices in some surrounding countries and regions. For example, in South Korea, Imbruvica Capsules 1 Pack 90 Caps 140 MG costs USD 3,922.76 (MNF rate), whereas in China the cost is USD 2,468.83 (MNF rate).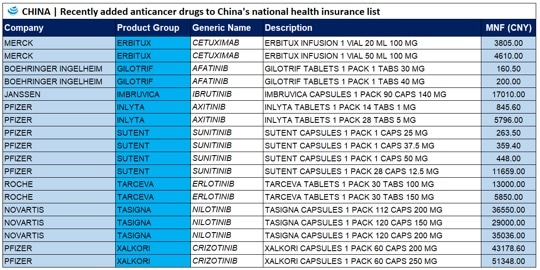 Of the 17 drugs now on the list, 10 arrived on the market within the past year. According to Official Xiong Xianjun, these 17 anti-cancer drugs, which cover a broad range of indications including the treatment of solid tumors and hematological neoplasms, are clinically necessary, therapeutically effective, and urgently needed by insurance participants.
Based on added clinical value, pricing negotiations for these 17 products commenced in June.
The full list of China's National Health Insurance Bureau published notice of the names of all 17 products can be found here (in Chinese): http://www.gov.cn/xinwen/2018-10/10/content_5328891.htm
10 potential drugs up for reimbursement in Shenzhen, China
At the end of November, Shenzhen's Municipal Human Resources and Social Security Bureau released a shortlist of 10 drug therapies that could potentially gain local reimbursement under the city's Critical Disease Insurance (CDI) scheme. This list covers several major drugs for diseases such as cancer, diabetic macular edema, rheumatoid arthritis, and 4 orphan drugs.
Shenzhen's municipal government CDI listings will provide patients with 70% reimbursement on drug purchases, up to an annual cap of CNY 150,000. For example, if MSD's Keytruda, which is included on the list, is priced at 17,918 CNY for 100 MG/4 ML on the Chinese market, it would, therefore, be available for a co-payment cost of CNY 5,375.40.
The 10 drugs included on the CDI list are:
MSD's Keytruda for melanoma
Roche's Alecensa (alectinib) for non-small-cell lung cancer (NSCLC)
AstraZeneca's Lynparza (olaparib) for ovarian, fallopian, and peritoneal cancer
Novartis' Jakavi (ruxolitinib) for splenomegaly
Pfizer's Ibrance (palbociclib) for breast cancer
Beaufor Ipsen's Somatuline (lanreotide acetate) for acromegaly
Bayer's Eylea (aflibercept) for diabetic macular edema
Novartis' Revolade (eltrombopag olamine) for thrombocytopenia
Sanofi's Myozyme (alglucosidase alfa) for Pompe disease
Roche's Actemra (tocilizumab) for rheumatoid arthritis (RA) and juvenile arthritis
'Tis the season for uptake in China
The hastened uptake of "clinically urgently needed new drugs" for China means patients will now have access to anticancer medicines already cleared for the US, EU, and Japanese market. Because of China's substantial population, pharma has agreed to discounts and patient access programs in exchange for access to the Chinese market. It appears initial discounts will pay off in the long run with more sales volumes and provincial reimbursement for drugs previously not covered. Since China has risen to economic prominence lately, the country will soon face more diseases associated with "affluent lifestyles." In this way, Chinese officials are demanding discounts and promoting a domestic generics market, but nonetheless, the current dependence on foreign medicines is an opportunity for pharma to undergo expedited review and access a huge patient population.
Author Team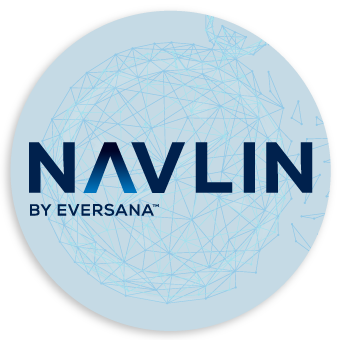 NAVLIN Price & Access Data is a powerful competitor intelligence tool that provides near real-time updates to drug price (list / net), reimbursement, tender and cost of treatment information at the indication level. Our…