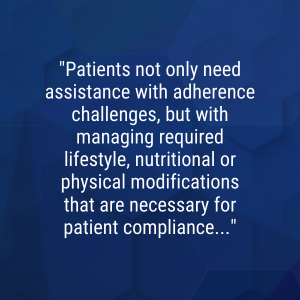 The industry's shift to outcomes-based, patient-centered care requires new approaches to patient support to achieve adherence and therapeutic success. Today's patients are also highly motivated information seekers and are taking control of their day-to-day therapy. And, like all modern consumers, they expect outcomes to be personalized, delivered on their terms, powered by technology, and of high value.
Drawing from 18+ years of experience working with manufacturers and patients to develop engaging support programs, in the March issue of PharmaVOICE, Kathi shares how EVERSANA's behavioral health technology keeps patients informed and empowered along their journey.
Download the full article to learn how this innovative approach can improve adherence rates and demonstrate real-world evidence of therapeutic success.
Download
"Improving Patient Adherence with Behavioral Health Technology"
147.69 KB