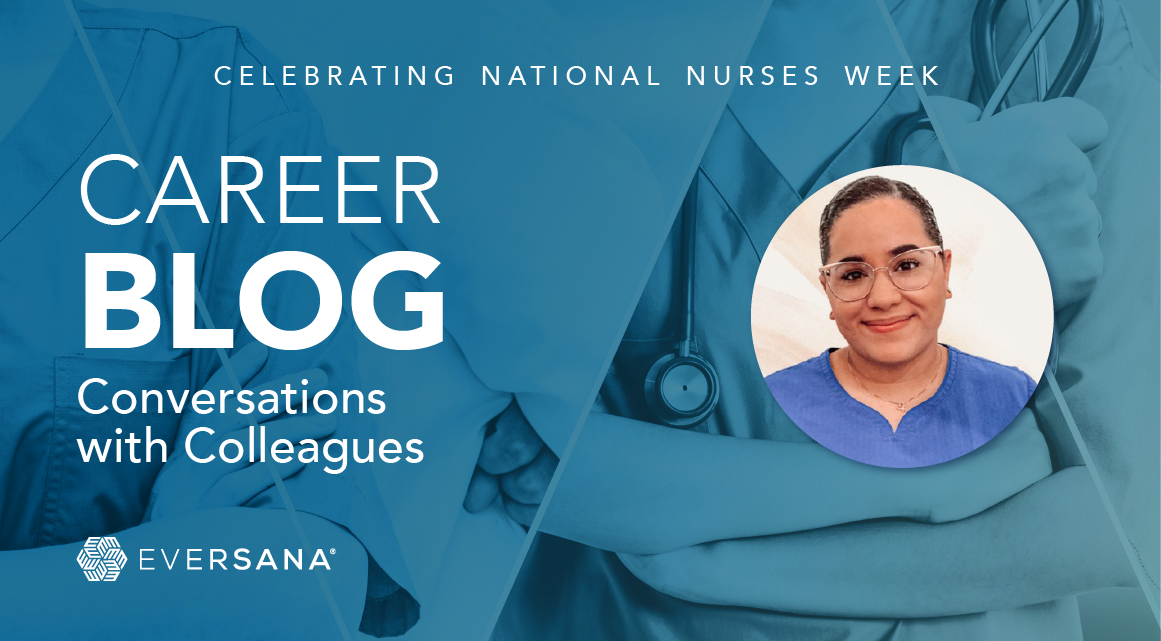 Meet Carla Yorro, RN, Clinical Nurse Coordinator 
Today's patients are increasingly tech savvy, yet digital tools alone cannot replace the empathetic support from a highly trained patient services support team, such as Carla Yorro, Clinical Nurse Coordinator, as well as in-home nursing and clinical support. EVERSANA helps patients and their caregivers navigate complex access, affordability and adherence challenges when they need it most. Learn more today.  
---
How would you describe your job to someone who isn't in the field? 
As a Clinical Nurse Coordinator, I empower caregivers and patients by providing education and follow-up calls to ensure they feel at ease with their therapy. Using motivational interviewing, I encourage patients to share their stories and identify any doubts or gaps in knowledge. Ultimately, my goal is to enable patients to feel confident in asking healthcare providers questions and provide a safe space for them to express their frustrations. 
Open-ended questions are so vital. It's here you find a caregiver's pockets of doubt and concern. By saying, 'Actually, that IS a great question for your provider. Add that to your appointment list!' Or ', It IS important you understand these lab results. Let me send you some great resources.' These are the moments that build caregiver behaviors, so they feel as equipped as possible to care for their child or themselves. 
 What do you find most fulfilling or rewarding about your role?   
The most fulfilling aspect of my role is being able to educate patients and caregivers, while also hearing their inspiring stories. Witnessing patients' positive responses to therapy and seeing the positive impact on their lives, such as being able to go on vacation or attend school, is incredibly rewarding. Additionally, connecting patients with previously unknown resources, such as support groups, is deeply satisfying.   
I've even been on speaker once translating for a Spanish-speaking patient who was trying to receive medical care from their physician! By speaking with the doctor and giving an overview of EVERSANA's support services – that I would be following up with the patient – the patient was able to be prescribed therapy.  
Seeing patients get excited about therapy and the result of therapy is remarkable and so motivating.  
Can you share a success story from your work as a clinical nurse coordinator? 
One of my most meaningful successes involved a Spanish-speaking caregiver who had been struggling for years with a child requiring oxygen 24/7 and being unable to attend school. After connecting with her and building a therapeutic relationship, I was able to provide a space for her to share her story and validate her feelings, which had a significant impact on her. This is an ongoing relationship and I still have regular calls with her! 
As soon as a patient knows I am bilingual, I can feel barriers coming down almost immediately. They know I understand the Hispanic culture and so are comfortable sharing their experience and questions.  
How do you ensure that your patients and caregivers understand their treatment options and are empowered to make informed decisions about their healthcare? 
I prioritize empowering patients through open-ended questions, building rapport, and encouraging them to write down their questions to ask their provider. I validate their concerns and stress the importance of understanding treatment options, making informed decisions, and keeping track of symptoms. We use multiple communication channels to ensure patients receive necessary information and resources, and to provide summaries of phone call conversations.  
What advice would you give to someone who is considering a career in patient services, and what qualities do you think are essential for success in this field? 
Compassion, active listening, emotional intelligence, and a desire for continuous education are all important qualities. Success in this field relies on your ability to listen to patients' stories, identify their needs, and seek out resources to provide the best care possible. A curious spirit and a willingness to learn are also essential so that we can answer the, 'What else can I share with the patient/caregiver?' question.  
Why did you choose to pursue a career with EVERSANA?   
I've always had a passion for patient education and coordinating care. The opportunity to speak to patients and caregivers in the pediatric population and work in the rare disease field also sparked my curiosity. I was excited about the chance to grow in this area and be a part of the innovative work happening at EVERSANA. 
Interested in joining the EVERSANA team?