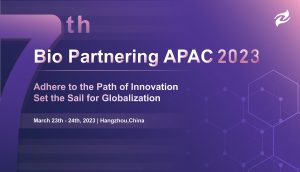 EVERSANA is a proud sponsor of the 7th Bio Partnering APAC.
Bio Partnering APAC Summit is scheduled to be held again in Hangzhou on March 23-24, 2023, with the theme of Adhere to the Path of Innovation, Set the Sail for Globalization. The conference will again bring together many pharmaceutical leaders and industry colleagues to gather in Hangzhou to actively seek more new opportunities for cooperation.
Connect with EVERSANA at the 7th Bio Partnering APAC Summit
싱가포르 지역 본부를 비롯하여 아시아 태평양 지역과 세계 전역에 지사를 두고 있는 EVERSANA는 통합형 서비스와 솔루션을 통해 임상 및 상용화 성공을 앞당겨 드립니다. 끊임없는 진화와 적응을 통해 아시아 태평양 고객사가 현지 시장과 세계 시장에서 접하고 있는 복잡한 문제를 해결해 드립니다.
Join EVERSANA on March 23 as we present the session "Unlocking the Value of your US and EU Launches." In this session, Amardeep Udeshi, Partner will discuss how biotech companies developing innovative drugs can assess the value of their asset at each stage of development and, upon regulatory approval, leverage a new way of commercialization that preserves the value of the asset while minimizing commercial risk.
Connect with EVERSANA's experts in-person at the 7th Bio Partnering APAC.