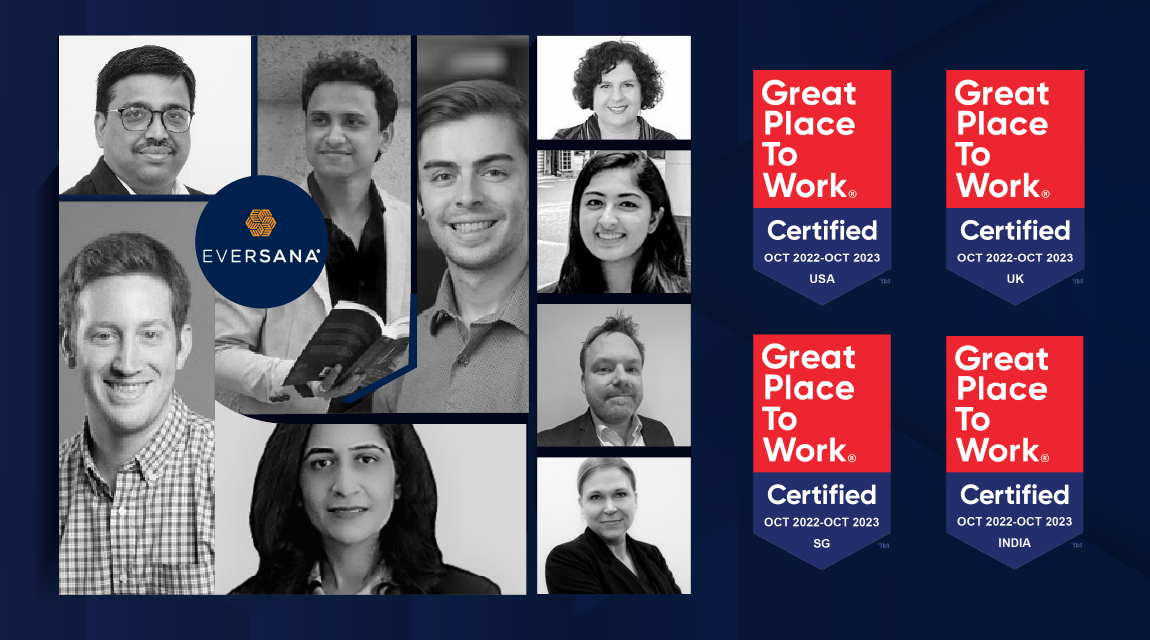 EVERSANA has been named a Great Place to Work for the fourth consecutive year in the U.S., the second year in Canada and India, and clinched first-time certifications in the United Kingdom and Singapore!  
Read on below to learn more from our colleagues in these countries about what working at EVERSANA means to them… 
In your opinion, why is EVERSANA a great place to work? 
"Two main reasons: first and foremost, the company culture is very supportive, and we are all committed to helping each other. Secondly, EVERSANA is literally building a new way of commercializing medicines, which we all find exciting – changing an industry doesn't happen every day so I feel privileged to be part of it."
– Adam Hardy, VP, Commercial Operations (United Kingdom)
"We are always listening! We allow employees to excel through employee engagement programs. We align the professional goals of our employees with the company." 
– Amlan Basu, Director, Human Resources – India (India)
EVERSANA teammates based in the Memphis, TN distribution center tout another Great Place to Work – U.S. win!
EVERSANA colleagues in the Milwaukee, WI office celebrate being named a Great Place to Work U.S. for the fourth consecutive year!
What do you find most fulfilling about your role?  
"In my role driving stakeholder engagement and advocacy, what I find most rewarding is how our team's work intersects and supports that of our colleagues in other areas of our business and in markets outside of Canada, where I am based. Opportunities abound to support advocacy on a global scale and in a wide range of therapeutic areas!" 
– Joanne Koskie, VP, Advocacy & PR (Canada)
"EVERSANA always identifies what my core strengths are while offering the opportunity to try something different. Plus, the extracurricular activities provided make this a special place to be." 
– Vishal Wable, Pricing Analyst (India)
"First, and foremost, it's the people. I am so grateful to work with tremendously talented people who are technically brilliant and dedicated. Secondly, I am always challenged. There are always new methods, an ever-evolving landscape, new evidence to consider, etc. that create opportunities to grow and to think strategically and creatively." 
– Heather Cameron, Senior Director, HEOR (Canada)
"Working on Patient Services, my focus is providing tools and resources to help patients manage their conditions and treatment. I've had the opportunity to lead work on a Mobile App that supports three different brands, which keeps things interesting and allows me to problem-solve in a dynamic way. This cross-section of helping patients and innovation has been very rewarding." 
– Ross Kofkin, Agency Account Director (U.S.)
In the Singapore office, EVERSANA colleagues shout: "We're a great place to work!"
Why is EVERSANA's culture unique?
"EVERSANA embodies a culture of inclusivity. I work with a very diverse team of people from different countries and cultures, but what is amazing to see is how everyone is interested in learning about each other. That really helps build relationships and friendships beyond work." 
– Sowbhagya Suresh, Senior Consultant, APAC (Singapore)
"From my experience in past organizations, cultural beliefs have been a thing toted around and pointed to but not practiced and embodied.  We specifically take time to recognize each other for our successes each week. We collaborate closely even while at various locations across the country, winning together on a weekly and sometimes even daily basis." 
– Alex Berezin, Enterprise Support Specialist (U.S.)
"The leaders at EVERSANA are noted experts in their fields and demonstrate our beliefs every day. Our CEO inspires with his strategic vision, places 100% trust in his people, and travels tirelessly to engage with staff across locations. The seamless inclusion of diverse races, ethnicities, traditions, beliefs, and communities across global offices is a distinctive feature at EVERSANA." 
– Viji Alwan, Regional VP, APAC (Singapore)
Members of EVERSANA's Canadian based team celebrate their second consecutive year being certified as a Great Place to Work – Canada!
EVERSANA team members located in the Pune, India office pose next to their Great Place to Work India certification!
---
Interested in joining the EVERSANA team?  Apply Now!