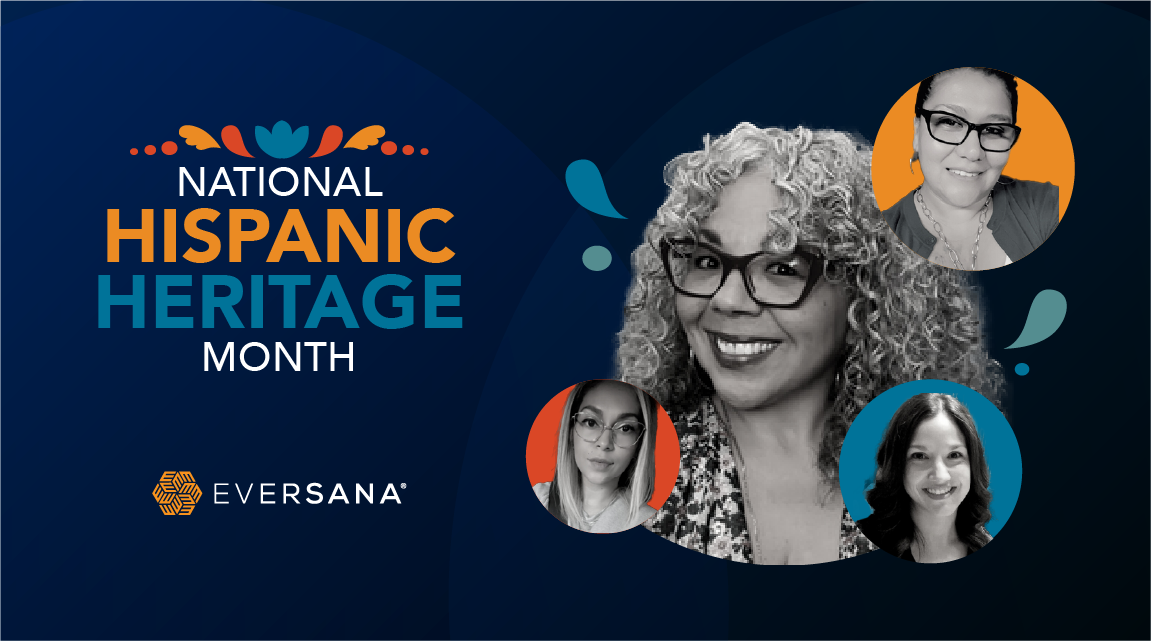 SHARE THIS STORY ON SOCIAL! LINKEDIN / TWITTER
October 15th marks the end of National Hispanic Heritage Month! We recently sat down with a few of our Hispanic colleagues to discover what they wish others knew about their culture and why they love working at EVERSANA.  
Meet our Colleagues!  
Beth Garcia, Associate Director, Business Transformation, Agency
Juliana Garay, Assoc Director, Editorial, Agency
Regina Velasquez, Human Resources Generalist, Channel Management
Sandy Arrambide, Talent Acquisition Partner
Teresa Andino, Supervisor, Channel Management
Mariela Angeles, Client Relations Specialist, Channel Management
What do you wish others knew about Hispanic culture? 
Teresa Andino: 
I wish others knew that being Hispanic is more than just speaking Spanish. It's about culture, embracing our roots and being a very diverse and open community. 
Juliana Garay: 
How complex it is. We represent so many races and multiple countries. There are so many beautiful layers of diversity within Hispanic culture. 
Mariela Angeles:  
I wish more people knew more about the history of Latin America and how we came to be the exciting mixtures we are. We are a very rich culture, and it is worth experiencing. Our music, our food, our people. It varies so much from Mexico, to Central and South America to the Caribbean islands (where I am from). 
How did you come to work for EVERSANA and what part of your job do you love the most? 
Beth Garcia: 
A mentor recommended me to EVERSANA several years ago, noting that this was a company focused on community and creating opportunities. EVERSANA is all that and more. It is a company focused on innovation and growth, and most importantly, on people. I love that about who we are as a company! 
Teresa Andino: 
I started out as a part-time Material Handler at one of EVERSANA's Channel warehouses. I loved the culture and values of the company and I wanted more. Since I had previous experience in a management position, I applied to a leadership role. I'm now an Operations Supervisor and look forward to building a great career at EVERSANA. 
Juliana Garay: 
I've been in the pharma space for a while now and worked with a lot of people who left other agencies to work at EVERSANA. Its reputation precedes itself. I love mentoring and supporting others to be the best they can be. 
Mariela Angeles: 
I came to work as a temp for EVERSANA in 2016. It was my first job interview after living here for a month. I was hired full-time that same year and ever since I have been working on delighting our clients and helping customers get medicine where it is needed. Even though I'm on a computer all day, I know that I'm helping patients get the medication they need. It's extremely satisfying. I also like the fact that many of my coworkers have experienced Hispanic culture firsthand through me, through food, ideas, music and more. 
How has your Hispanic heritage influenced your work at EVERSANA? 
Sandy Arrambide: 
My heritage has influenced my work at EVERSANA by being able to take pride in my work. This also gives me the opportunity to embrace all ethnicities, especially during the recruitment process. I meet so many different kinds of people every day.  
Mariela Angeles: 
My heritage has been very helpful. I have been able to assist EVERSANA in several situations where a Spanish speaking person is needed. For instance, when we have medical recalls and Puerto Rican customers need help. Or when there is a confused patient on the call center line and needs assistance. Or simply translating information for others. It's also been a conversation starter when getting to know coworkers – they're interested in learning about my culture.  
What advice would you give to other Hispanic individuals who are looking to break into / succeed in the pharmaceutical commercialization field?  
Teresa Andino:  
My advice would be that the sky is the limit and anything you set your mind to can be accomplished. Always be persistent and never quit striving for more. 
Mariela Angeles: 
I would say to them: apply for the job. Give yourself the chance to start a career in this field. And don't doubt yourself, because you will be more welcome than you expect. 
Regina Velasquez: 
I would say be persistent. I know that culture shock can happen, especially when you're raising a family away from your community. But, when we look for success, being persistent leads to success. It's not easy, but we can do it because we are warriors! 
Interested in joining the EVERSANA team, where embracing diversity is part of what we do every day?
Apply Now!