It's difficult to explain how important Rare Disease Day is across EVERSANA.
Helping the rare disease community is the fabric of our company and culture. Across every sector of our global commercialization services, we are actively working to make a difference for the more than 300 million people living with rare disease.
We are also much more than a service provider. Many of us at EVERSANA, including myself, are touched by rare diseases in our personal lives. My family has been working to find answers for a rare condition impacting a loved one for many (too many!) years. We understand the obstacles and unknowns that far too many patients and caregivers face. Why aren't more answers available? What can be done?
Across EVERSANA our team members have similar stories. Take a moment to learn more and also meet a few members of EVERSANA's growing family at the Intouch Group, a team that recently joined EVERSANA and shares our vision, mission and value. Read our stories here!
On Rare Disease Day 2022, I want to express our organization's continued support to millions of families and patients, and double down on our commitment to stay innovative and help our clients bring more innovative therapies to market. Today, and every day, we're humbled to do this important work.
Jim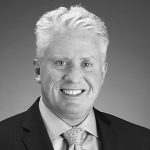 Jim Lang
Chief Executive Officer
EVERSANA