PRICENTRIC BRIEF:
Biosimilar competition in Europe has brought about discounts to AbbVie's blockbuster immunosuppressant drug Humira upwards of 80% during tendering
Overall, biosimilar uptake has increased in Europe because biologic "copycats" are cheaper, but full faith in these products is still required from physicians and patients
In the US, Coherus struck preemptively with a 33% discount to its Neulasta biosimilar to ensure market uptake
THE DETAILS
Health authorities the world over seek serious discounts when biosimilar competition enters the market, in many cases mandating discounts and price ceilings to both the originator drug and biosimilars or engaging in tendering practices that allow originator drugs and biosimilars to bid at a playing field.
The European Union (EU) is the most biosimilar-friendly market, along with the European Economic Area countries (Iceland, Liechtenstein, and Norway), with the US vamping up its policies to align itself with its Trans-Atlantic neighbor. These countries have seen considerable savings with the rise of biosimilar competition, approving biologic "copycats" with even more rapidity. Meanwhile, pharma awaits patiently for the next round of patent expiry for blockbuster monoclonal antibodies (mAb), among other biologics, as a chance to win a share of global profits.
Humira biosimilars launch in Europe
Humira is one of the world's best-selling drugs, with over 3.5 billion EUR in sales generated from Europe alone—its patent expiry means a lucrative future to biosimilar manufacturers, especially in Europe. Humira's patent is protected in the US until 2023, despite clapback from pharma like Boehringer Ingelheim, which hopes to launch its adalimumab biosimilar much earlier, whereas in Europe, four products have already launched in major European markets.
The European patent for AbbVie's Humira (adalimumab) expired on October 16, 2018, which opened the floodgates for four biosimilar products to launch over the following few days: Amgen's Amgevita, Biogen's Imraldi, Sandoz's Hyrimoz, and Mylan's Hulio.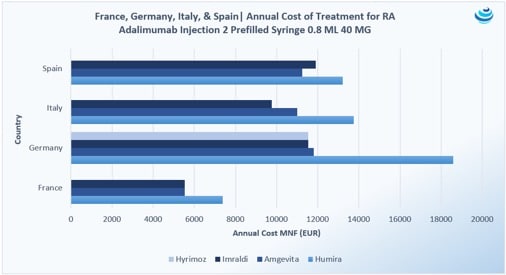 ​
The Humira biosimilars reached major European markets first. In these countries, there are typically mandated discounts to the originator drugs once biosimilar competition arrives. While Germany and the UK allow free pricing, there's usually a discount negotiated anywhere between 10-25%. With Humira, however, Germany has seen discounts on biosimilars up to 40%, especially with Hyrimoz and Imraldi, which is unprecedented and might hint at the future of biosimilars on the market.
On the other hand, France's Economic Committee on Health Care Products (CEPS) mandated that before a biosimilar launch in France, the reference drug must take a 15% minimum discount.
With the advent of adalimumab biosimilars and more market competition, CEPS imposed a unification of prices for the biosimilar group to Humira. Unified pricing of Humira biosimilars is permitted by Article 56 of France's 2018 social security law (LFSS 2018), which allows the same price for same-class products to avoid favoritism during tendering. For the Humira biosimilars, the unified price reflects the 24% discount to Humira. Additionally, CEPS deemed it "necessary to set…reimbursement bases subject to unified prices, corresponding to the lowest reference prices observed," hoping that health insurance spending is not only cost-effective but also properly and appropriately allocated. In France, 20 MG solution for injection 0.2 ML, 40 MG solution for injection 0.4 ML and 0.8 ML, and 80 MG solution for injection 0.8 ML were given unified prices of 139.09 EUR, 251.04 EUR, and 502.08 EUR, respectively.
Tendering knocks down prices
But since Humira biosimilars arrived on the European market, what has been most notable is how Italy's Regions joined forces to secure low rates for adalimumab and how AbbVie bid during tendering in Nordic countries. Around 15% of European countries practice public tendering, and while tendering is not omnipresent in Europe, tender countries command hefty discounts.
In Italy, the Piedmont, Lazio, Sardinia, Valle d'Aosta, and Veneto Regions scored a 65% reduction in the price of adalimumab after including biosimilars of Humira (such as Amgen's Amgevita or Samsung Bioepis/Biogen's Imraldi) in a joint procurement process. According to the Piedmont DoH, "For the first time, an agreement between five Italian regions has allowed us to launch a supra-regional tender for the supply of medicines and to obtain substantial savings on the price of drugs, freeing up resources to be reinvested in the national health service."
Joint, competitive bidding achieved a 65% reduction in the price of adalimumab for these five Regions' combined total population of 17 million. Ultimately, the final price of the contract awarded was €146.72. This will generate savings of more than €31 million for the Piedmont and its bargaining partners. The total cost for these Regions to obtain adalimumab has plummeted from €47.5 million to €16.4 million.
In Nordic countries, where the winner takes all during tendering, manufacturers tend to offer substantial discounts on biosimilars – up to 50%-70% lower than the originator.
AbbVie slashed the price of Humira by 80% during bidding through government tender process, announced Bernstein analyst Ronny Gal, and during a third-quarter earnings call, AbbVie CEO confirmed that discounts in Europe have ranged from 10% to 80%. Bidding at a much more aggressive discount than the 50% expected allowed AbbVie to stand against biosimilar competition in Europe; granted, Nordic markets account for a small percentage of the pharma's worldwide Humira sales.
Nonetheless, through tendering, Celltrion's biosimilar Remsima (infliximab), a biosimilar to Janssen's Remicade, ended up obtaining 92.9% of the market share in Nordic country Norway.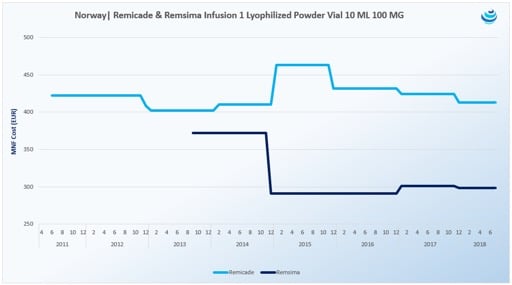 According to Gal, AbbVie was able to bid at an 80% discount because manufacturing costs are lower nowadays and the pharma won't be losing money, whereas biosimilar manufacturers will need to reclaim Research & Development costs. Looking to the future, by offering aggressive discounts in Europe, AbbVie is simultaneously protecting its United States business for when copycats arrive in the future.
Coherus' pegfilgrastim biosimilar marketed at 1/3 discount
It appears that while European policy tends to favor biosimilars, manufacturers of the reference drugs don't need to necessarily lose out on market share once biosimilar competition arrives. But, biosimilar manufacturers still strike early to win market dominance.
If we look at the US market, we can see that biosimilar uptake is growing, with new US Food and Drug Administration Commissioner Scott Gottlieb enacting legislation and new regulatory practices to pave the way for a Hatch-Waxman Act movement for biologic copycats.
Recently, the FDA approved Coherus BioSciences, Inc.'s Udenyca (pegfilgrastim-cbqv), the first biosimilar to Amgen's Neulasta (pegfilgrastim) to be approved by both the FDA and the European Commission (EC) for patients with cancer receiving myelosuppressive chemotherapy.
Upon approval of the pharma's biologic copycat, Coherus' Chairman, CEO, and President Denny
Lanfear said, "The list price of Neulasta has nearly tripled since approval in 2002 and now represents a $4 billion annual cost burden in the U.S. We believe that competition is essential in controlling burdensome price increases, and Udenyca will play an important role in curbing that spend when launched. Our in-depth understanding of the market will allow us to deliver significant value to patients, payors, and providers in the U.S., including 340B hospitals, small clinics, and small hospitals."
Now greenlit in the US, Udenyca will have a list price of 3,713 EUR (4,715 USD), a 33% discount to Amgen's Neulasta, announced Coherus executives during a conference call.
So, what?
European markets tend to favor biosimilars because they come at a lower cost and boast bioequivalence. Clap back from scientists and patient groups has been common, especially in the case of Italy's joint-tendering.
While regional tendering will "achieve" important savings, wrote Italy's National Association of Rheumatic Disease (ANMAR), the patients' group fears stringent prescribing guidelines will prevent doctors and physicians from prescribing the best drug for patients to help the national health service (SSN) save money.
"The savings to be reinvested within the SSN are welcome: the question is how. In the crudity of numbers, perhaps [this] foreshadows a forced replacement of therapies to all patients being treated in the Piedmont Region? Is it a coincidence that no mention is made of the choice of doctor and the consent of the patient? Unlike what other regions do and unlike the principles expressed in the 2017 Budget Law, the Piedmont Region has decided to award only one drug: the state drug, or Region."
In an interview with Italy's La Repubblica, ANMAR's President Silvia Tonolo said, "It was a race to the bottom that led to savings but in fact will impose the use of the drug at a lower cost for patients in five major Italian regions. As representatives of rheumatic patients, we would like to point out that we have nothing against the use of biosimilars that are 'similar' to the originator and that cost less."
Tonolo continued, "We want, however, that there are no impositions from above dictated solely and exclusively by budget issues. A patient must always have the most suitable drug available throughout the country. And this choice must be made only and exclusively by the attending physician. This is an unavoidable right and is also recognized by our Constitution. Precisely for this reason, we decided to contact the Head of State directly."
Clear guidelines on biosimilar efficacy are key to encourage faith in biosimilar uptake, not just a good price tag. With Humira, AbbVie scored a win in the Nordic market because it could afford to offer a discount – plus, the drug boasts a history of efficacy. Although legislation on biosimilar uptake and pricing in Europe abounds, what it all seems to come down to is price and how well manufacturers vie (and cut the price of their drugs, both biosimilars, and originators) to get the biggest piece of pumpkin pie at the dinner table.
Author Team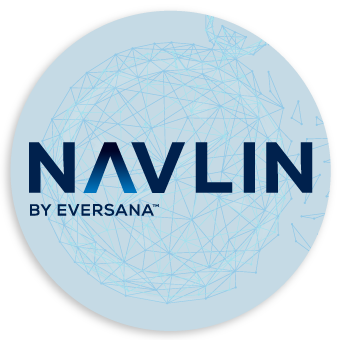 NAVLIN Price & Access Data is a powerful competitor intelligence tool that provides near real-time updates to drug price (list / net), reimbursement, tender and cost of treatment information at the indication level. Our…