Pharma Voice Magazine features Sandra Shpilberg from Seeker Health, an EVERSANA company, in their March 2019 issue. The topic is "Wearables in Clinical Trial".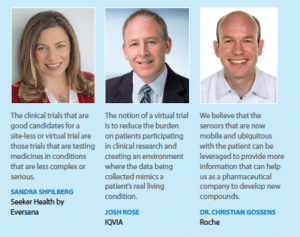 The article discusses how wearables are improving the clinical trial experience for patients and satisfying the need to collect data for real-world use studies. And experts agree: future drug development will be based on broader, real-time patient data.
Click here to read the full article on pharmavoice.com.
Author Team

Seeker Health by EVERSANA is a digital health platform helping biopharmaceutical companies connect with patients in need of clinical trials. Through a wide array of digital strategies, we work to make access to clinical…