A Proud ASCO Sponsor
EVERSANA is a proud sponsor of the 2023 ASCO Annual Meeting taking place June 2-6 in Chicago, IL. Visit booth #27170 or schedule a meeting with our oncology experts to discuss the capabilities of the EVERSANA ONCOLOGY™ Commercialization model and the impact its model has made on our partners.
New Published ASCO Journal Abstracts
About EVERSANA ONCOLOGY™ Commercialization
Dedicated to accelerating patient access in oncology, EVERSANA has assembled a deep bench of industry experts to form a true center of excellence across all functional areas. Regardless of company size or stage of commercialization, EVERSANA ONCOLOGY™ Commercialization meets each manufacturer where they are to maximize and complement existing internal resources. The model offers a customizable infrastructure formulated to meet the unique needs of each partner, tumor type and patient journey.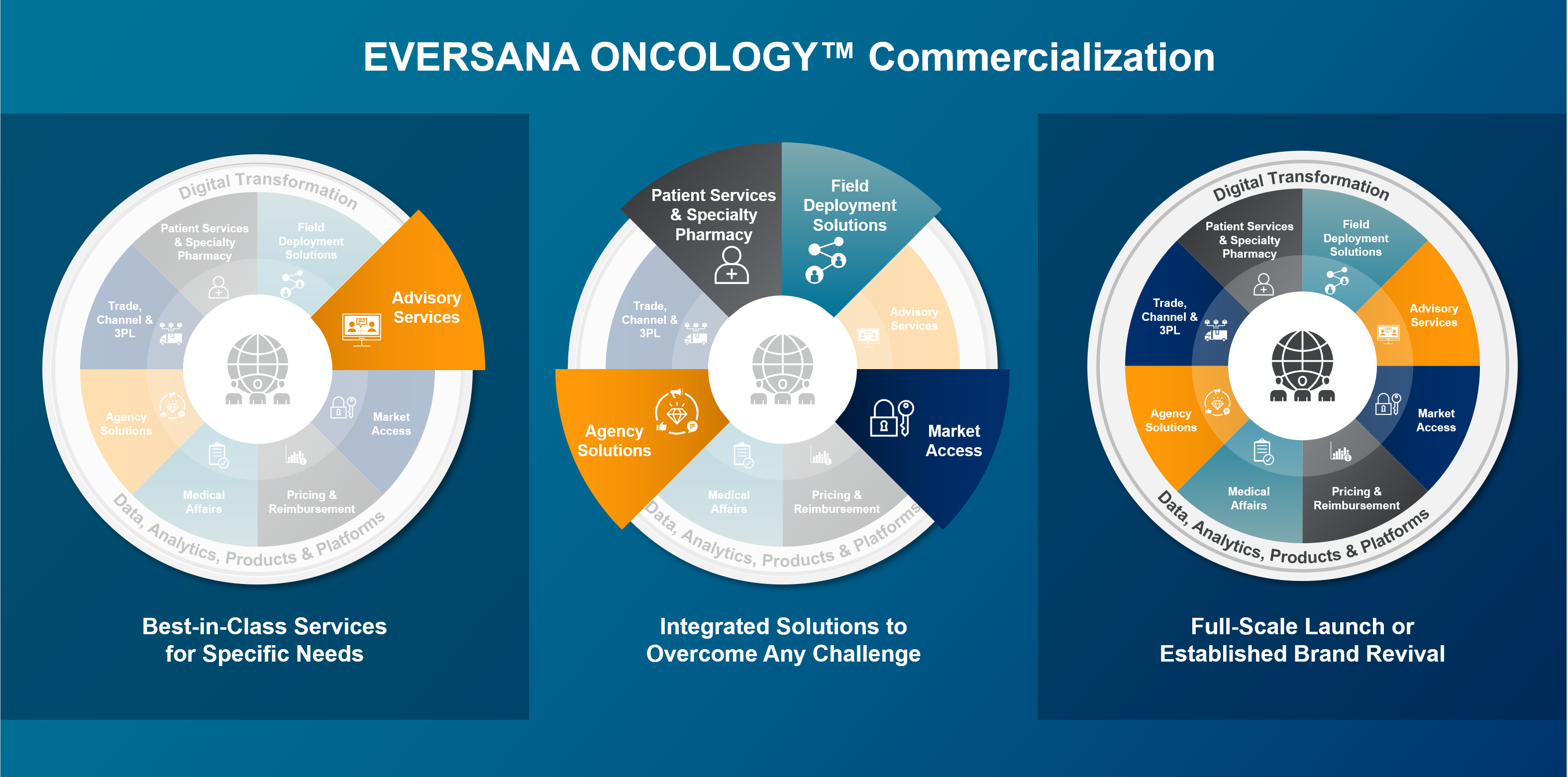 Best-in-Class Services for Specific Needs
Our innovative commercialization model deploys strategies specific to product and patient needs using a system of archetypes that consider therapy type, how the product is administered and the impact of the therapy on the patient journey. This distinct flexibility allows manufacturers to customize strategies, build functional service areas and pull tactics in and out based on real-time data and needs.
With EVERSANA's oncology expertise expanding across all commercial services lines, our company provides solutions that no other service provider can do, such as a distribution network and right sized patient services and field deployment for oncology products. Our first-in-class industry knowledge aids manufacturers in fulfilling their unique needs and achieving their respective goals.
This deep bench also allows our partners to access specialized networks and tap into expertise that may not be available in-house or would require substantial investments to build, quickly filling in knowledge and capabilities gaps.
Integrated Solutions to Overcome Any Challenge
In a market full of complexities, stringent competition and evolving FDA interactions, EVERSANA ONCOLOGY™ Commercialization is uniquely positioned to quickly and decisively pivot in response to market changes with data-driven solutions. With all commercial services under one roof, EVERSANA ONCOLOGY™ Commercialization enables high visibility and connectivity between services to manage costs, lower compliance and competitive risks.
Full-Scale Launch or Established Brand Revival
Our innovative commercialization model is prepared to meet you where you are on the commercial continuum, whether you are participating in prelaunch activities, preparing to go to market or managing an established brand.
The oncology market is not the same as it was 20 years ago. Traditional go-to-market playbooks are rigid and were designed for "blockbuster" drugs. Ultimately, these strategies lack the key ability to keep pace with the frequent changes and complexities of the oncology market and specialization and requirements of treatments. Since its inception, EVERSANA ONCOLOGY™ Commercialization was designed to manage launch costs and respond to smaller patient populations in the indication, competition, changing patient journeys and evolving interactions with the FDA. Partners who leveraged the EVERSANA ONCOLOGY™ Commercialization model reduced costs by 23% compared to launching on their own.
First time launchers avoid incurring additional investments to build up their infrastructure and experienced launchers with broad portfolios can leverage EVERSANA's oncology expertise to optimize the commercialization of their oncology products and simultaneously focus on their core competencies. EVERSANA has proven experience with mature brands, leading to a 5%-15% revenue increase with minimal upfront investment and risk.
About the 2023 ASCO Annual Meeting
ASCO offers premier scientific events for oncology professionals, patient advocates, industry representatives, and major media outlets worldwide.
Schedule a meeting today to learn more about EVERSANA ONCOLOGY™ Commercialization.