ADVANCING THE COMMERCIALIZATION OF DIGITAL THERAPEUTICS
Join EVERSANA at a number of virtual events as we work to advance the commercialization of digital medicines.
"While advancements in digital medicine take us into a new frontier, these devices can and should be available through existing prescription, distribution and reimbursement infrastructures. The commercial model for digital medicine will be efficient, effective and valuable to payers, providers and most importantly, for the patients and caregivers who need them." Jim Lang, CEO, EVERSANA
For more information on the work we do for Digital Therapeutics or to schedule an appointment with one of our Subject Matter Experts, please contact Jon Kizner by completing our contact us form. 
---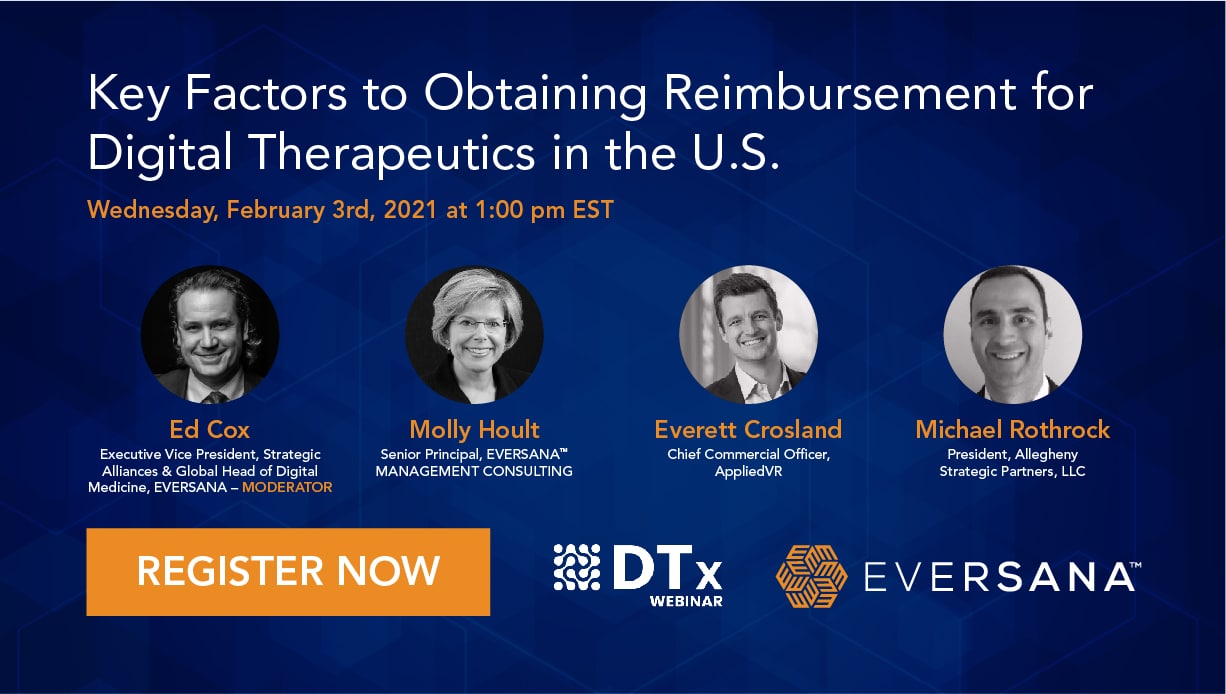 Webinar: Key Factors to Obtaining Reimbursement for Digital Therapeutics in the U.S.
Wednesday, February 3,  2021 at 1:00 pm ET
While wellness apps have been successful in a direct-to-consumer model, many digital therapeutics (DTx) providers are working to obtain reimbursement from U.S. payers. In a heterogenous payer ecosystem, the key question is how to obtain broad payer coverage and reimbursement with a low out-of-pocket cost to the patient. Early prescription DTx companies have explored a range of options and had success negotiating payer payment through programmatic spend. However, in the past year, as U.S. payers are increasingly aware of prescription DTx, more would like to manage these products through direct, claims-based reimbursement. This webinar will address the key factors related to obtaining reimbursement for prescription DTx in the U.S. market:
DTx payment options in US
How regulatory pathway impacts payment options (regulated vs. unregulated; software-only [SaMD] products vs. products with hardware)
Coverage, reimbursement and coding requirements for claims-based reimbursement
Shift in US payer perceptions of DTx over the past year and outlook for the future: MCIT, advent of digital formularies, etc.
How payers evaluate DTx coverage and think about setting reimbursement levels
Speakers:
Moderator: Ed Cox, Executive Vice President, Strategic Alliances and Global Head of Digital Medicine, EVERSANA
Molly Hoult, Senior Principal, EVERSANA MANAGEMENT CONSULTING
Everett Crosland, Chief Commercial Officer, AppliedVR
Michael Rothrock, President, Allegheny Strategic Partners, LLC.
Can't join the webinar? Register here and we'll share the recording with you afterwards!
To schedule a meeting with our Digital Medicine experts, contact us here.
Resources:
Learn more about the Commercialization of Digital Medicines and EVERSANA's capabilities.
---
[Article] Ask the Expert: Digital in Pharma | The Critical Questions
---
[Podcast] Podcast: The Future of Digital Therapeutics
---
[Article] 5 Trends in Digital Medicine to Watch For
---
[Article] What does the new FDA Guidance for DTx Products Treating Psychiatric Disorders actually mean?
---
[News] EVERSANA and Noom announce strategic partnership to improve therapy adherence and patient engagement for complex therapies. 
---
[Webinar] Realizing Value from Digital in the Healthcare Environment