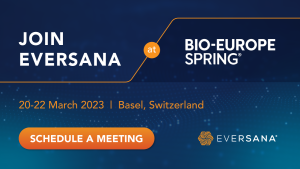 EVERSANA is proud to be attending this year's BIO-Europe Spring. BIO-Europe Spring 2023 will gather representatives of the biotech and pharma sectors for an in-person meeting in Messe Basel from 20 to 23 March 2023.
With over 40 clients and a growing number of engagements in Europe, EVERSANA is leading the way as the only end-to-end provider of commercialisation services that span all stages of the product life cycle to deliver long-term value for patients, physicians and payers.
Schedule a meeting to meet with EVERSANA's team of experts at BIO-Europe Spring.