There's a difference between the stated vs derived importance of health equity in payer conversations with biopharmaceutical companies.
NAVLIN BRIEF
Introduction
Over the past two years, both national and regional US payers have made health equity and the identification of social determinants a top priority when assessing strategic initiatives. In October, the National Committee for Quality Assurance (NCQA) finalized its Health Equity Accreditation Plus (HEAP) advanced evaluation program, awarding seven health plans (and two health systems) with the HEAP designation for participating in the pilot program. Health plans that wish to pursue the accreditation will be evaluated on various tenets of health equity, including collecting data that assesses social risks and strong partnerships with community-based organizations.
The majority of national payers have already begun to implement programs and projects to help address social determinants of health (SDOH). These tactics range from capital infrastructure investments to data collection and access to care and community services. Similarly, most plans have hired or created C-suite leadership responsible for overseeing the implementation of resources to address health inequities. In fact, six of eight national payers have implemented a C-suite–level role and five of eight have made addressing SDOH a key corporate strategy over the next year.
National Health Plans Have Made Significant Investments in Health Equity Initiatives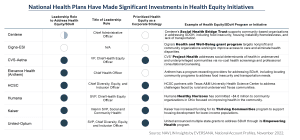 Payer Interest in Pharma-Sponsored Health Equity Resources Remains Limited
While payers work internally to address SDOH, the question remains to what extent these organizations will seek biopharmaceutical company material and resources to support these types of initiatives. For the past 20 years, NAVLIN Insights has been tracking relationship-building tactics and engagement strategies of best-in-class biopharmaceutical companies. This year, we wanted to assess whether discussions and resources regarding health equity should be a central component of companies' account planning with leading health plans and PBMs.
In the past month, NAVLIN Insights finalized our annual research where we asked 50 payer pharmacy directors and 40 payer medical directors to select their most preferred discussion topics with biopharmaceutical companies. Despite 'health equity' acting as a buzzword throughout the industry, payer interest in having discussions specific to health equity with pharmaceutical companies remains limited. Only 22% (roughly 1 in 5) payer pharmacy directors indicate an interest in utilizing pharma-sponsored health equity resources. Similarly, only 9% (less than 1 in 10) of payer medical directors indicate they prefer to see these types of resources from pharmaceutical companies as well. Health plans and PBMs continue to prioritize the traditional topics and resources associated with biopharmaceutical company relationships: Patient education, health outcomes research, disease management support.
Payers State 'Health Equity' is a Lower Priority in Pharma Relationships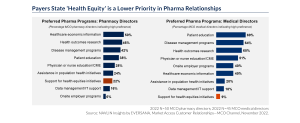 To a certain degree, health plan pharmacy directors believe that a focus on the support they've customarily received from Pharma will have a "downstream effect" in addressing issues of health inequity. Patient payment resources, for example, would help reduce the financial burden of treatment that aligns with plans' health equity objectives. Payers also stressed the continued need for pharmaceutical company discussions regarding medication compliance material, case management support, and population health resources.
"With health equity, there are questions around who is ultimately responsible to help these patients. Is it the payer, the hospital, the doctor, or pharmaceutical companies? And when you look at those groups, there will likely be pushback for pharma to stay in their lane, to keep them in their box of what they've been doing." — MCO Pharmacy Director
Health Equity Acts as a 'Hidden' Need for Payer Relationships with Pharmaceutical Companies
This does not mean that there is a relationship "penalty" associated with pharmaceutical companies that attempt discussions regarding health equity. In fact, the opposite is true: NAVLIN Insights' analysis shows that pharmaceutical companies receive a significant benefit in payer perceptions when the topic of health equity is approached, whether health plans and PBMs openly recognize it or not.
Payers report that select pharmaceutical companies have already engaged in discussions related to health equity, goals, and alignment. NAVLIN Insights analyzed the difference in the relationship level between companies that attempted to engage payers in these efforts vs those that had minimal health equity engagement. What we found was that Payers may state they want less pharmaceutical company involvement in health equity initiatives; however, relationships with these companies significantly improved when Pharma offered these types of resources.
Partner-Level Relationships with Payers Significantly Increase when Pharmaceutical Companies Discuss Health Equity

In other words, payers were 50% more likely to say they had a "Partner-level" relationship with a biopharmaceutical company if that company engaged in discussions regarding health equity and SDOH in the past year. Therefore, there is a difference between what Payers state ("we have limited interest in these types of resources") and the overall effect of these conversations (high degree of Partner-level relationships). For all the talk that Payers want pharmaceutical companies to "stay in their lane" regarding health equity and SDOH, resources that support these initiatives have a derived impact in shaping the perceptions of individual companies.
 The Current Industry Leaders for Engaging Payers in Health Equity
As it stands, very few pharmaceutical companies achieve high ratings in working with Payers to address SDOH. This past year, NAVLIN Insights asked payers to rate companies based on whether that company "collaboratively supports our initiatives to address issues in health equity." Boehringer Ingelheim, GlaxoSmithKline, and AstraZeneca were the top leaders in terms of the percentage of pharmacy directors who assigned these companies high ratings on this attribute. However, on average, only 25% (1 in 4) pharmacy directors assigned high ratings to pharmaceutical companies for health equity discussions and support.
"We see a commitment from Boehringer Ingelheim. They commit to clinical outcomes, in both the diabetes and the COPD space. They've partnered with us on education to help teach patients inhaler techniques. They invest in medication adherence. We see them as more of a strategic partner for these types of patient-focused initiatives than a vendor." — MCO Pharmacy Director
Boehringer Ingelheim, GlaxoSmithKline, and AstraZeneca Lead Industry in Payer Perceptions of Commitment to Health Equity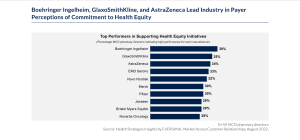 Recommendations for Pharmaceutical Companies Moving Forward
NAVLIN Insights anticipates that discussions regarding health equity will provide a more competitive environment across pharmaceutical companies for building relationships with key payers. The general feeling in the industry is that pharma has only scratched the surface in proposing out-of-the-box solutions to address health disparities. At a minimum, pharmaceutical companies can begin expanding on resources and services already provided to payers, including creating patient referrals to pharma support programs or proactively creating inclusive clinical trial design for pipeline products. At NAVLIN Insights, we recommend pharmaceutical companies consider the following steps to establish a competitive advantage in producing stronger, future-oriented payer relationships regarding health equity: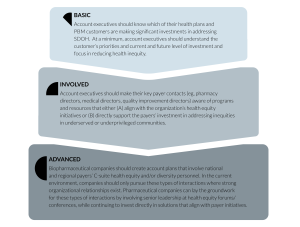 Conclusion
Relationship development between pharmaceutical companies and payers is a long-term process that has become more complex with the new focus on social disparities and health inequities. NAVLIN Insights has been tracking the best practices in building relationships with payers for the past 20 years, and we continue to identify the drivers of "what good looks like" in best-in-class relationships. To learn more about how NAVLIN Insights can support your organization in account engagement, please contact [email protected] to speak with one of our experts.
Learn more about NAVLIN by EVERSANA and our innovative market research solutions